Lunch and Learn in Preparation for Debby Irving Lecture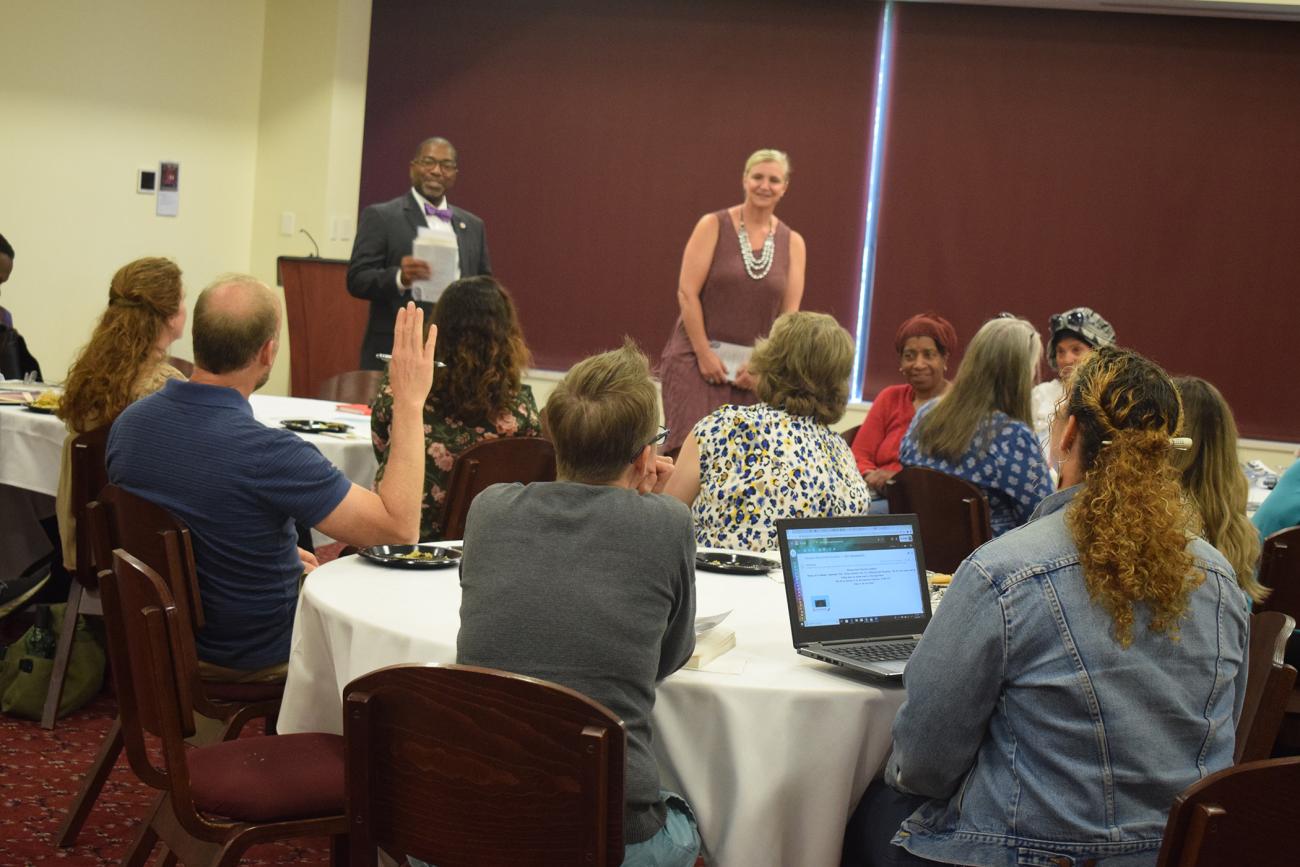 By: Grace Berry
On Wednesday, Sept. 11, Springfield College Vice President for Inclusion and Community Engagement Calvin Hill hosted a luncheon and discussion surrounding author Debby Irving's lecture at Springfield College on Wednesday, Sept. 18.
            About 30 professors, staff members, and former students attended this luncheon to discuss Irving's book, Waking Up White: And Finding Myself in the Story of Race, before her arrival on campus. This book details the author's experience with her white privilege, and when she learned to use it positively, rather than for harmful purposes.
            Starting this luncheon, Hill asked the group one question: "What does it mean to be white?" From there, insightful thoughts were bounced around the room detailing everyone's thoughts on the matter. Attendees discussed how white privilege causes ignorance, and that it prevents people who identify as white from realizing that there are so many problems people of other races have to deal with that they do not necessarily ever have to think about.
Conversations about how language surrounding race is still a difficult topic were also brought up. Communications/Sports Journalism professor Marty Dobrow has been a social justice advocate on campus for years, and explained how these topics are still a tense subject, but are improving at the same time.
            "There is a real silencing about these conversations because… nobody wants to be thought of as a racist. We have come to understand what are the certain things that should not be said, but often what happens is there's a real resistance to saying the wrong thing and as a result necessary conversations don't happen."
            Irving arrived on campus on Wednesday, Sept. 18 and presented her lecture entitled, "I'm a Good Person! Isn't That Enough?" Much like the content in her book, she discussed how she "used her white-skewed belief system to interpret the world around her" as well as other topics concerning racial tensions and white privilege.