School of Health, Physical Education, and Recreation Hosts Karpovich Lecture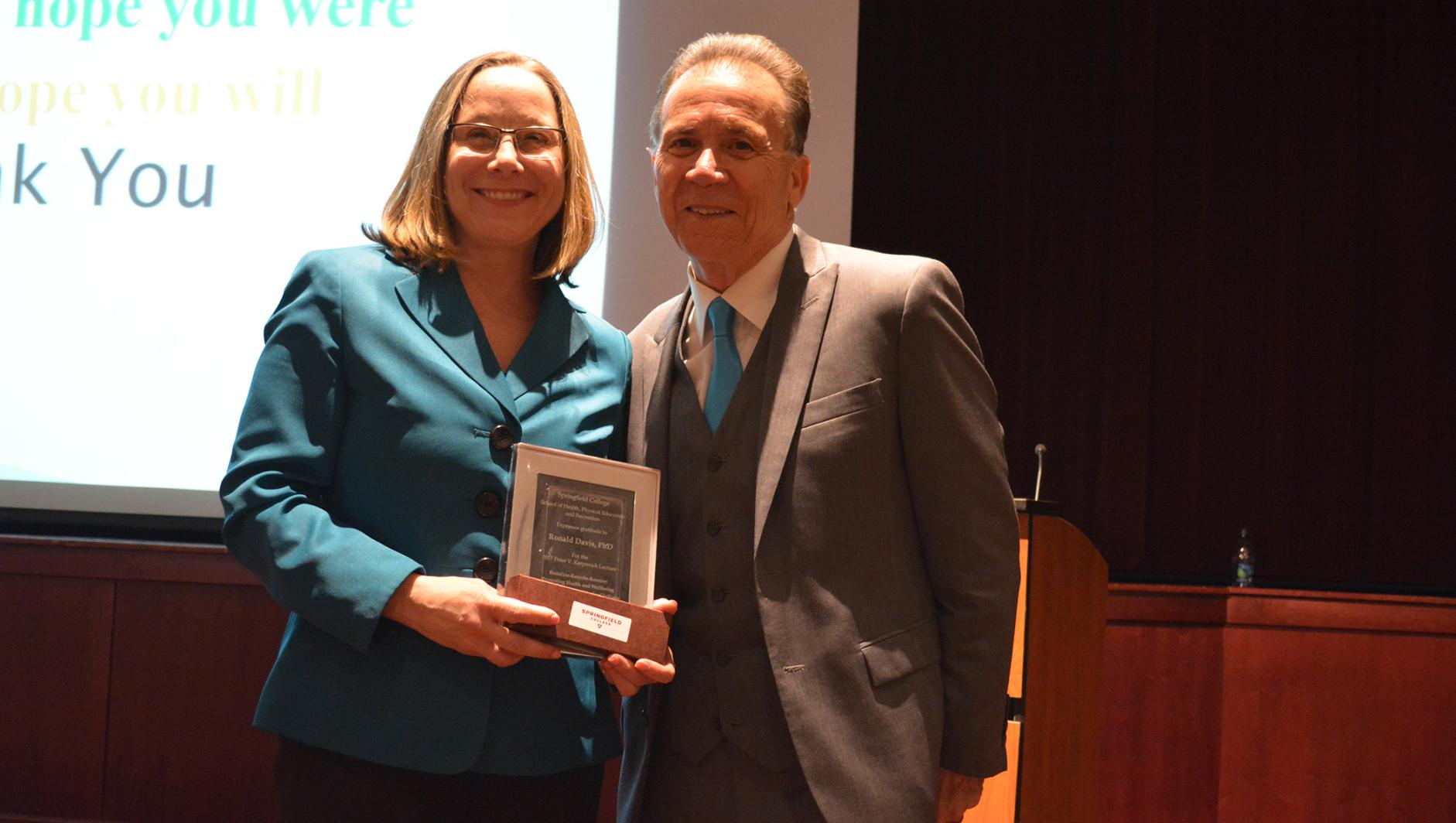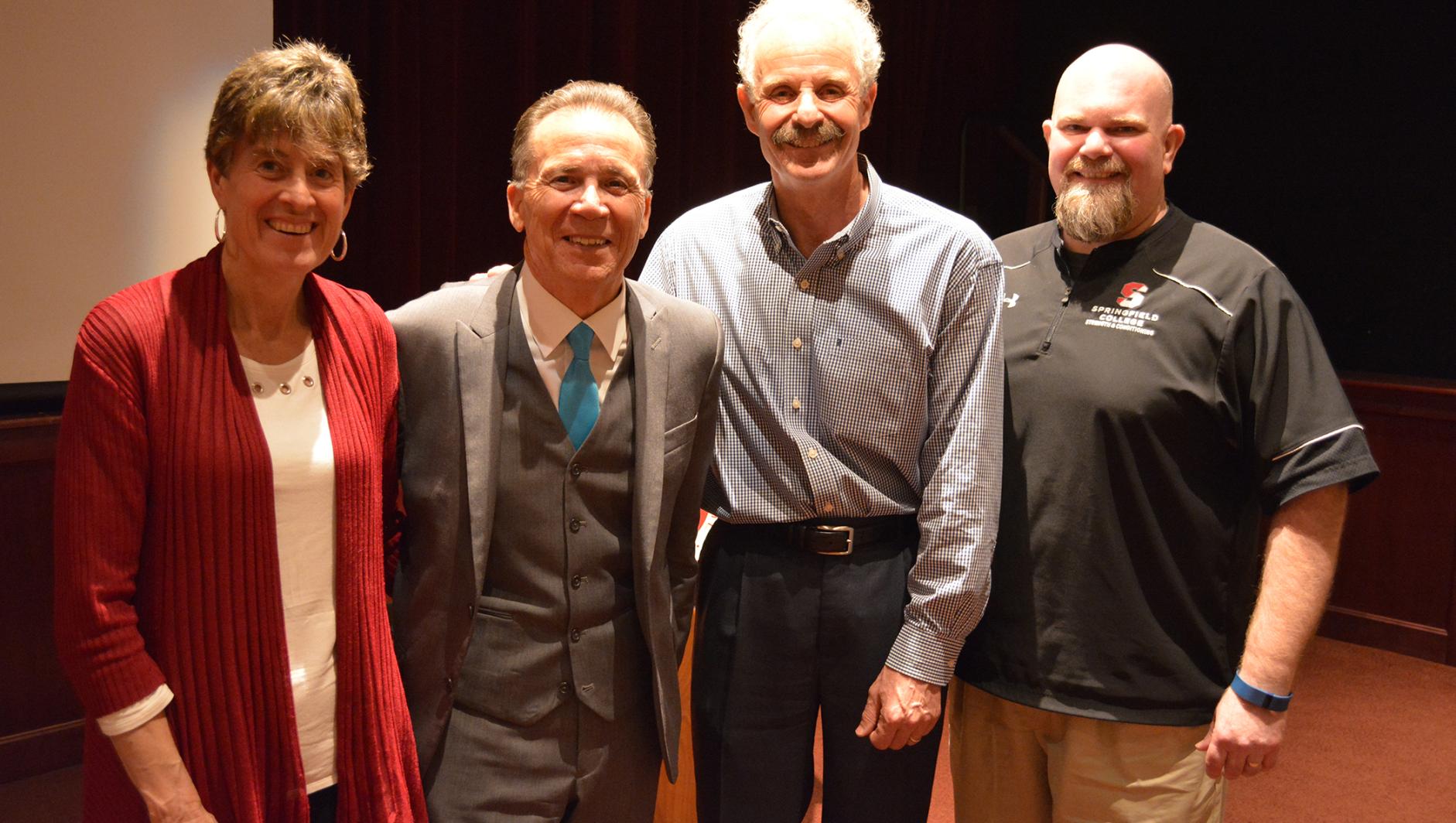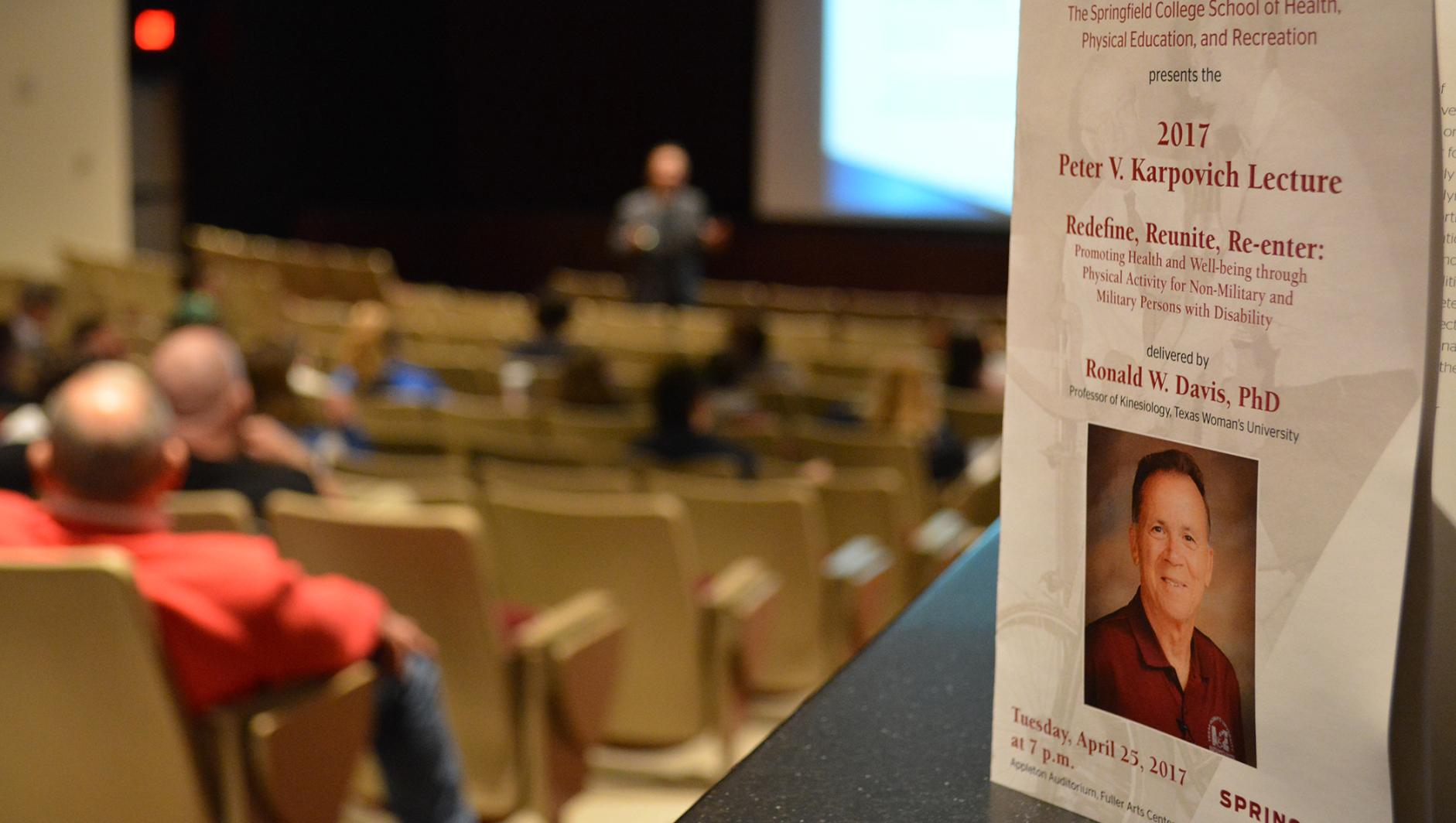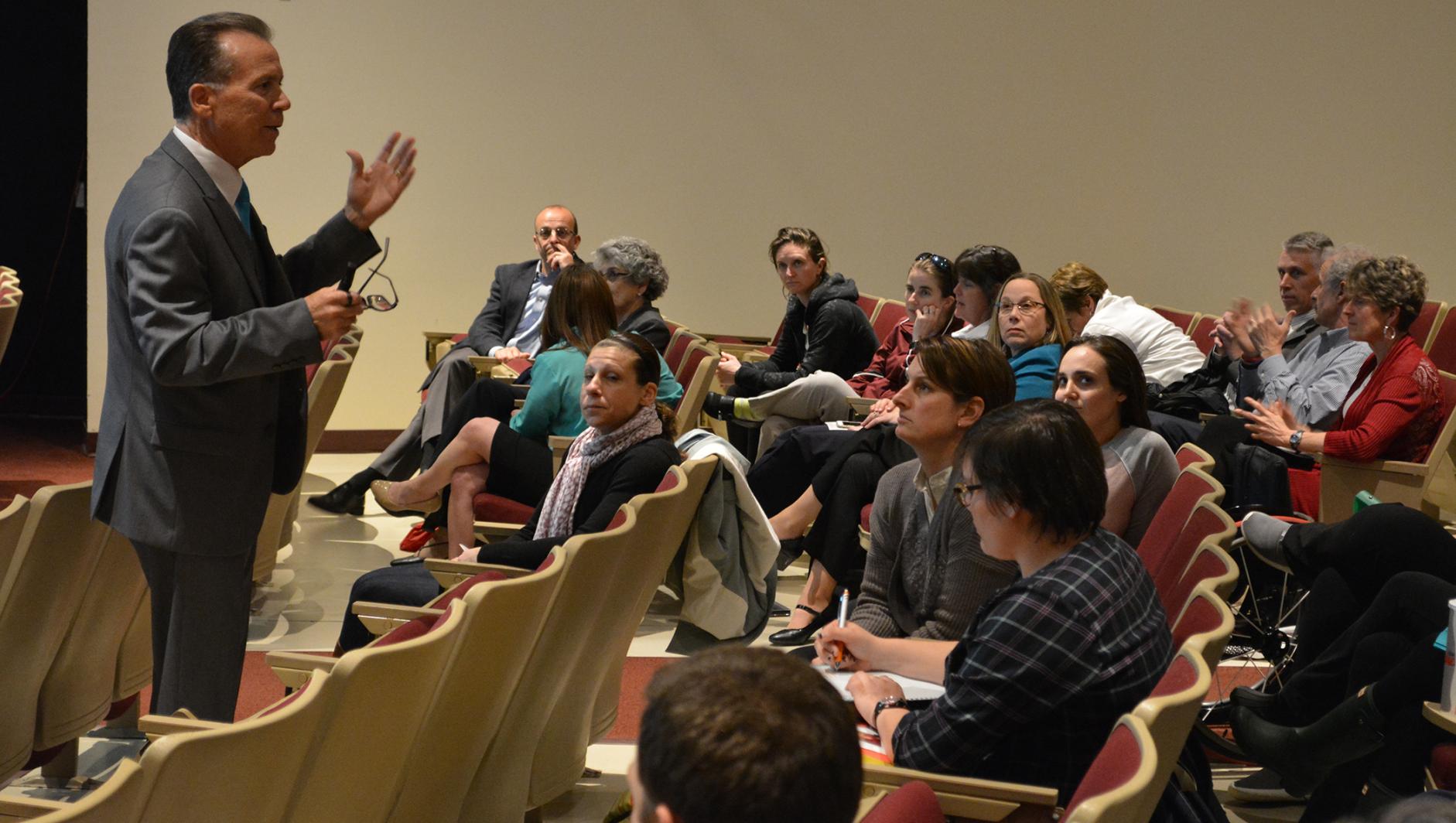 The Springfield College School of Health, Physical Education, and Recreation presented the 2017 Peter V. Karpovich Lecture featuring Ronald W. Davis, PhD, professor of kinesiology at Texas Woman's University, on Tuesday, April 25, in the Fuller Arts Center. The lecture was titled, "Redefine, Reunite, Re-enter: Promoting Health and Well-being through Physical Activity for Non-Military and Military Persons with Disability."
Davis is one of the leading professionals on adapted physical activity and sport for persons with disabilities. He currently serves on the board of the U.S. Paralympic Research and Sports Science Consortium, served as former president of the National Consortium for Physical Education and Recreation for Individuals with Disabilities, and severed as former director of athlete classification for the 1996 Atlanta Paralympics. 
Davis has also co-directed paralympics training camps for U.S. teams headed to Korea, Barcelona, and Atlanta. His research interests have included projects related to the kinematics for seated shot put; hand placement of seated volleyball athletes; and the physical affect of wounded, ill, or injured wheelchair basketball players.
Springfield College established the Karpovich Lecture in 1973 in memory of its former faculty member, Peter V. Karpovich, who was an internationally recognized exercise physiologist and one of the principal founders of the American College of Sports Medicine. Karpovich joined the Springfield College faculty in 1927 serving as a professor of physiology. He was named director of health education at the College in 1947 and was appointed research professor of physiology in 1955.
The Lecture was designed to bring a distinguished lecturer in the field of exercise physiology research, sports medicine or other scientific aspects of physical education to the College on an annual basis.
The Lecture Series was proposed by Peter Burdett '72, the first undergraduate student to sit on the Springfield College Board of Trustees. 
1973 -            Dr. Elsworth R. Buskirk, "Coronary Heart Disease"
1974 -            Dr. Jean Mayer, "Nutrition and Health Risks"
1975 -            Dr. David H. Clarke, "The Muscle in Physical Performance and Fatigue"
1976 -            Dr. David B. Dill, "Responses of Men and Women to Exercise in Desert Heat"
1977 -            Dr. Benjamin Ricci, "Pitfalls and Potentials of Stress Testing"
1978 -            Dr. Ralph F. Goldman, "Physically Fit – For What?"
1979 -            Dr. David L. Costill, "Optimizing Athletic Performance"
1980 -            Dr. Charles Tipton, "Animal Models and Their Lessons for Exercise Physiology"
1981 -            Dr. Michael J. Pollock, "Exercise Prescription: Guidelines and New Concepts"
1982 -            Dr. Howard G. Knuttgen, "Muscle Contractions, Physiological Response
            and Sports Conditioning"
1983 -            Dr. G. William Hettler, III, "Evolution of the Health Fitness Movement"
1984 -            Dr. Russell E. Pate, "Physical Activity and Health: Implications for
            Public Policy"
1985- Dr. Vassilis Kissouras, "Limits of Human Performance: What We Have
            Learned from the Study of Twins"
1986- Dr. William P. Morgan, "Psychobiological Perspectives in Sports Psychology"
1987 -            Dr. Marlene J. Adrian, "Research and the Real World of Human Movement"
1988 -            Dr. Klaus Volker, "Sports and Hypertension: Risks and Benefits"
1990- Dr. Jackie Puhl, "Footprints: The Past, Present and Future in
            Exercise Physiology"
1991 -            Dr. Roberta J. Park, "Athletes and Their Training in Britain and America,
            1800-1924: Social, Cultural, and Physiological Considerations"
1993 -            Dr. Mimi Murray, "The Professions from the Perspective of the
            AAHPERD Presidency"
1994 -            Dr. James A. Peterson, "Yes, You Can – Enabling Young Women to Reach
            Their True Physical Potential"
1995 -            Dr. Albert M. Paolone, "Gender and Performance in a Changing Society"
1996 -            Grant Allen Peacock, III, "Sports Fitness for the Disabled"
1997 -            Dr. Glenn M. Wong, "Sport Law and Sport Management in the
            21st Century"
1998- Mel Zuckerman, "Tomorrow's Paradigms for Healthy Living"
1999 -            Dr. Carl Gabbard, "Your Child's Brain: Windows of Opportunity –
            A Multi Sensory Approach to Learning"
2000 -            Dr. Anita White, "Women in the Olympics: One Hundred Years"
2001 -            Dr. John Lucas, "The Olympic Games in the 21st Century"
2003 -            Dr. Frank Pyke, "Maximizing Potential in High Performance Sport"
2004 -            Dr. William Kraemer, "The Psychology of Resistance Training"
2005 -            Dr. Andrew Zimbalist, "Sports, Stadium, and Economic Development"
2006 -            Dr. Jack H. Wilmore, "The Obesity Epidemic: Focus on Treatment
            or Prevention"
2007 -            Marjorie J. Albohm, "Securing Athletic Training as a Health Care          
            Profession – What Will It Take?"
2007 -            Dr. Lawrence F. Locke, "Redefining the Role of the Physical Education
            Teacher: Radical Changes to Meet New Demands"
2008 -            Dr. Kris Berg, "Metabolism of Non-steady State Work and Sport"
2008 -            Dr. John J. Ratey, "The Impact of Exercise on Learning"
2009 -            Dr. Arleigh Reynolds, "Relationship between Nutrition and Performance
            in Sled Dogs – A Study in Extremes"
2010 -            Dr. Mimi Murray, "Celebration of 125 Years of AAHPERD
            and Springfield College"
2011 -            Dr. Lynn Couturier, "Gazing Into the Crystal Ball: The Future of
            Physical Education"
2013 -            Dr. Robert W. Hamill, "Physical Activity and Neurorestoration:
            Spirit, Mind, and Body Revisited"
2014 -            Nancy Hogshead-Makar, "Title IX: We Won, Right? So, Why the Stubborn
            Disparities in Athletics?"
2015 -            Vincent J. Paolone, EdD, FASCM, "The Karpovich Legacy is Alive and Well"
2016 -            Robert D. Kersey, PhD, ATC, "Sport & Exercise Ergogenics: Who cares?"
2017 -            Ronald W. Davis, PhD, "Redefine, Reunite, Re-enter: Promoting Health and
            Well-being through Physical Activity for Non-Military and Military Persons
            with Disability