Springfield College 2017 Academic Awards
Distinguished Senior Awards and Distinguished Graduate Student Awards Recognized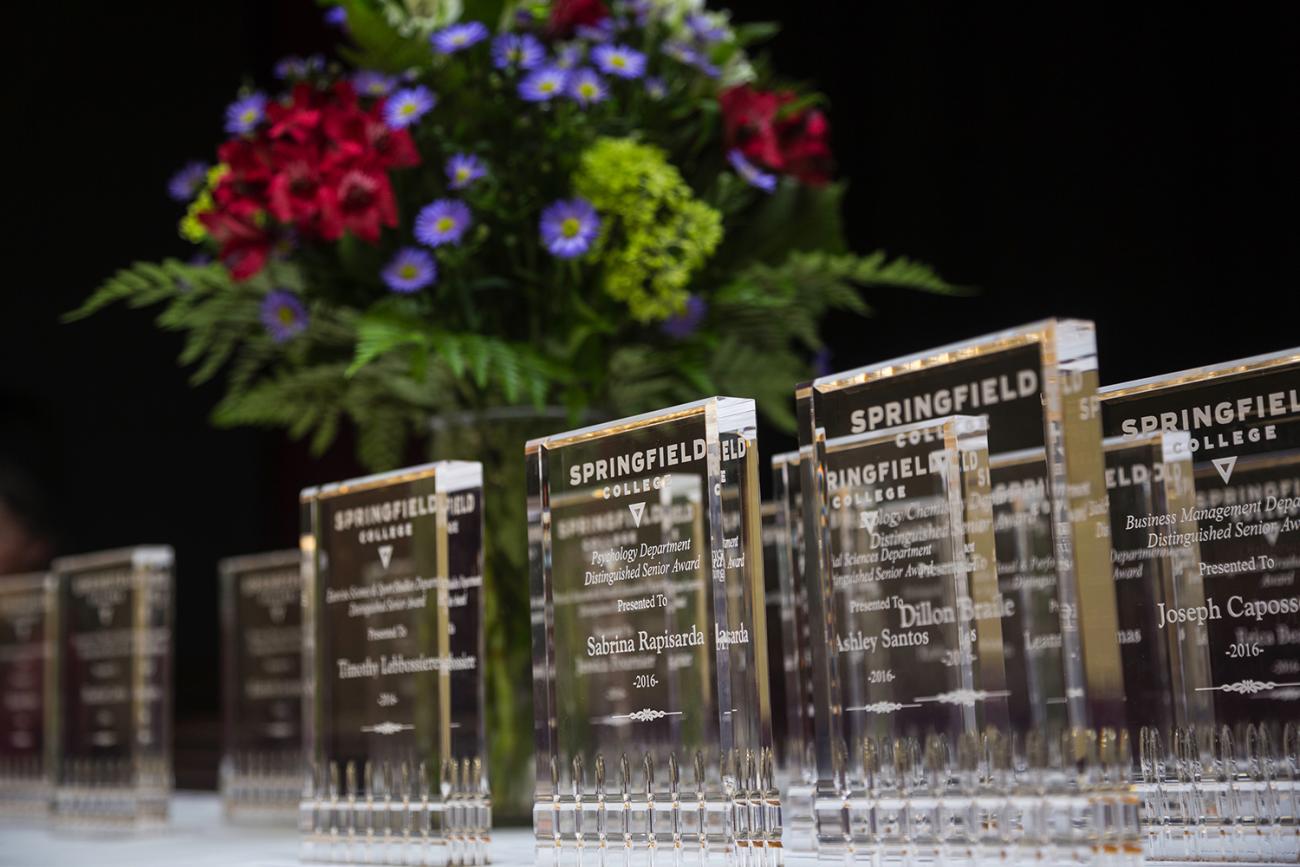 Springfield College hosted its annual Academic Awards Ceremony on Tuesday, May 2 in the Fuller Arts Center. This special ceremony recognizes and celebrates the academic success of Springfield College students during the academic year.
Springfield College Academic Award recipients from the School of Arts, Sciences, and Professional Studies including Distinguished Senior Award Winners: Alyssa Cousineau (Biology/Chemistry), Jordyn Moquin (Business Management), Dara Gillis (Education), Kaitlyn Bergstresser (Humanities), Clayton Sleator (Math/Physics/Computer Science), Genevieve Gravina (Psychology), Kali Thomas (Social Sciences), Conor Molinare (Visual and Performing Arts), and Andrew Vincent (Graduate Student Award).
Springfield College Academic Award Recipients and Distinguished Senior Award Winners from the School of Health, Physical Education, and Recreation including: Nathan Kingsley (Exercise Science and Sport Studies), Joseph Gillett (Physical Education and Health Education), Brooke Fairman (Sport Management and Recreation) and Olivia Morin (Graduate Student Award).
Springfield College Distinguished Senior Awards and Distinguished Graduate Student Award from the School of Health Sciences and Rehabilitation Studies including: Mohammed Alzahrani (Emergency Medical Services Management), Brianna Messier (Occupational Therapy), Olga Tereshchuk (Physical Therapy), Kaelly Miller (Physician Assistant), Karen Bassilakis (Rehabilitation and Disability Studies), and Zachary Fosberg (Graduate Student Award).
The Springfield College School of Social Work recognized its Distinguished Graduate Student Award, Michelle Tsang, at the annual Academic Awards ceremony in the Fuller Arts Center.
As part of the 2017 Springfield College Academic Awards Ceremony, the School of Professional and Continuing Studies recognized its Distinguished Senior Award from the Springfield campus, Mr. Irving Concepcion.