Springfield College 2020 and 2021 Alumni Award Recipients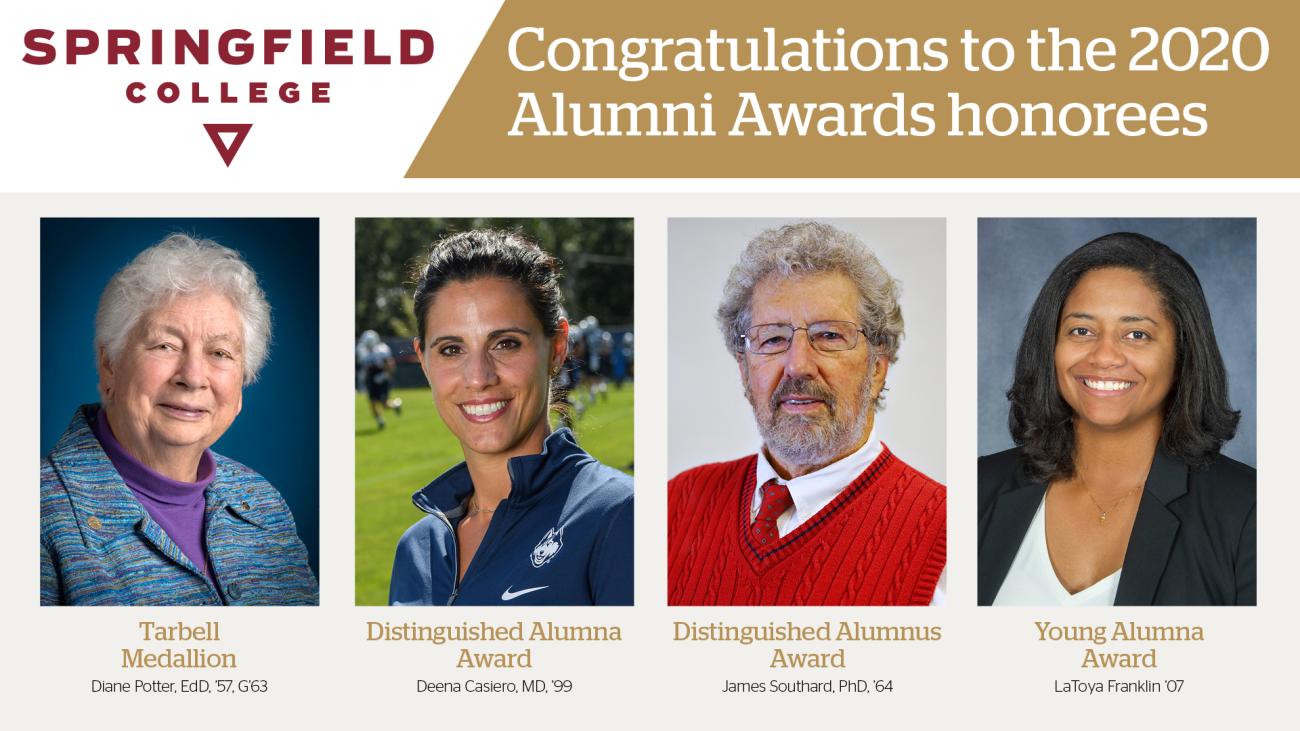 The 2020 and 2021 Springfield College Alumni Award inductees were recognized on Sunday, October 3 as part of the Alumni Awards Champagne Brunch.
Alumni Awards Honorees Class of 2020:
Young Alumna Award 2020
LaToya Franklin '07
LaToya Franklin is a board certified athletic trainer specializing in injury prevention, injury evaluation, injury rehabilitation, and acute and emergent care. She has a passion for social justice in health care, specifically bridging the athletic training services gap at the secondary school level, which disproportionately affects Black and Brown student-athletes.
Franklin graduated from Springfield College, where she majored in athletic training, minored in psychology, and played on the women's basketball team. She continued her education at Auburn University, earning a master's degree in exercise science with athletic training specialization, while working as an athletic training graduate assistant.
In 2009, Franklin began working at Tuskegee University (Tuskegee, Ala.) as the associate director of sports medicine, in addition to serving as the athletic trainer for women's volleyball, softball, and men's and women's basketball teams. In 2010, she became the clinical outreach athletic trainer in the Orthopaedic Clinic at St. Francis Orthopaedic Institute (Columbus, Ga.). There she reviewed patient medical histories, ordered imaging and tests for patients, collected data for a shoulder study, and served as the head athletic trainer for St. Anne Pacelli High School, also in Columbus.
Since 2015, Franklin has worked for WellStar Atlanta Medical Center (Atlanta, Ga.) as a supervisor athletic trainer. She is responsible for hiring and training new staff, managing the department's budget, and maintaining supplies and equipment for 10 high schools and 13 middle schools. She created the first sports medicine policies and procedures handbook, as well as a concussion protocol manual for the hospital.
At WellStar, Franklin organized a partnership between its Medical Center and Booker T. Washington High School that hosts events for students interested in careers in medicine. She also serves on the Booker T. Washington Healthcare Advisory Board and has served as the lead athletic trainer for the Women's National Football Conference.
The Tarbell Medallion 2020
Diane Potter '57, G'63
Springfield College has one of the nation's most highly regarded and respected women's intercollegiate athletics programs, and Diane Potter '57 G'63, EdD, a pioneer in women's athletics, is among the reasons why.
She served as the first softball and women's gymnastics coach at Springfield College. She coached the softball team for 21 years, compiling a 227-123 record that included four undefeated seasons and a then-school record 25 victories in her final season. Potter played professionally and was a three-time Eastern Major Girls' Softball League All-Star in the 1960s.
She played in four World Softball Tournaments and exhibition games in Canada. At the request of the Dutch National Softball Association and the Italian Softball Federation, she traveled to Holland and Italy to conduct clinics. In 1974, Potter hosted the Dutch National Team in Springfield, conducting a training camp to help prepare players for the World Championship held at Raybestos Memorial Field in Stratford, Conn. Potter served four years as the Springfield College coordinator of women's athletics and 11 years as assistant director of athletics.
She held several key positions with multiple regional and national organizations. Her honors are prolific, and we list some of the many honors. In 1982, she received The Silver Medallion from the Royal Dutch Baseball and Softball Association for dedication to softball in Holland. In 1985, the Springfield College softball field was named in her honor. Potter was inducted into the National Association of Collegiate Directors of Athletics Hall of Fame in 1986 and the New Agenda-Northeast Hall of Fame in 1988. In 1989, she became only the second woman inducted into the Springfield College Athletics Hall of Fame. In 1998, she was honored by the Eastern College Athletic Association with the Katherine Ley Award, and in 1999, the Massachusetts Association for Health, Physical Education, Recreation and Dance honored her with the Joseph McKenney Award.
Clearly as a coach, administrator, and faculty member, Potter's dedication to her alma mater was tireless. After her retirement, that dedication grew. She never strayed far from Alden Street. A generous donor, she is a member of the President's Council. She has served on her class Reunion Committee, currently is president of the Class of 1957, and is a member of the New Hampshire Alumni Association Executive Committee. She has served on numerous softball reunion committees, and she is a frequent member of many programs providing inspiring invocations. Currently, she serves on the Springfield College Alumni Council representing the decade of the 50s. As the 1989 Distinguished Springfield Professor of Humanics, she remains an active member of that august group.
The Diane L. Potter '57 Softball Funds were established as a tribute to Coach Potter in 2015 by a committed group of softball alumnae, to augment support for the softball program. This includes endowing the head softball coaching position in Potter's name while also providing an endowed fund designated to support the highest needs of the program.
Potter enjoys spending summers in New Hampshire and winters in Florida with her partner, Sydney B. Stewart.
Distinguished Alumnus Award
James Southard '64
James Southard, PhD, developed an interest in biology and chemistry while at Springfield College, setting the stage for a long and successful career in academic research. After graduating in 1964, Southard completed a master's degree and a doctorate in food science at the University of Massachusetts.
He began a postdoctoral fellowship at the Enzyme Institute at the University of Wisconsin. That fellowship led to an extended career at the university, beginning as a program associate in the surgery department and leading to serving as the medical school's director of laboratory animal resources. Southard is currently a professor emeritus of surgery.
Southard's work has been published in numerous scientific journals, book chapters, and other publications. He has been invited to speak at 51 national presentations and 31 international presentations. Southard has received many honors, including the 1990 Outstanding Speakers Award by the American Association for Clinical Chemistry, the 1990 Distinguished Alumni by Smith Academy, the 2008 Transitional Science Award from the Transplantation Society, and the Emeritus Faculty Award in 2010 by the University of Wisconsin Medical Alumni Association, among others.
Southard has served as a research trainer and graduate thesis advisor to students. He is an editorial board member for 10 national and international science journals and serves on the National Institutes of Health Grant Review Committee.
His vast areas of expertise include development of the scientific basis for effective organ preservation for transplantation, the development of four patents for organ preservation solutions, and the development of the University of Wisconsin organ preservation solution for cold storage of human organs (known as ViaSpan).
Southard's passions outside of his professional work include leading a men's ministry at his parish and singing with a men's group and folk band at nursing homes and retirement centers.
His greatest passion is his family. He and his wife of 57 years, Sandy, have two daughters, Jennifer and Elizabeth; and three grandchildren, Allie, Jacob, and Audrey. He also has a niece, Bethany Stosz Shippers, an alumna from the Class of 2011.
Distinguished Alumna Award 2020
Deena Casiero '99
Deena Casiero, MD, has 11 years of clinical and administrative experience in high profile sports medicine, including working at the U.S. Open Tennis Championships, the NHL, several Division I universities, and the U.S. Women's Rugby Sevens team.
Dr. Casiero graduated from Springfield College with a bachelor's degree in athletic training and a minor in psychology. She began her professional career working as the head athletic trainer at Mattituck (N.Y.) High School. She then began working as the assistant athletic trainer and complex supervisor at St. Joseph's College in Patchogue, N.Y.
Dr. Casiero continued her studies at SUNY Stony Brook for a post-baccalaureate pre-medical training program before entering the New York Medical College MD program. She completed her residency in internal medicine at Montefiore Medical Center (Bronx, N.Y.) and began a primary care sports medicine fellowship at the University of Connecticut Health Center.
In 2010, Dr. Casiero worked as an internal medicine/sports medicine physician for ProHEALTH Care Associates. Since 2015, she has been the director of sports medicine and head team physician for the University of Connecticut. In addition to her demanding position at UConn, Dr. Casiero is a member of the NCAA COVID-19 Medical Advisory Group, the NCAA/American Medical Society for Sports Medicine Advisory Group, the Big East Conference Health and Safety Task Force, and the Hockey East Conference COVID-19 Task Force.
Dr. Casiero was the tournament physician at the U.S. Open Tennis Championship from 2010 to 2015, and the director of player medical services in 2014-15. She served as the associate team physician for the New York Islanders from 2010-15 and as a medical consultant for the U.S. Women's Rugby Sevens team from 2011-14, in addition to numerous other professional clinical experiences.
In citing her passions, Dr. Casiero shares her dedication to mentoring young women in the field of sports medicine, a holistic approach to athlete-centered medicine, and empowering college-age student-athletes to self-advocate.
Dr. Casiero's research has appeared in various professional publications. Recently, she was appointed to the prestigious NCAA Committee on Competitive Safeguards and Medical Aspects of Sports, where she serves as a drug testing expert. A lecturer and mentor for Springfield College athletic training students, she was named the Charles J. Redmond Distinguished Alumna Award recipient in 2018.
Alumni Awards Honorees Class of 2021:
Young Alumna Award 2021
Ashley Reves Meganck '06
Ashley Reves Meganck graduated from Springfield College with a degree in sport management, minoring in business management.
In the summer of her junior year, she landed an internship with the Buffalo Bills, sparking her career in professional sports. After graduating, she became a marketing partnership graduate assistant with the Buffalo Bills. From there, she progressed to coordinator of corporate accounts and then manager of corporate sales.
Since 2016, Meganck has served as the director of corporate sales for Pegula Sports & Entertainment, which manages several professional sports teams, including the Buffalo Bills.
As a student-athlete on the women's volleyball team, Meganck was named an ESPN The Magazine Academic All-American, New England Women's and Men's Athletic Conference Player of the Year, 1st Team All-New England, 1st Team All-Region, Division III All American Honorable Mention (2003, 2004), and the Springfield College Sophomore Athlete of the Year. She also was a volunteer assistant coordinator for the Maroon Club and served as an assistant for the men's volleyball team.
Meganck has received numerous distinctions, including being named to the Rising Leaders Class of 2014 by Leadership Buffalo, and as a member of Deviate's Aspiring Female Executive Development Program.
Meganck serves on the board for Children's Hospital of Buffalo Foundation as well as Leadership Buffalo. She is a charter member of the Springfield College Sport Management Advisory Board and serves as a committee member for the Joel B. Dearing '79 Volleyball Fund.
Meganck lives in Orchard Park, N.Y., with her husband, Kevin, and their three children, Brooklyn, Coby, and Micah.
The Tarbell Medallion 2021
Ted Baumhauer, G'81, CAS'82 
After graduating from Thiel College, Ted Baumhauer, EdD, decided to enroll at Springfield College in pursuit of a master's degree in student personnel administration. It was there that he found a place that felt like home. 
Baumhauer found faculty that influenced who he was as a person and as a professional. After graduating in 1981, he continued his studies at the College and completed a certificate of advanced studies in counseling in 1982. 
Since 1982, Baumhauer has remained intrinsically involved in the Springfield College Alumni Association. A former Alumni Council president and member of the Board of Trustees, he has served multiple terms as a Grad Only (GO) representative on the Alumni Council and facilitated several leadership programs for Springfield College student leaders. As a professional juggler, he has served as an entertainer at multiple Homecoming and Reunion programs. A loyal donor to Springfield College and a member of the David Allen Reed Society, the Baumhauers have given for 23 consecutive years. Most recently, Ted has hosted three Rochester area Humanics in Action programs and serves as a volunteer for evenings of Alumni and Student Career Networking. He also is a member of the Grad Only Subcommittee of the Alumni Council and has served as the Springfield College 100 Years of Graduate Education after-dinner speaker.
Baumhauer followed his career in higher education by developing Baumhauer Enterprises Seminars & Training where he consults with organizations to improve leadership, communication, problem-solving, and teamwork.
Baumhauer has several professional certifications, including as a certified professional development trainer, a Myers Briggs type indicator, and holding certification in American Sign Language, among others. He has served on the Springfield College Board of Trustees, the National Speakers Association, the New York Speakers Association, and has given a talk at TEDxRochester.
Baumhauer was named Outstanding New Professional by the National Association of Student Personnel Administrators, was given the James Magnet Award by the Vermont Technical College Student Government Association, won the Teddi T. Award from Camp Good Days & Special Times, and won 5Ball endurance and best trick at the 2004 Cornell University Big Red Juggling Fest. He is the author of Little Blue Penguins: Tales for Making the Transition to Leadership.
He and his wife , Judy Ford Baumhauer '83, have three daughters: Molly, Allie, and Emma, who is currently a second-year student in the Springfield College Physician Assistant Studies Program.
Distinguished Alumna Award 2021
Donna Hitchens '69, G'70
Donna Hitchens, JD, has led a long and industrious career as a champion of civil rights and social justice. The spark began when embarking on a service project as an undergraduate student at Springfield College. She graduated in 1969 with a degree in community leadership and development and returned to complete a master's degree in guidance and psychological services the  following year.
Hitchens started her professional career as an associate dean of students at University of Maine, Orono. She decided to pursue a career in law and enrolled at the University of California Berkeley Law, earning a juris doctor in 1977.
Hitchens founded and was the directing attorney of Lesbian Rights Project (now the National Center for Lesbian Rights) in San Francisco. She worked as a staff attorney at Equal Rights Advocates, Inc., and a staff counsel at American Civil Liberties Union of Northern California.
In 1986, she founded Hichens & Brenner, Attorneys at Law, where she worked for four years before moving to the next phase of her career as a judge. From 1991 to 2011, she was judge of the Superior Court for the state of California. Since then, Hitchens has worked for the assigned judges' program for the Judicial Council of California.
She has held numerous academic and teaching positions. Today, she remains an integral part of the faculty of the California Center for Judicial Education and Research. She published many papers in academic journals.
Hitchens is the recipient of several honors, including the 2012 Trailblazers for Justice Award from the Thelton E. Henderson Center for Social Justice, Berkeley School of Law; the 2008 Woman of the Year Award from the California State Senate; the Judicial Officer of the Year, Family Law Section, from the State Bar of California; and the 2002 Benjamin Arnada III Access to Justice Award by the California Judicial Council, among others.
For the last 10 years, Hitchens has worked with and served on the board of A Home Within, a national nonprofit organization that recruits, trains, and supervises therapists who provide pro bono therapy for foster children. She and her wife, Nancy Davis, have two children, Kate and Megan, and a grandson, Russell.
Distinguished Alumna Award 2021
Branwen Smith-King '78, G'79 
Arriving from her home country of Bermuda, Branwen Smith-King came to the Springfield College campus and found a home on the women's track and field team. She graduated with a degree in physical education, concentrating in athletic training, and continued her education with a master's degree in physical education with a concentration in athletic administration and teaching.
Smith-King taught physical education at Whitney Institute High School in Bermuda before becoming an athletic director for the United States Naval Air Base in Bermuda in 1980. In 1982, Smith-King returned to her passion: becoming the head women's cross country and track and field coach at Tufts University. In 2000, she was named New England Indoor Track Regional Coach of the Year. In 1984, she was named physical education director, and in 1987, became assistant director of athletics and senior woman administrator, positions she would hold at Tufts until 2017. Upon her retirement, Tufts renamed the second home track meet of the indoor season the Branwen Smith-King Invitational in her honor.
After retiring from Tufts in 2017, Smith-King returned to Bermuda to work as the executive director of the Bermuda Sloop Foundation until 2020. Since then, she has served as secretary general for the Bermuda Olympic Association in which she oversees all aspects of daily operations. Earlier this summer, Bermuda made Olympic history as the smallest nation or territory to win Olympic Gold when Flora Duffy won the triathlon.
An avid community volunteer while living in Medford, Mass., Smith-King served as both a junior and senior warden at Grace Episcopal Church, assisted with the Tufts University Adopt A Family program for needy families during the holidays, was a volunteer track coach at Medford High School, and was part of the Commission on Ministry for the Episcopal Diocese of Massachusetts.
Having been inducted into the Springfield College Athletic Hall of Fame, Smith-King currently serves on the Alumni Council, the alumni of color subcommittee of the Alumni Council, and as a mentor to current students who identify as Black, Indigenous, People of Color. She is married to Adrian King and they have two daughters, Akilah and Arantxa.