Springfield College and Berkshire Community College Sign Articulation Agreement for Exercise Science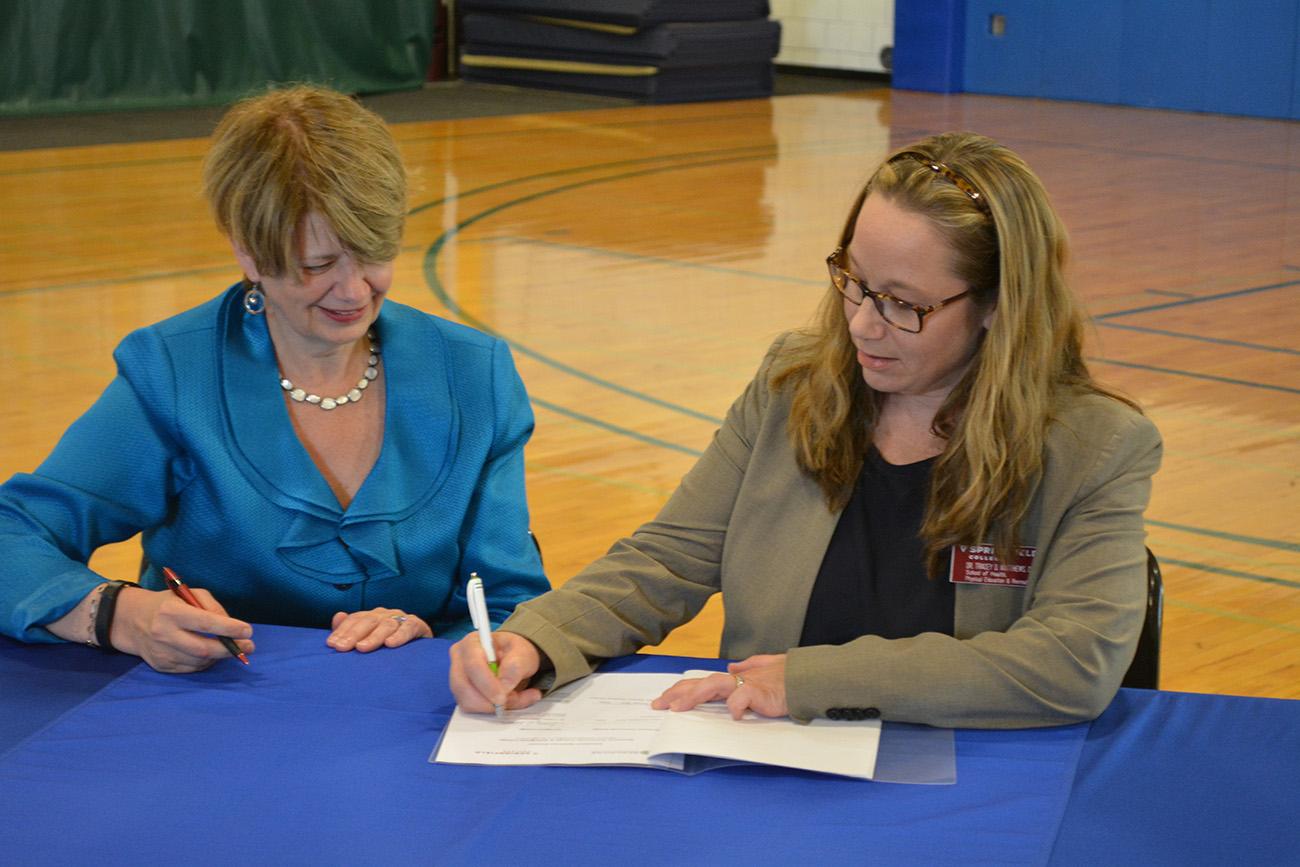 Springfield College and Berkshire Community College (BCC) have entered into an academic agreement allowing qualified BCC Physical Fitness graduates to transfer to Springfield College's Applied Exercise Science Program with junior standing.
"Springfield College is very excited to collaborate with Berkshire Community College on this articulation agreement," said Tracey Matthews, Springfield College's dean of the School of Health, Physical Education and Recreation. "Exercise Science is a growing and a much needed field. In an era where obesity is on the rise from children to adults and our society is becoming more health-conscious, we will be preparing outstanding leaders in the field of Exercise Science to help individuals live healthier lifestyles. Students will be receiving quality educational experiences at two outstanding institutions. The relationship between us will allow for a seamless transition for students to continue their educational pursuits." 
Springfield College, known internationally as a leader in the field of exercise science, was one of the first institutions in the United States to develop the applied exercise science major. The major emphasizes that physical activity is inextricably linked to good health, and focuses on preventing health problems. The curriculum has a strong science base, including courses in exercise physiology, exercise prescription for normal and special populations, measurement, nutrition and management.
The Springfield College applied exercise science program is designed to assist students in their preparation for nationally recognized certifications, including those offered by the American College of Sports Medicine (ACSM), the National Strength and Conditioning Association (NSCA) and the YMCA.
BCC's Physical Fitness degree option was created in 2001. The program, which is endorsed by The American College of Sports Medicine and the American Council on Exercise (ACE), offers instruction in nutrition, muscular strength and aerobic conditioning, group exercise instruction and personal training. The program also explores the human body and its relationship to exercise and fitness and covers such topics as mind/body connection, injury prevention and sports psychology.
"This agreement promotes degree completion and facilitates the transfer process, ensuring that BCC graduates enter Springfield College with junior standing," said BCC President Ellen Kennedy. "This important partnership is the result of the hard work of Sherry Scheer, who has tirelessly led BCC's Physical Fitness Program for the past 34 years. This agreement demonstrates not only the quality and rigor of the education our students receive – it shows that they are up for the challenge of continuing their education at one of the top programs in the country."
Founded in 1885, Springfield College is known worldwide for the guiding principles of its Humanics philosophy—educating students in spirit, mind and body for leadership in service to others. With its foundation of academic excellence and rich athletic heritage, Springfield College prepares students with real-world leadership skills for careers that transform lives and communities. The college offers a range of undergraduate and graduate degree programs in the fields of health sciences, human and social services, sport management and movement studies, education, business, and the arts and sciences. It also offers doctoral programs in physical education, physical therapy, and counseling psychology. The college is ranked in the 2017 edition of "Best Colleges" in the top tier of "Best Regional Universities – North Region" by U.S.News & World Report, and as ranked one of the top 12 in the North Region of the U.S.News Best Values report. It is also designated as a College of Distinction and a premier Leadership Development Center by the YMCA of the USA. Nearly 5,000 traditional, nontraditional and international students study at its main campus in Springfield, Mass., and at its School of Professional and Continuing Studies across the country.