Springfield College and New England Business Associates Celebrate Project SEARCH Cohort 2019 Graduation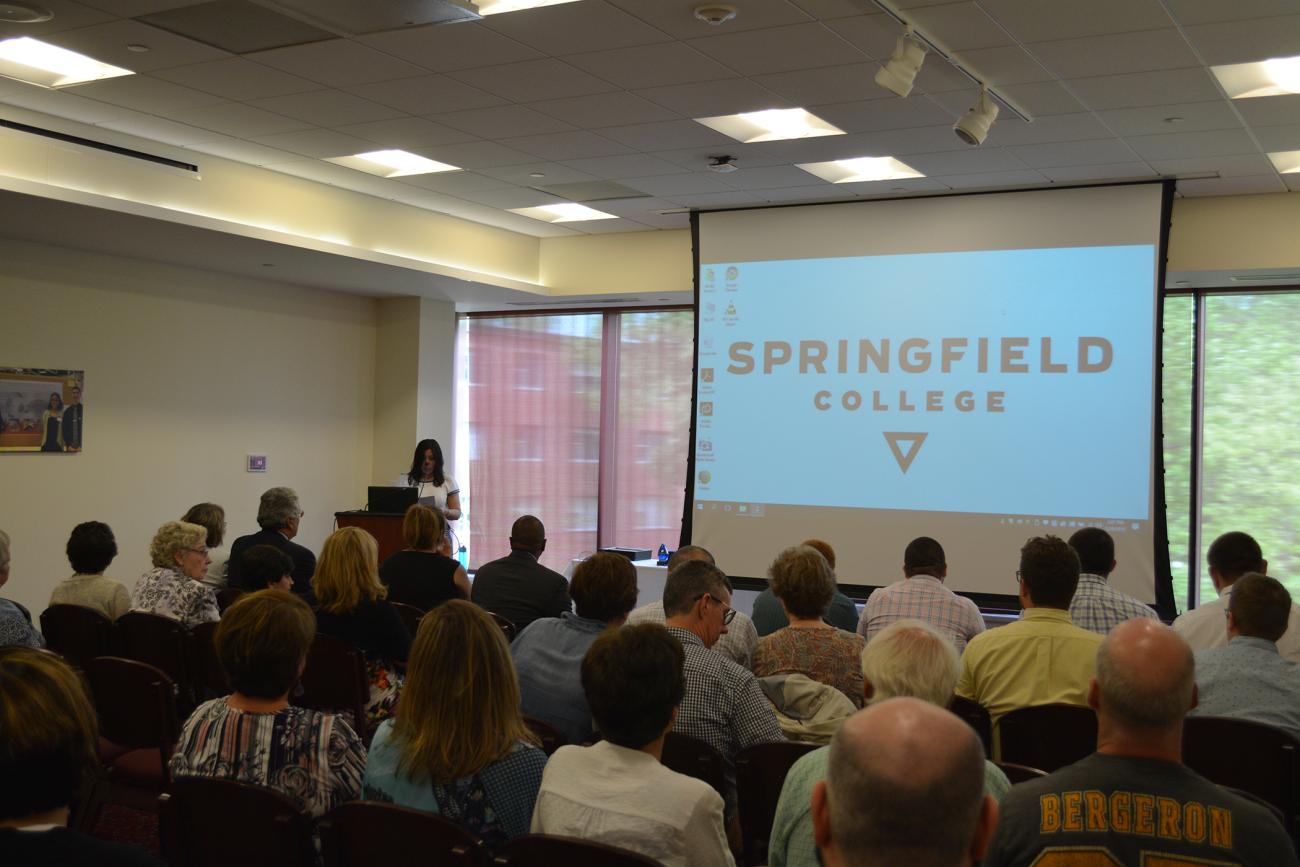 Springfield College, in collaboration with New England Business Associates, recently celebrated the graduation of the first cohort of interns participating in the community's Project SEARCH program at Springfield College. Springfield College is the first college or university in Western Mass. to lead the Project SEARCH program on the campus.
"New England Business Associates has provided these young people with some amazing skill sets, and we want to thank them for all their hard work in making sure these interns are set for success," said Springfield College Vice President for Inclusion and Community Engagement Calvin Hill. "These interns have left their mark at Springfield College, and I hope they proudly celebrate their time on the campus because we sure have enjoyed having them with us. We thank them for helping launch this program and setting the bar very high for the next cohort."
During the 2018-19 academic year, four individuals representing the inaugural Project SEARCH cohort at Springfield College had the opportunity to gain valuable work experience through month-long internship rotations with a variety of departments and offices within the Springfield College community including: the post office, technology services, business office, communications, archives, athletic equipment room, and facilities.
"It takes special individuals to help mentor and nurture these interns, and at Springfield College, we witnessed so much dedication and commitment from the staff in making sure these interns received the valuable experiences they were striving to receive," said New England Business Associates Project SEARCH Program Coordinator and Division Supervisor Ruth Poirier.
Project SEARCH's mission is to support young adults with disabilities to transition from school to work through a community agency partnership while gaining employability skills. The program is dedicated to workforce development that benefits the individual, community and workplace.
"We were very fortunate to have a Project SEARCH intern during each of the three rotations," said Springfield College Associate Director of Strategic Web Communications Deanna Boucher. "Each individual truly became a member of our office, and while I hope these interns gained valuable lessons from us, I know our office is now better off because of them."
The Project SEARCH model involves an extensive period of training and career exploration, innovation adaptations, long-term job coaching, and continues feedback from teachers, job coaches, and employers.
"What makes this program so special is hearing from the participants' families just how life changing this opportunity has been," said New England Business Associates Chief Executive Officer Jeannine Pavlak. "We are so proud of these four individuals who we have watched grow so much during their time at the College."
New England Business Associates has partnered with the Department of Developmental Services during the last 35 years to help make sure programs like Project SEARCH are available for our youth.
"On a beautiful and inclusive college campus, this was a perfect setting for young adults to experience all the different aspects that a college campus has to offer," said Department of Developmental Services Commissioner Jane Ryder. "This program aligns well with the commitment of the Department of Developmental Services, to assist individuals we support to get the work experiences they need to gain meaningful employment."
Project SEARCH has more than 400 program sites in over 40 states in the United States, as well as programs in Australia, Canada, England, Scotland, and Ireland.
New England Business Associates' mission is to enable individuals, who may face barriers, to be fully included in community life through employment, and to become economically empowered in a way that incorporates and creates best practices, creates valued typical societal roles, and offers individualized opportunities.
Springfield College is an independent, nonprofit, coeducational institution founded in 1885. Nearly 5,000 students, including 2,500 full-time undergraduate students, study at its main campus in Springfield, Mass., and at its regional campuses across the country. Springfield College inspires students through the guiding principles of our Humanics philosophy – educating in spirit, mind, and body for leadership in service to others.