Springfield College and YMCA of the USA Continue Partnership
New Springfield College YMCA Online Degree Completion Program Unveiled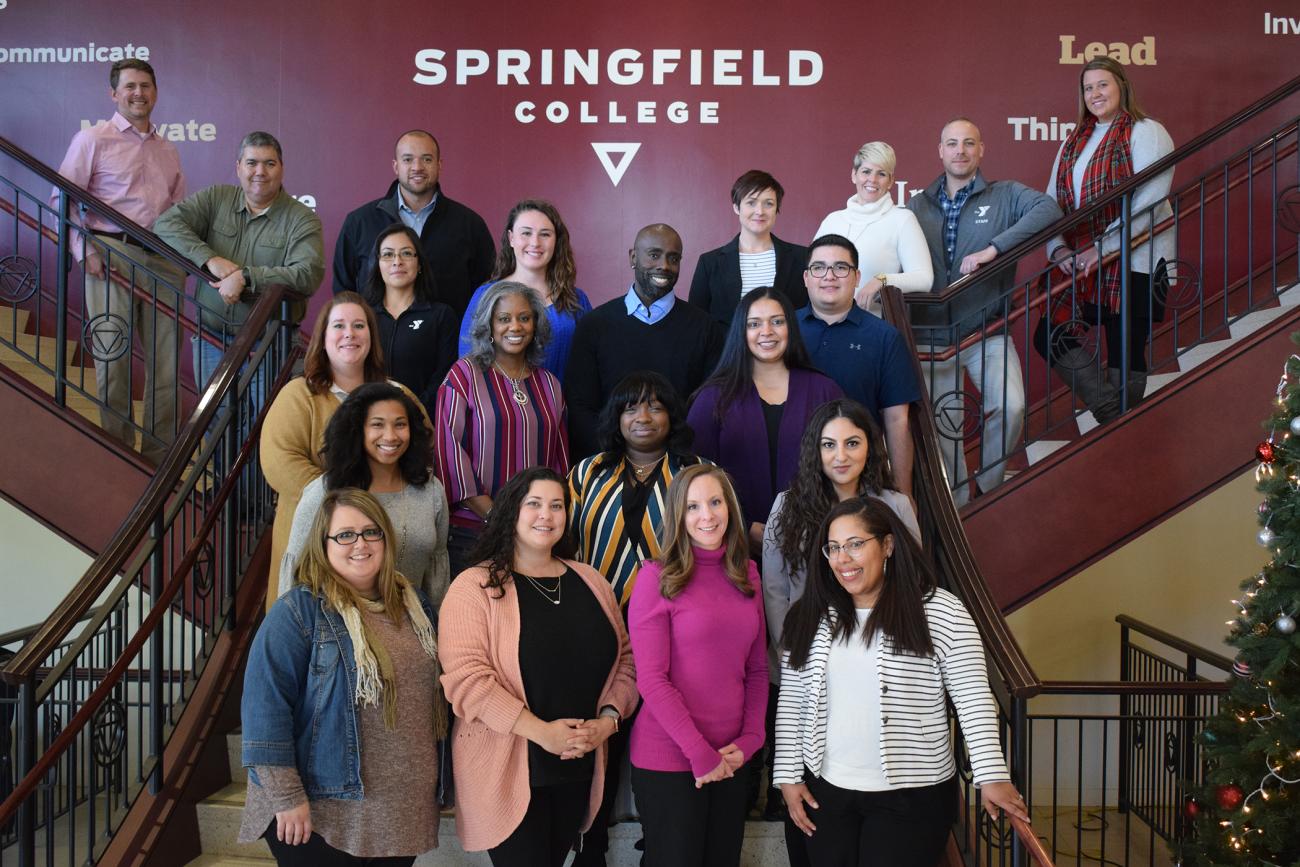 Springfield College and the YMCA of the USA renewed their historic partnership as College President Mary-Beth A. Cooper and YMCA President and Chief Executive Officer Kevin Washington recently signed a five-year agreement. As part of the agreement, the new Springfield College YMCA Online Degree Completion program was unveiled, which provides staff, who have earned leadership certification through YMCA of the USA, an opportunity to turn that learning into college credits that can count towards their degree completion at Springfield College. The program's participants represent the first class of students participating in full online courses at Springfield College.
"This new Springfield College YMCA Degree Completion program excites me because I know we need to provide YMCA staff, who are now working full-time, with an opportunity to complete their undergraduate degree," said YMCA of the USA Senior Vice President for Talent and Knowledge Management Terri Radcliff. "Having that degree is so important for a YMCA professional at any level, and it's required to be a CEO, so this program will assist in helping YMCA staff fulfill that requirement."
The inaugural class of 30 YMCA professionals representing the new Springfield College YMCA Degree Completion program recently visited the campus for their New Student Orientation, officially welcoming them to Springfield College. The cohort will begin working towards earning their degrees through the Springfield College online courses program starting immediately.
"I am so excited about the continuation of the Springfield College and YMCA partnership because not only does this allow us to celebrate the past, but with the new Springfield College YMCA Degree Completion program, we can also look forward to the future and a new relationship between the YMCA and Springfield College," said Springfield College President Mary-Beth Cooper.
These 30 students each received scholarship funding through a grant made possible by the Harold C. Smith Foundation. Harold C. Smith was an active and valued member of the Springfield College Board of Trustees, serving as a Trustee for 31 years. Using a gift made by Smith, Springfield College established the Harold C. Smith YMCA Career Development Fund in 2013. During his tenure as Trustee, he served as chair of the Board's investment committee and as a member of the Board's executive committee. After working for the YMCA Retirement Fund for 42 years, including 17 years as president, CEO, and chief investment officer, Smith retired in 2000. The fund experienced unprecedented growth in membership and assets under his management.
"Harold loved Springfield College and loved the YMCA, so we are so excited at the Foundation to be able to welcome these YMCA professionals into this degree completion program," said Harold C. Smith Foundation President and CEO Nancy Opalack.
The agreement between Springfield College and YMCA of the USA recognizes Springfield College as a premiere institution of higher education for YMCA leaders, and continues and expands educational programs and services for current and future YMCA professionals and volunteers, as well as other collaboration between the two institutions. Both institutions agreed to support recruitment of qualified students interested in YMCA careers for Springfield College's undergraduate and graduate degree programs and the subsequent placement of graduates in YMCA positions. In addition, there are a wide range of professional development opportunities hosted by Springfield College for current YMCA employees.
This agreement extends more than a century of collaboration between Springfield College and the YMCA of the USA.  In particular, it "recognizes the special and unique relationship between the parties, including the historic bond, mutual goals, and shared programming initiatives."
Springfield College was founded in 1885 as the School for Christian Workers, an independent institution that quickly emerged as a major educator of YMCA leaders. When basketball was invented in 1891 at Springfield College, the students and graduates quickly spread the game across the globe as they took it with them back to their home YMCAs. Today, Springfield College serves as the site of the YMCA Hall of Fame.
The YMCA of the USA is the national resource office for the nation's 2,686 YMCAs, which serve 21 million people each year, including nearly 10 million children under the age of 18. From urban areas to small towns, YMCAs have proudly served America's communities for nearly 160 years through their focus on building strong kids, strong families, and strong communities.
Springfield College is a private, coeducational institution founded in 1885. Nearly 5,000 students, including 2,500 full-time undergraduate students, study at its main campus in Springfield, Mass., and at its regional campuses across the country. Springfield College inspires students through the guiding principles of its Humanics philosophy – educating in spirit, mind, and body for leadership in service to others.