Springfield College Dedicates Candaras Davison Center for Inclusion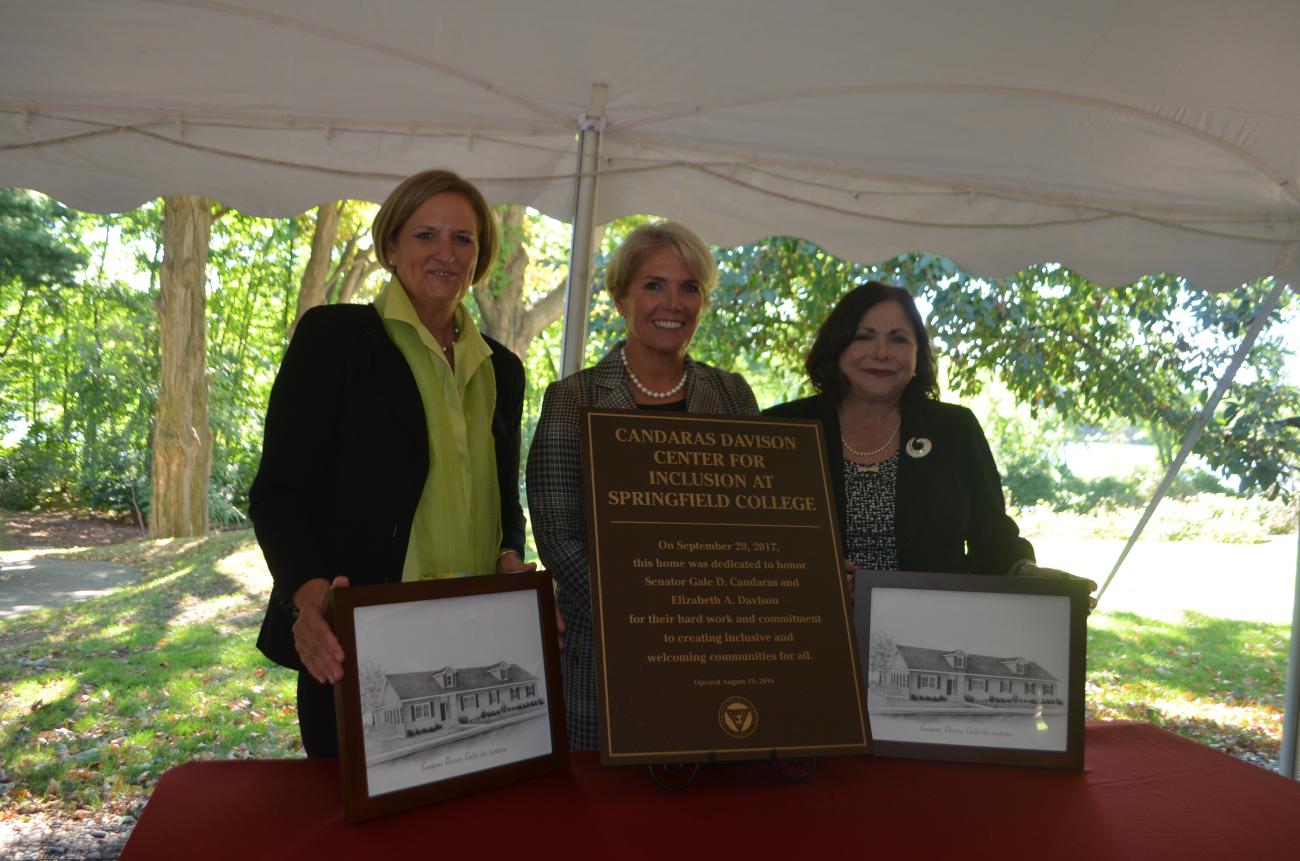 Springfield College celebrated the new Candaras Davison Center for Inclusion with a naming and dedication ceremony on Friday, Sept. 29, at the Springfield College President's campus residence at 425 Alden St. in Springfield.
The Center for Inclusion is a residence, located adjacent to campus, that serves deaf individuals with intellectual disabilities and provides them with opportunities for employment, socialization, and community engagement on the campus of Springfield College. It opened in 2016 and is currently home to five young adults who have made the transition from high school to independent living.
This dedication ceremony program included the official unveiling of the new name for the center and feature several guest speakers. Local and regional government and community leaders were in attendance, including the Honorable Stanley C. Rosenberg (President of the Massachusetts Senate), the Honorable Richard E. Neal (U.S. Representative), the Honorable Eric P. Lesser (Massachusetts State Senator), Sister Mary Caritas Geary, and Mayor Domenic J. Sarno.
Elizabeth A. Davison, of Wilbraham, Mass., in partnership with the Honorable Gale D. Candaras, helped establish this first-of-its-kind residence. Candaras, a long-standing member of the Commonwealth of Massachusetts General Court where she served in both the House and the Senate, helped secure funding for the project that Davison co-founded.
The Candaras Davison Center for Inclusion is the result of Davison's vision to help youngsters from throughout the Commonwealth who are deaf and have intellectual challenges and who, at 22 years old, had "aged out" of their educational entitlement. Davison approached Candaras for assistance within the state legislature. She then approached Springfield College President Mary-Beth Cooper to collaborate in establishing the first residential group deaf program on a college campus in the Commonwealth. The Center and its residents are a welcomed addition to the campus community.