Springfield College Department of Communications/Sports Journalism Earns Multiple Mark of Excellence Awards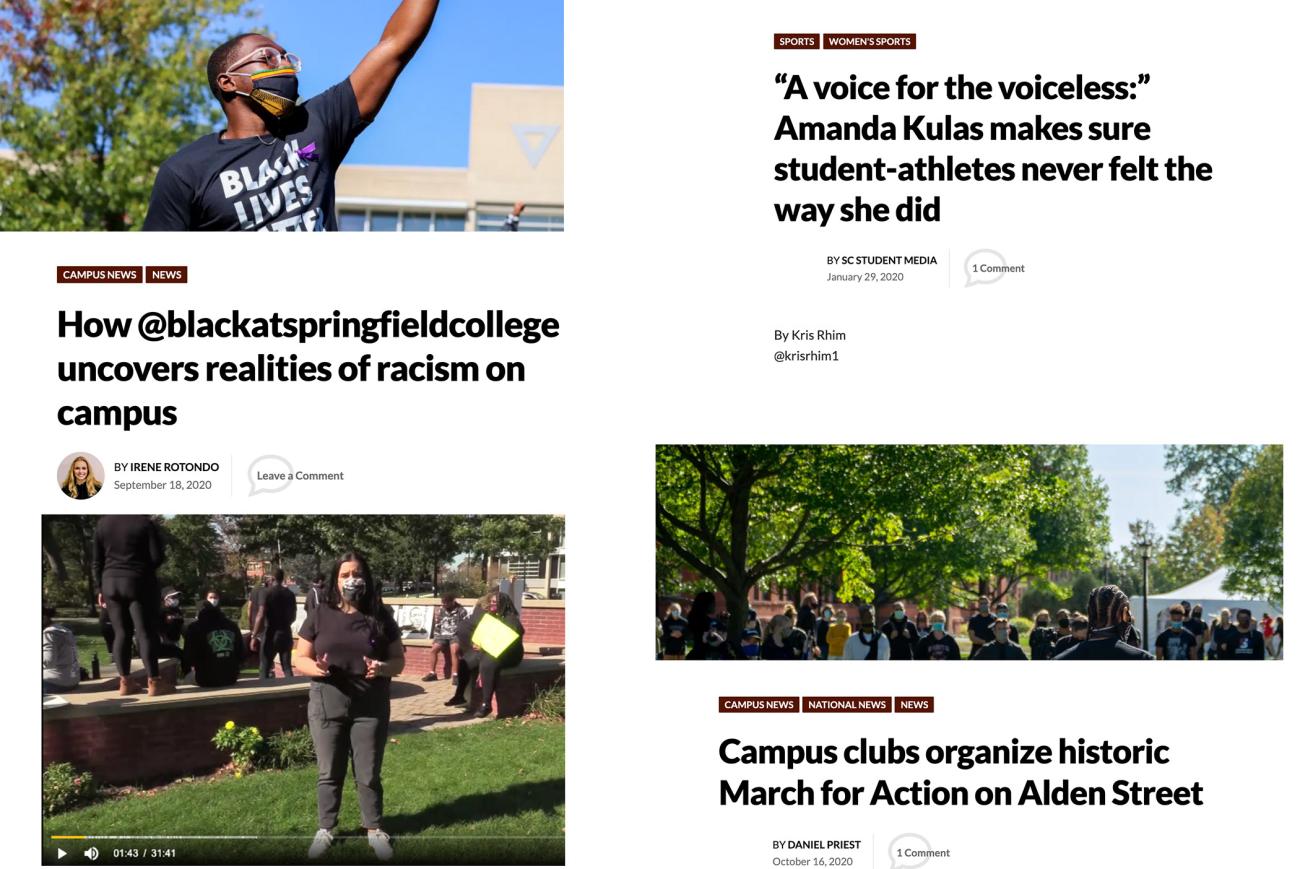 The Springfield College Department of Communications/Sports Journalism (COSJ) was recognized with multiple awards and honors at the recent Society of Professional Journalists (SPJ) Region 1 2020 Mark of Excellence (MOE) Awards virtual ceremony. SPJ's Region 1 comprises Connecticut, Maine, Massachusetts, New Hampshire, New Jersey, New York, Central and Eastern Pennsylvania, Rhode Island and Vermont.
Springfield College ended the awards ceremony tied for the most Mark of Excellence Awards in the small school category with five. All five of the awards Springfield College COSJ received were for stories or photos about social justice and they included:
Breaking News Reporting - Winner: Campus clubs organize historic March for Action on Alden Street - by Daniel Priest, Springfield College
General News Reporting - Finalist: How @blackatspringfieldcollege uncovers realities of racism on campus - by Irene Rotondo, Springfield College
Feature Writing - Finalist: 'A voice for the voiceless': Amanda Kulas makes sure student-athletes never felt the way she did - by Kristian Rhim, Springfield College
Breaking News Photography - Winner: March for Action on Alden - by Joe Arruda, Springfield College
Breaking News Photography - Finalist: Jack Margaros, Springfield College
Best News Show – Finalist: SCTV3 for best news show a year ago.
Mark of Excellence Award entries are judged by professionals with at least three years of journalism experience. Judges choose entries they feel are among the best in student journalism. School divisions are based on student enrollment, including both graduate and undergraduate. Large schools have at least 10,000 students and small schools have 9,999 or fewer students.
Springfield College is an independent, nonprofit, coeducational institution founded in 1885. Approximately 4,100 students, including 2,500 full-time undergraduate students, study at its main campus in Springfield, Mass., and at its regional campuses across the country. Springfield College inspires students through the guiding principles of its Humanics philosophy – educating in spirit, mind, and body for leadership in service to others.