Springfield College Department of Physical Therapy Represented at Global Student Physio Twitter Conference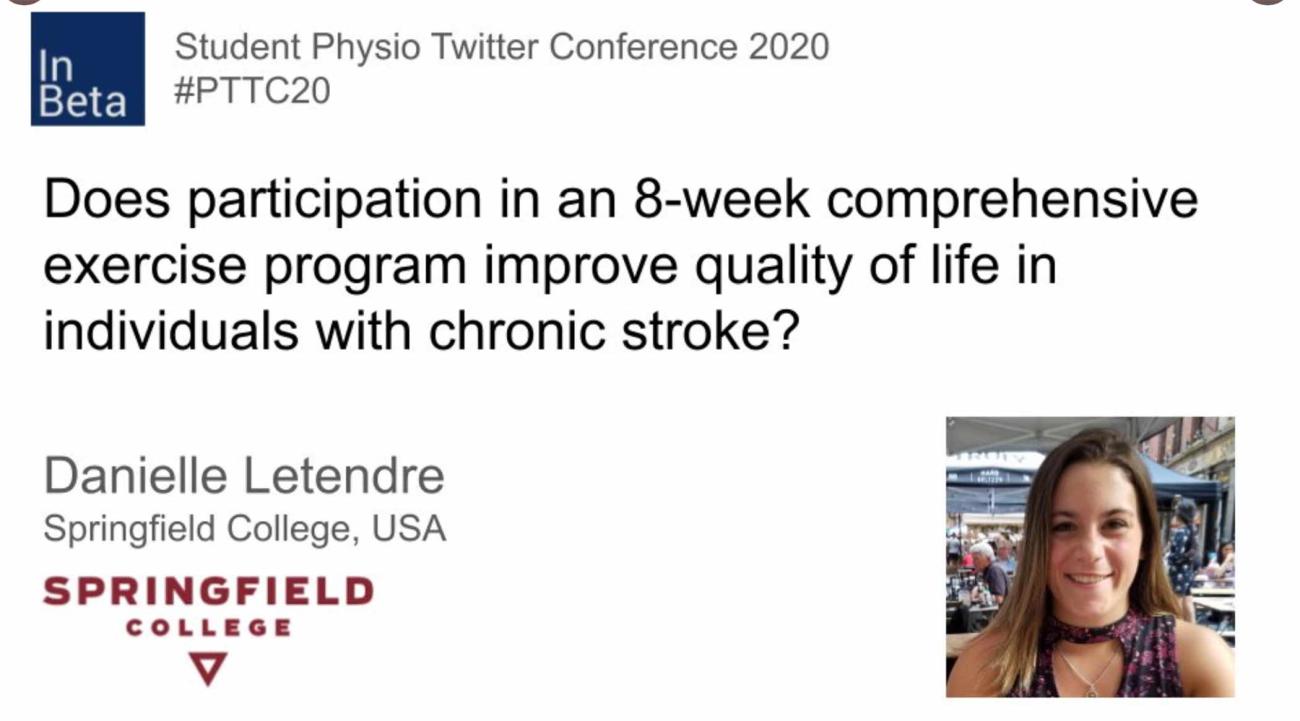 Springfield College Department of Physical Therapy Chair Julia Chevan and Class of 2020 Doctor of Physical Therapy (DPT) student Danielle Letendre represented the College during the first-ever Global Student Physio Twitter Conference on Friday, May 1. Chevan is one of the co-founders of the event, while Letendre presented her research on "Does participating in an eight-week comprehensive exercise program improve the quality of life in individuals with chronic stroke?"  
The Twitter conference consisted of 14 current students representing four continents; who shared their presentations in a series of tweets. The Twitter conference was a forum for disseminating students' research and generating discussion and feedback, just like at a typical in-person conference. Similar to a typical conference, abstracts were peer-reviewed and selected for presentation at a given time as part of the conference program.
"Last May, I attended the World Confederation for Physical Therapy Congress in Geneva where I met up with my colleague Ben Ellis, formally a senior lecturer at Oxford Brookes University, but now at University of Birmingham, and we got into a conversation about approaches to making the world a little smaller for our students," said Chevan. "We hatched the idea of a Student Physio Twitter Conference and proceeded to develop the idea, and put out a call for submissions this past fall."
Chevan added, "Fast forward to now, the conference happened on May 1, 2020, and traditional conferences are no longer taking place which means our work is more relevant in how it connects our profession. This year's conference had representatives from Australia, Philippines, Palestine, India, Great Britain, Switzerland, Scotland, and of course, the United States. Our conference has received more attention because it is feasible, and in the time of COVID-19, it does make the world a smaller place. Using Twitter as a presentation platform means the conference occurs in real time (synchronous) and asynchronously by following the hashtag (#PTTC20)."
The presentations were each a thread of 10 tweets providing the background, methods, findings and conclusions of the presenters' research. Each tweet was a reply to the previous one, creating a readable chain of tweets with an easy-to-follow numbering system ranging from one through 10, and ending with the hashtag #PTTC20. Participants and conference followers were able to read and respond to the presentations either as they happened, or after the presentation.
Twitter conferences have been used throughout the healthcare field providing alternatives to in-person conferences. Access to the conference was free, inclusive, and open to anyone who wanted to take part from anywhere around the world.
Springfield College is an independent, nonprofit, coeducational institution founded in 1885. Approximately 4,100 students, including 2,500 full-time undergraduate students, study at its main campus in Springfield, Mass., and at its regional campuses across the country. Springfield College inspires students through the guiding principles of its Humanics philosophy – educating in spirit, mind, and body for leadership in service to others.