Springfield College Departments of Physical Therapy and Visual and Performing Arts Collaborate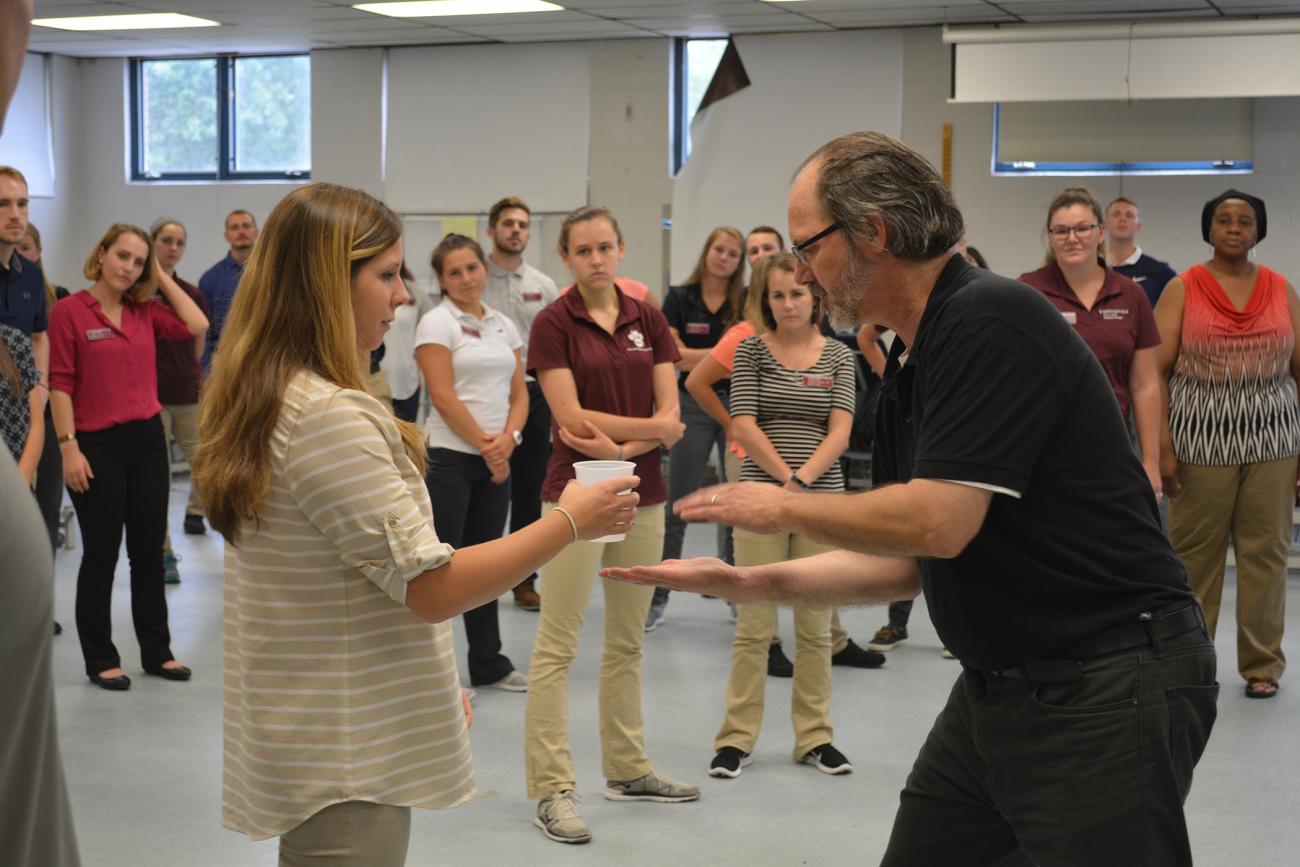 The Springfield College Departments of Physical Therapy and Visual and Performing Arts recently hosted a cross-disciplinary collaboration that focused on effective communication skills that help build and maintain strong relationships between physical therapists and their patients and clients.
Led by Associate Professor of Physical Therapy Salome Brooks and Department of Visual and Performing Arts Chair Martin Shell, the one-day workshop helped more than 40 physical therapy students feel more comfortable in their settings by focusing on interpersonal rapport, non-verbal communication, and fundamental presence with others. The class helps physical therapy students as they prepare to work with patients and clients. Shell's experiential methods, developed for acting classes from the traditions of theater technique, allow for fun and illuminating communication exercises for physical therapy students.
"The course really focuses on building up that relationship intimacy between the physical therapist and the patient," said Brooks. "There is a trust that needs to be established because if the patient doesn't feel comfortable with the physical therapist, it will be very difficult to help the patient improve and get better."
As part of the course, it's emphasized that physical therapists need to make sure their patients feel they are being treated in a fair and equal environment, which then allows for the systematic process of addressing the needs of the patient's illnesses and/or disabling conditions.
"When we analyze the physical therapist and patient relationship, there are many aspects that can effect that relationship," said Brooks. "Everything from the demeanor of the therapist, where the therapist and patient are seated, the health beliefs of the patient, all of these aspects play a role in that relationship building process.  It goes back to if the patient isn't comfortable in the surroundings, it becomes more challenging for the physical therapist to help lead the patient to getting better and healing."
With the assistance of Shell, students were able to go through communication exercises that allow them to view interactions from their patient's perspective.
"I've never had any doubt that the techniques we actors use for observation and training, in preparation to creatively express the complexities of human relationships in collaboration with others, are very useful in many areas of life and work," said Shell. "The workshops with the physical therapy students are excellent and very enjoyable opportunities for me to share a taste of our theater exercises in awareness and interaction. The common ground is the body, the source of tremendous instincts, sensibilities, and human understanding. We can use these discoveries as tools for observation about others, and to help us increase our choices about how to listen and respond to others. It improves our ability to serve and to accomplish, whatever our relationships or goals might be."
The text book used as part of the collaboration was Michael Brannigan's Cultural Fault Lines in Healthcare: Reflections on Cultural Competency. The book describes that health care in the United States faces two interpenetrating certainties. First, with more than 66 racial and ethnic groupings, the "American Mosaic" of worldviews and values unavoidably generates clashes in hospitals and clinics. Second, the public increasingly mistrusts the health care system. Conflicts in the clinical encounter, particularly with patients from other cultures, often challenge dominant assumptions of morally appropriate principles and behavior.

Brannigan's work explains that in order to address these cultural fault lines, health care institutions have initiated efforts to ensure cultural competence, and describes that these efforts become institutional window-dressing without tackling deeper issues, issues having to do with attitudes, understanding, and, most importantly, ways therapists communicate with patients. Brannigan's incisive analysis comes from his scholarship in health care and intercultural ethics, along with his longstanding clinical experience in numerous health care settings with patients, their families, and health care professionals.