Springfield College Global Health Trips 2018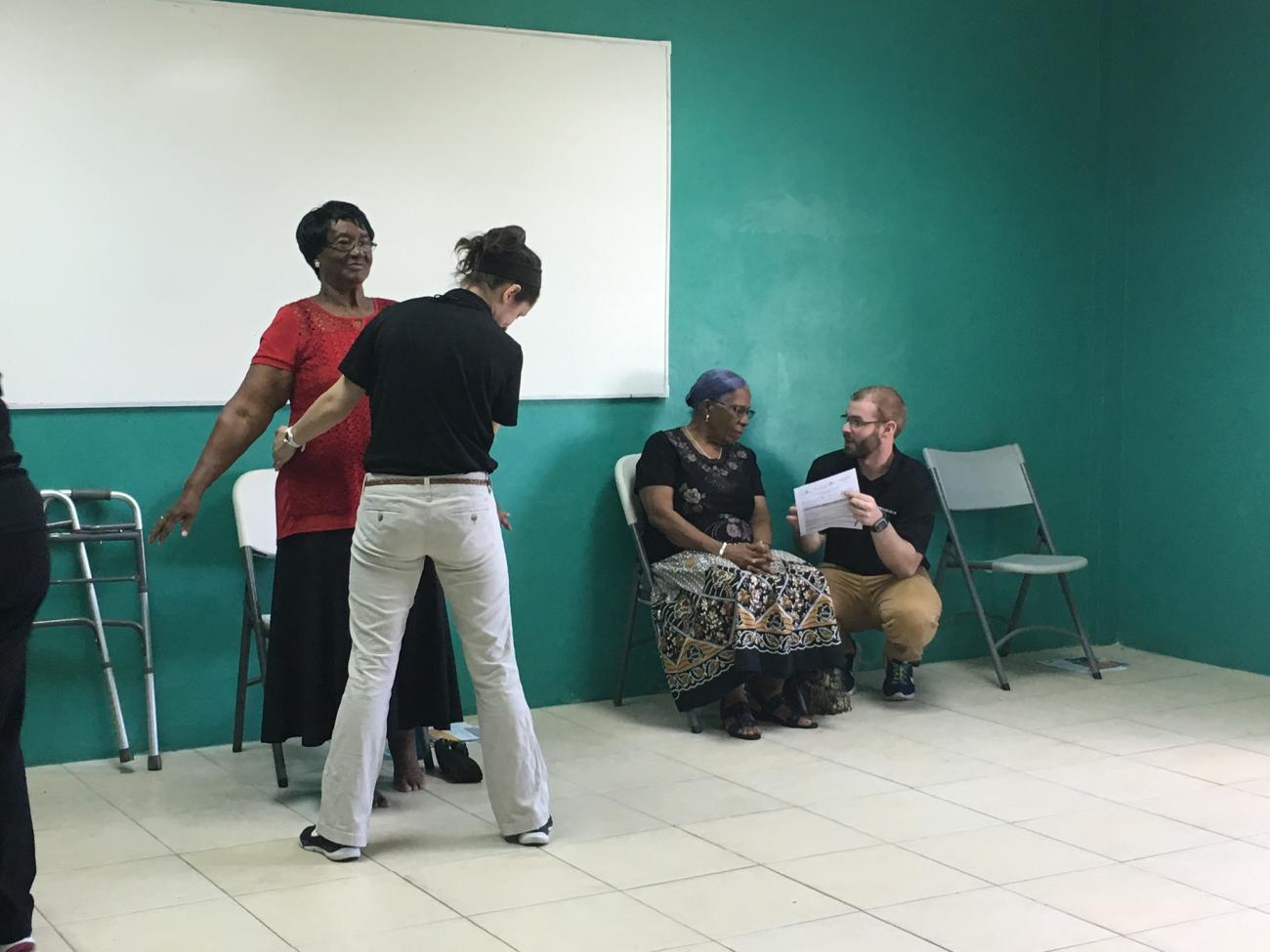 Springfield College Physical Therapy Professors Dawn Roberts and Kim Nowakowski led a group of physician assistant, physical and occupational therapy graduate students on global health service trips during the week of March 12 through March 16. For the fourth consecutive year, Roberts and the students spent their spring break working with clinicians at the Haitian Foundation of Rehabilitation (FONHARE) clinic located in the town of Ouanaminthe. For the second consecutive year, Nowakowski's group, together with the healthcare professionals from Trinidad and Tobago, provided a National Fall Prevention Program in Trinidad and Tobago. 
"Once again, we will go out into the local community to perform home assessments and to work with families on home modifications and family training to improve access to the community for individuals with disabilities," said Roberts, who also supervised the trip to Haiti in 2015-2017. "Students provide evidence-based assessment and interventions for a variety of pathologies alongside local Haitian clinicians with the goal of expanding the skill set of the Haitian therapists. This is a great experience for Springfield College students who can learn while working side-by-side with clinicians at FONHARE."
The Springfield College contingency in Haiti was invited by Dr. Ivens Louius, founder and director of FONHARE and a trained physical and occupational therapist, following multiple years of relationship building between Springfield College School of Health Sciences and Rehabilitation Studies Professor Dr. Julia Chevan, Roberts, and professionals at the clinic. FONHARE is a grassroots Haitian nonprofit organization with no political or religious affiliation that is dedicated to providing integrated physical and cognitive rehabilitation services to children and youth with disabilities in the northern region of Haiti, especially those with a poor quality of life living with limited resources regardless their socioeconomic condition. FONHARE is the only organization providing rehabilitation services in the northeast of Haiti to 13 cities with almost 500,000 citizens.
"For the second year, we traveled to four different community locations in Trinidad and Tobago to provide functional screenings for fall risk and related individualized education for older adults. We also provided vital sign screening and participated in presentations with other geriatric professionals during this interprofessional program. It is a great opportunity for students to experience differences in culture and health as we travel to different locations and work with other clinicians and healthcare professionals to provide this program," said Nowakowski, who is one of the coordinators of the fall prevention program. 
The National Fall Prevention program in Trinidad and Tobago was introduced to the group last year, and it was developed based on a needs assessment conducted with physiotherapists from Total Rehabilitation Centre Limited and the Physiotherapy Association of Trinidad and Tobago (PATT). PATT is the sole professional body that represents all physiotherapists in Trinidad and Tobago. Total Rehabilitation Centre Limited was established in May 2007 to provide quality healthcare in a friendly, compassionate environment that is geared towards facilitating healing and ultimately return to the function of living.  Carla Rauseo, a 2005 alumna of the SC physical therapy program who is a physical therapist and co-owner of Total Rehabilitation and a member of PATT, initiated the collaborative effort with Springfield College's physical therapy program. Since the initiation of the program last year, the Stay Steady Foundation, a non-governmental organization, has been created to promote sustainability of the Stay Steady Fall Prevention Program and the involvement of Springfield College has been instrumental to provide the screenings according to Rauseo.