Springfield College Helps Recognize Springfield Boys & Girls Club Youth of the Year Recipient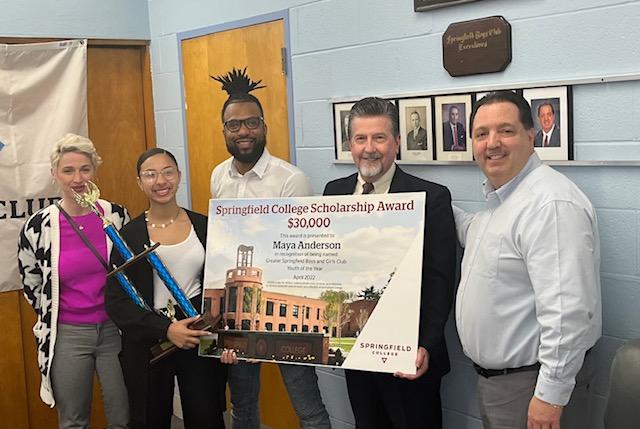 Springfield College Vice President for Enrollment Management Stuart Jones presented Maya Anderson, the 2022 Springfield Boys & Girls Club Youth of the Year recipient, with a $30,000 undergraduate scholarship to attend Springfield College in the future, at the recent youth of the year celebration at the Springfield Boys & Girls Club.
"Not only will Maya be an outstanding representative for the Springfield Boys & Girls Club, but she would be a great addition to Springfield College since she lives our Humanics philosophy of leadership in service to others," Jones said. "We want to help make her dreams come true of a high-quality education that allows her to make a difference in the lives of others."
Anderson attends the Chestnut Tag Middle School and loves being part of the club's Teen Job Ready Program, which is designed to not only teach job readiness, but it demands responsibility, accountability, punctuality, team building, and confidence. She enjoys working with children and wants to continue her education after high school at Springfield College in an area that helps children.
Anderson was the top choice of the finalists who were eligible for the youth of the year honor because she is a teen leader at the club, takes part in all of the club's programs, and is a positive role model to the other club members. This award is part of a yearlong process at the Springfield Boys & Girls Club that highlights local youth monthly.
"Maya is everything we look for in a teen. She is driven to succeed far beyond her dreams and is focused on family, school, and her future goals. I am excited to see how Maya excels in the vision she has for her future," said Vinnie Borello, executive director of the Springfield Boys & Girls Club. "We are proud to have Maya represent our club. Maya Anderson is destined to be a leader of this community."
Finalists have to submit recommendations from their teachers, and also draft an essay describing their academic experiences, and their academic and future career goals.
"I am proud to be selected to represent our Boys & Girls Club Youth of the Year and happy to be part of the teen programs. My goal is to work with children and possibly as a pediatric physician," Anderson said. "The Boys & Girls Club has helped give me hope, confidence, and character. I'll need all of that for the future. The staff is the best!"
Anderson will now go on to the State Competition representing her club, and will compete against the other 40 Boys & Girls Club organizations throughout Massachusetts.
The partnership between Springfield College and the Springfield Boys & Girls Club is set up with a focus on helping youngsters in the Pioneer Valley reach their academic dreams.