Springfield College Holds 2017 Graduate Commencement Ceremony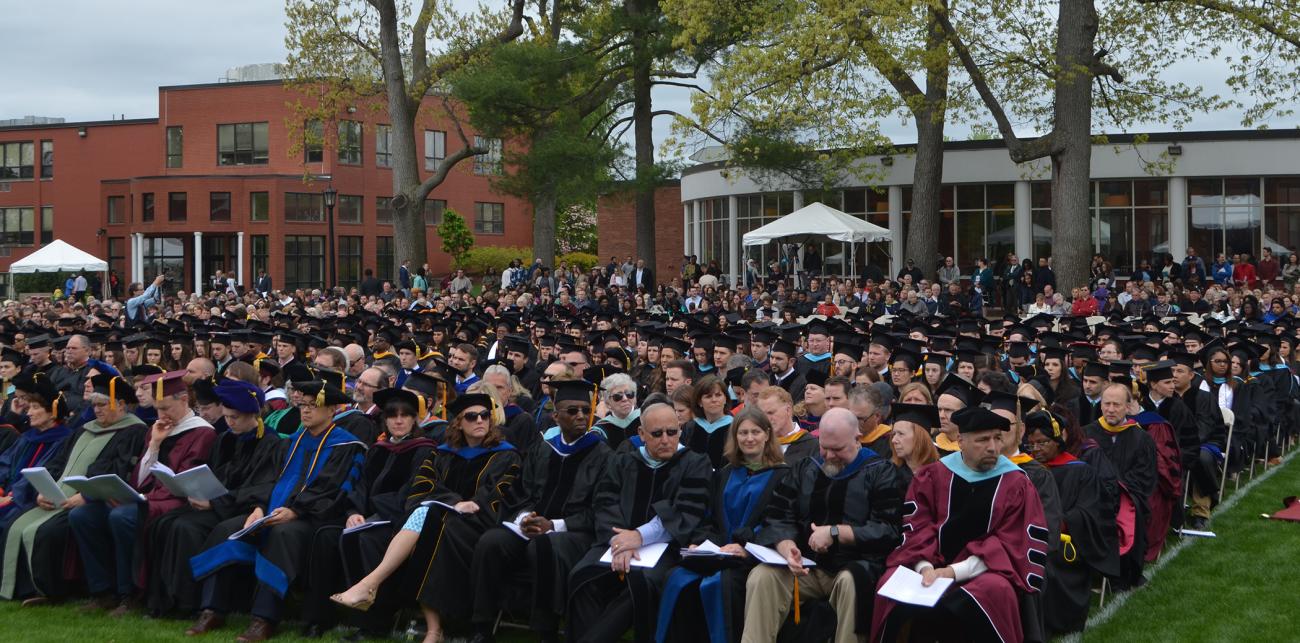 Springfield College hosted its 2017 graduate commencement ceremony on Saturday, May 13, on Naismith Green, on the College's main campus. Richard H. Carmona, M.D., who served as Surgeon General of the United States and is vice chairman of Canyon Ranch, delivered the commencement address to graduating students.
"I have to say, I have only been on campus about a dozen hours, but I love this place, Springfield College," said Carmona, who in 2006, successfully completed the statutory four-year term of the U.S. Surgeon General and was named to the position of vice chairman for Canyon Ranch, a leader in the health and wellness field for over 35 years. "The culture that you have created, the passion for Humanics, it's just extraordinary."
Carmona was nominated by U.S. President George W. Bush and unanimously confirmed by the United States Senate to become the 17th Surgeon General of the United States in 2002. Carmona was selected because of his extensive experience in public health, clinical sciences, health care management, preparedness, and his commitment to prevention as an effective means to improve public health and reduce health care costs while improving the quality and quantity of life.
"Now, as a battle scarred Surgeon General, I am here to tell you that as you graduate, you are now born into the real tumultuous world of this new millennium. You also enter a world that anxiously awaits you," he said. "Our nation desperately needs and is in search of new leadership with world knowledge, global commitment and a willingness to challenge the norm, the politically correct, that status quo, to break our political gridlock...Will you be that agent of change? One person can make a difference!"  
Carmona went on to call on students to "Look out at the world today, not just your community or our country…for your neighborhood is now the world. A world where the definition of super power is being rewritten, where social media has been recently shown to possibly be the ultimate weapon for disenfranchised population….a world where we see ourselves as good, caring, compassionate, honest, and concerned citizens."
Carmona has also served for more than 30 years with the Pima County Sheriff's Department in Tucson, Ariz., including as deputy sheriff, detective, SWAT team leader, and department surgeon. He is one of the most highly decorated police officers in Arizona, and his numerous awards include the National Top Cop Award, the National SWAT Officer of the Year, and the National Tactical EMS Award. Carmona is a nationally recognized SWAT expert and has published extensively on SWAT training and tactics, forensics, and tactical emergency medical support.
"I would submit to you that for the privilege of the education you received, for the gift of citizenship you have, you also now have the social, moral and ethical responsibility to go forth and from your unique vantage points, make the world a healthier, safer, cleaner and more secure place," he said.
Prior to his commencement address, Carmona was presented an honorary Doctor of Humanics degree by Springfield College. The College has, historically, awarded honorary degrees to a few outstanding individuals who, by their character and accomplishments, personify the College's guiding philosophy, Humanics. The philosophy emphasizes the dedication of spirit, mind, and body for leadership in service to others.
Humanics Achievement Award
Additionally, Springfield College recognized its own professor of exercise science, Mimi Murray '61, PhD, with the Springfield College Humanics Achievement Award. This award recognizes an individual or group who has exhibited courage in the face of adversity, demonstrated leadership in service to others, advanced diversity and inclusion, served as a champion for the oppressed, furthered education in spirit, mind, and body, or contributed significantly to the understanding of the universe.
Murray was recognized for her pioneering contributions to the field of sport psychology, and development of the sport and exercise psychology program at Springfield College, as well as for her international and national work in the field of athletics.
Convening the ceremony was Springfield College Board of Trustees chair, Gregory C. Toczydlowski, who introduced the 13th president of Springfield College, Mary-Beth Cooper.
"Today is significant in numerous ways," said Cooper. "Today, you will leave here graduates of Springfield College, fortified by skill and knowledge and hope for the future, yours and society's. You have been privileged to experience a Springfield College education, a special type of education that is based on the Humanics philosophy. You have educated your whole person. But, more importantly, you have done so while caring and committing to the people you share this planet with."
Cooper added, "This is the true hallmark, and the responsibility of a Springfield College education: the acquisition of knowledge that is used for the good of our whole society."
The student speaker was Springfield College S-Cubed/Working Teacher Program Cohort III member Dilyara Celik. Celik earned her Master of Education degree from Springfield College, and she also is the current chair for the English Language Learners Academy at the High School of Commerce in Springfield.
"I was recruited to be a part of the S-Cubed Working Teachers Program and I felt immediately embraced from highly qualified and passionate professionals," said Celik. I was provided the opportunity to observe excellent teaching, I was challenged to implement and share new ideas. I found myself in a safe and nurturing learning environment where diversity and life experiences were celebrated. Where all students' voices were welcome and respected."
Celik expressed her appreciation to her fellow cohort members, classmates, and faulty members who assisted on this journey.
"Today, we graduate from Springfield College empowered by the Humanics philosophy and positioned to change the world," said Celik. "We are the change agents of our world and the change starts with each of us. We are preparing for our lives of leadership in service to others, and Springfield College has provided us with an understanding of how the elements of Humanics work together in a system of balance and choice." 
At the graduate commencement, 658 master's degrees, six certificates of advanced graduate study, 15 Doctor of Philosophy degrees, 34 Doctor of Physical Therapy degrees, and five Doctor of Psychology degrees were awarded. At the undergraduate commencement on Sunday, May 14 at the MassMutual Center starting at 9:30 a.m., 873 bachelor's degrees will be awarded for a two-day total of 1591 degrees.