Springfield College Hosts 2015 Greene Memorial Lecture in Physical Therapy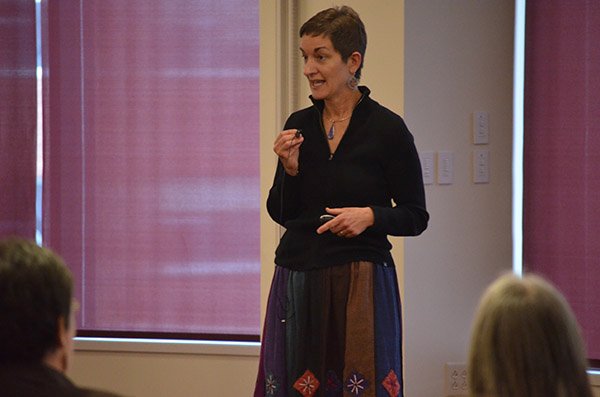 The Springfield College Department of Physical Therapy hosted the 19th annual Greene Memorial Lecture featuring Dr. Celia M. Pechak, PT, PhD, MPH on Thursday, April 9, in the Cleveland E. and Phyllis B. Dodge Room in the Flynn Campus Union. Dr. Pechak presented, "In Pursuit of Ethical Practice with Under-Served Communities Locally and Abroad: One Physical Therapist's Path to a Research Agenda." The event was free and open to the public. 
Dr. Pechak's current research streams are focused on delineating global health competencies in health professionals' education and evaluating physical therapist students' Spanish language proficiency in clinical contexts. Her research and service are founded on her desire to promote optimal ethical practice with underserved communities locally and abroad. 
Dr. Pechak has previously delivered presentations on her research related to global health and physical therapist education, including international service learning. Dr. Pechak is past chair of the Physical Therapy Steering Committee of Health Volunteers Overseas and the current chair of the APTA Global Health Special Interest Group. 
Since 2009, Dr. Pechak has worked as a professor in the Doctor of Physical Therapy Program at the University of Texas at El Paso.  She entered the world of academia following 24 years of experience in various clinical settings and international service.
The Greene Memorial Lecture was initiated by Edwin Greene, a member of the Springfield College Class of 1935, in memory of his wife, Jean Greene. It is the premiere scholarly event of the Springfield College Department of Physical Therapy.
Founded in 1885, Springfield College is known worldwide for the guiding principles of its Humanics philosophy—educating students in spirit, mind and body for leadership in service to others. With its foundation of academic excellence and rich athletic heritage, Springfield College prepares students with real-world leadership skills for careers that transform lives and communities. The college offers a range of undergraduate and graduate degree programs in the fields of health sciences, human and social services, sport management and movement studies, education, business, and the arts and sciences. It also offers doctoral programs in physical education, physical therapy, and counseling psychology. The college is ranked in the 2015 edition of "Best Colleges" in the top tier of "Best Regional Universities – North Region" by U.S.News and World Report, and is designated as a premier Leadership Development Center by the YMCA of the USA. More than 5,000 traditional, nontraditional and international students study at its main campus in Springfield, Mass., and at its School of Human Services campuses across the country.