Springfield College Hosts Annual Education and Leadership Luncheon
Event is Part of Naismith Memorial Basketball Hall of Fame 2019 Enshrinement Weekend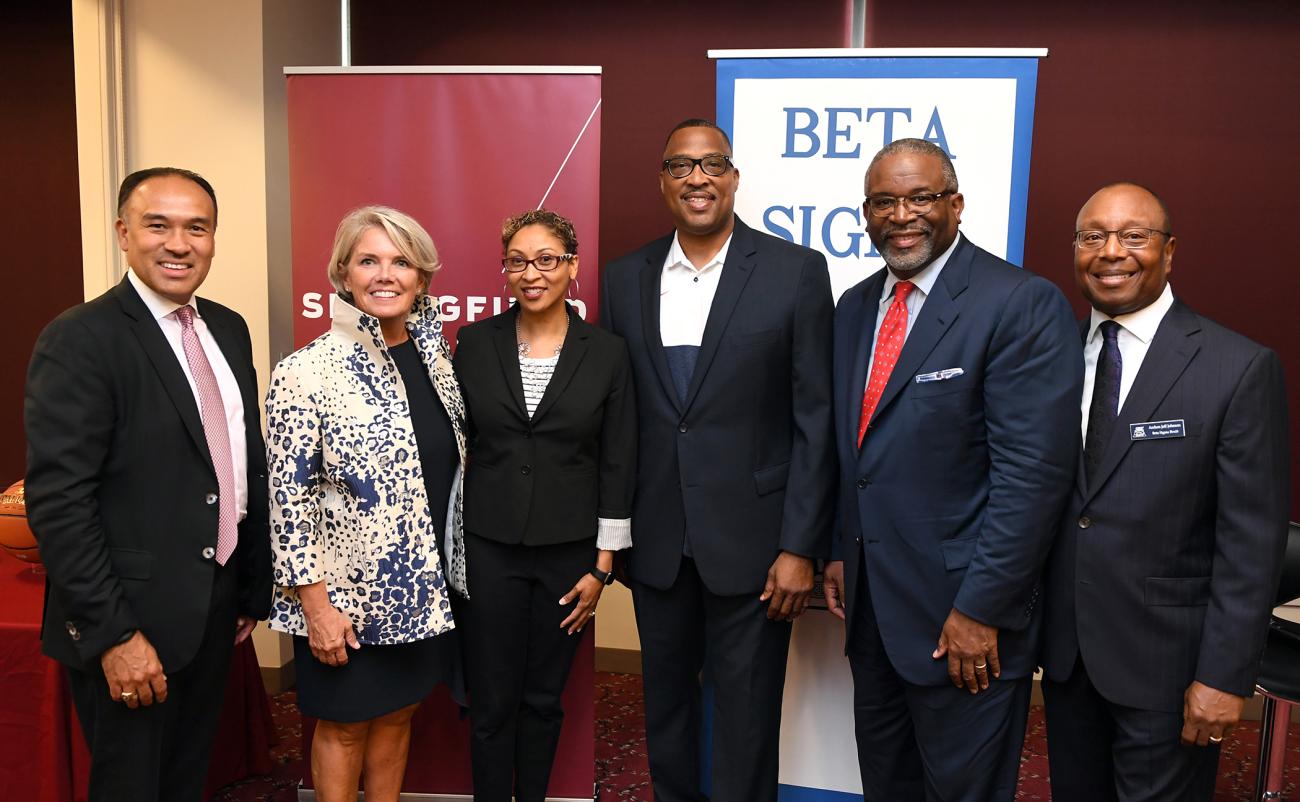 Springfield College, the Naismith Memorial Basketball Hall of Fame, and the Beta Sigma Boulé chapter of the Sigma Pi Phi fraternity, hosted the fourth annual Education and Leadership Luncheon at Springfield College as part of the 2019 Naismith Memorial Basketball Hall of Fame Enshrinement Weekend.
The Education and Leadership Luncheon emphasizes the importance of education, and gives more than 75 Springfield area high school students the opportunity to interact with Basketball Hall of Fame inductees, ask questions, and engage with representatives of Springfield College, the Beta Sigma Boulé, and Basketball Hall of Fame.
More than 11 high schools were represented at this year's event with high school students from Springfield, Holyoke, and Amherst, making the visit to the Springfield College campus for this unique experience.
This year's event recognized Basketball Hall of Fame 2019 inductee Sidney Moncrief, who was represented by his wife Takisha at the luncheon. Sidney and Takisha together lead a non-profit organization named Moncrief Game Changer, an organization that assists youth with college and career forums assisting with the development of emotional intelligence and the development of soft skills for high school and college students.
"It's so important for students to enjoy reading, writing, speaking, listening, discovery, because that's what is going to set you apart," said Takisha, who has a background in elementary education. "We feel the game changer for high school youth entering college, will be their work ethic. We go from city to city and bring youth from different high schools together, for diversity and inclusion workshops, as well as entrepreneurship opportunities."
Takisha went on to add, "We really stress, whatever students choose to do, they do it to the best of their abilities. I know Sidney's message to youth is focused on stressing the importance of always trying to be better than you were yesterday in whatever you do. We have a little mantra statement that goes; good, better best. Never let it rest. Until the good gets better. And the better gets best. Thank you for having us today."
Along with the Moncrief family being in attendance, the son of Basketball Hall of Fame 2019 inductee Charles "Chuck" Cooper, Chuck Cooper III, greeted attendees during this special afternoon of celebrating education and basketball. Jim Naismith, the grandson of the inventor of basketball James Naismith, was also a welcome guest, along with his wife Beverly.
"We have so much respect for the Naismith family and thank you so much for being here today," said Chuck Cooper III when recognizing Jim and Beverly Naismith in attendance.
Springfield College President Mary-Beth Cooper closed out the luncheon, highlighting just how special it is for the College to host such a great day with the great neighbors of Springfield College.
"We are always so proud to be the Birthplace of Basketball, it's part of our history and a part of our future," said Cooper. "We are also very proud of our students. Springfield College is a special place, and I am delighted we were able to all celebrate this great day together."
Hall of Fame Credentials: Sidney enters the Naismith Memorial Basketball Hall of Fame as a five-time NBA All-Star (1982-1986) and two-time NBA Defensive Player of the Year (1983,1984). He earned NBA All-Defensive Team honors four times (1983-1986) and All-NBA First Team in 1983. In 11 NBA seasons with the Milwaukee Bucks and Atlanta Hawks, he averaged 15.6 points and 4.7 rebounds.
Prior to his professional basketball career, Sidney was a student-athlete playing collegiately for the University of Arkansas for four years from 1975-79, averaging 16.9 points and 8.3 rebounds per game. Moncrief led the NCAA in field goal percentage during the 1975-76 season at .665 and earned Consensus First Team All-America in 1979.
Keynote speakers at previous Education and Leadership Luncheons have included Basketball Hall of Fame inductees, Shaquille O'Neal (2016), Rebecca Lobo (2017), Mannie Jackson (2017), and Grant Hill (2018).
Springfield College is an independent, nonprofit, coeducational institution founded in 1885. Approximately 4,100 students, including 2,500 full-time undergraduate students, study at its main campus in Springfield, Mass., and at its regional campuses across the country. Springfield College inspires students through the guiding principles of its Humanics philosophy – educating in spirit, mind, and body for leadership in service to others.