Springfield College Hosts The International Association of Sport and Play for Young Children First World Congress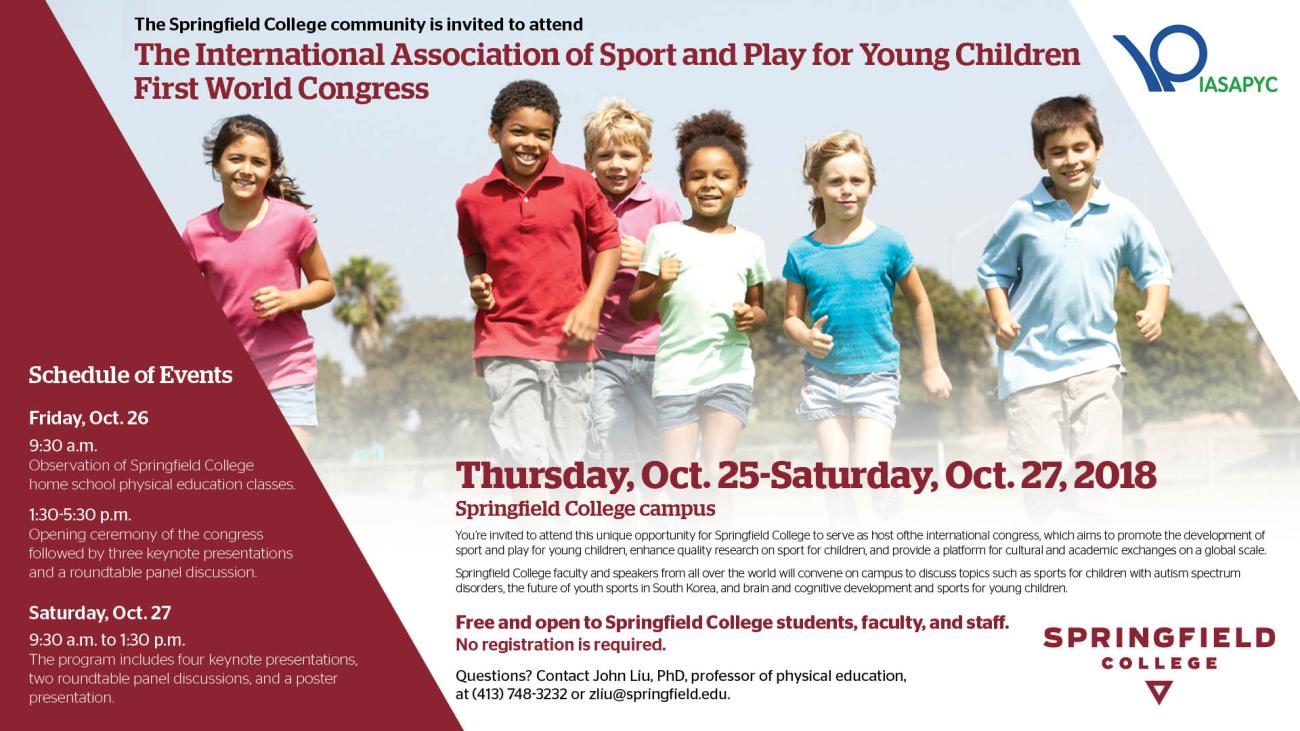 The Springfield College School of Health, Physical Education, and Recreation will host the inaugural International Association of Sport and Play for Young Children First World Congress on the campus from Thursday, Oct. 25 through Saturday, Oct. 27. The event is free and open to Springfield College faculty, staff, and students.
This event represents a unique opportunity for Springfield College to serve as host of the international congress, which aims to promote the development of sport and play for young children, enhance quality research on sport for children, and provide a platform for cultural and academic exchanges on a global scale.
Springfield College faculty and speakers from all over the world will convene on campus to discuss topics such as sports for children with autism spectrum disorders, the future of youth sports in South Korea, and brain and cognitive development and sports for young children.
Schedule of Events
Friday, Oct. 26
9:30 a.m.
Observation of Springfield College home school physical education classes in the Field House, located inside the Wellness and Recreation Complex.
1:30-5:30 p.m.
Opening ceremony of the congress followed by three keynote presentations and a roundtable panel discussion in the Flynn Campus Union.
Saturday, Oct. 27
8:30 a.m. to 4:00 p.m.
The program includes keynote presentations, roundtable panel discussions, and a poster presentation in the Flynn Campus Union.
Topics include:
Yang Jinjin (Southern Connecticut State University, USA), "Overview of Play and Sports for Children with Autism Spectrum Disorders."

Bruce Wexler (Yale University, USA), "What Research in Older Adults Tells Us About Sports for Young Children."

Morris Bell (Yale University, USA), "Minds in Motion: The ACTIVATE Test of Embodied Cognition."

Akira Maehashi (Waseda University, Japan)

,

"Noteworthy Points on Physical Education Instructions for Young Children."

Patrick Lau (Hong Kong Baptist University, Hong Kong, China), "Intervention Study of Active Video Games on Intellectual Disabled Children's Physical Activity Level, Motor Ability and Physical Fitness."

Dong Jinxia (Peking University, China), "The Development of Physical Activities and Sport in China's Kindergartens in the 21st Century."

 John Liu (Springfield College, USA), "Assessing Fundamental

Movement Patterns and Motor Skills in Young Children:

Challenges, Concerns and Strategies."
If you have a disability and require a reasonable accommodation to fully participate in this event, please contact (413) 748-3044 to discuss your accessibility needs. Springfield College is a smoke-and-tobacco-free campus.