Springfield College Hosts Student Affairs Drive-In Conference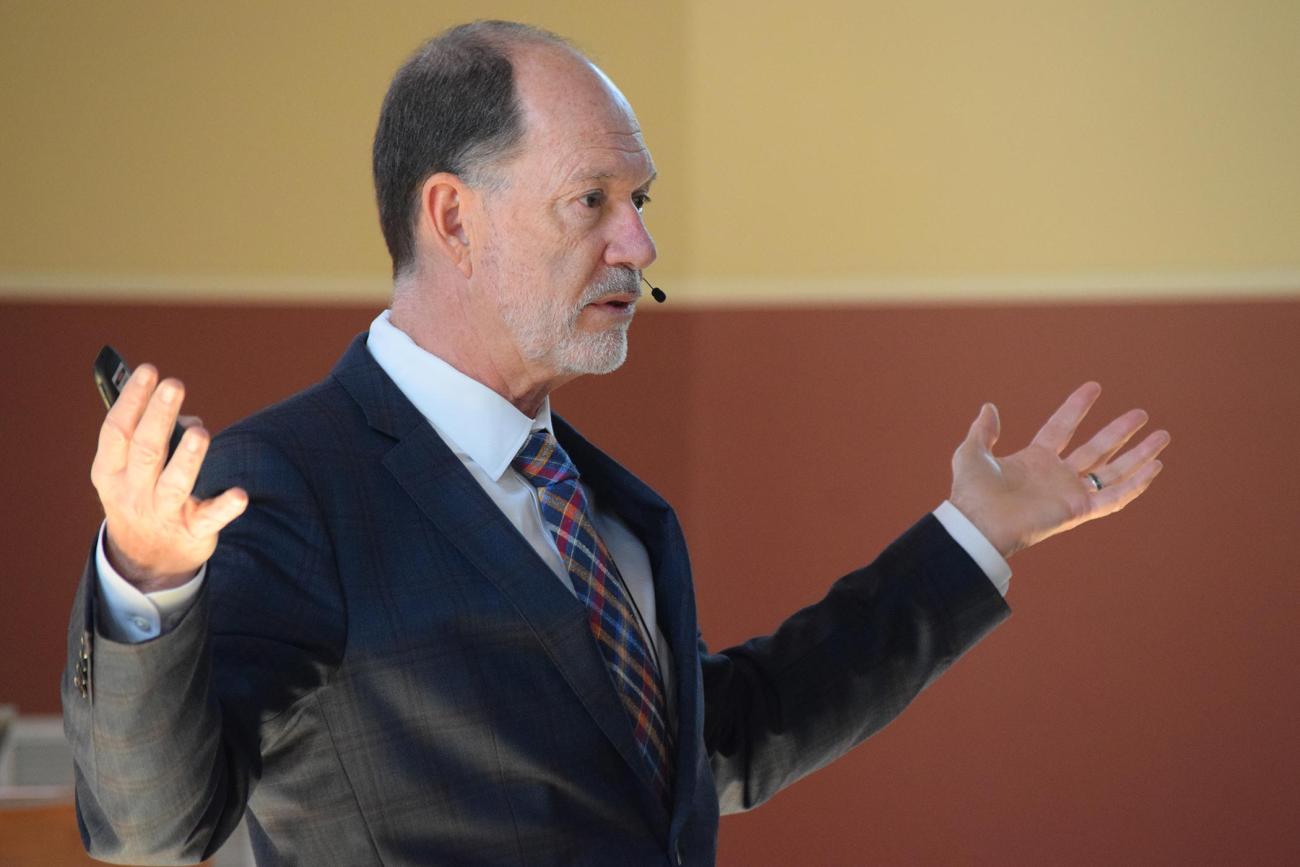 The Springfield College Division of Student Affairs hosted a Student Affairs Drive-In Conference on Friday, Oct. 18, 2019 on the campus. The event featured more than 14 colleges from throughout the country, and focused on prospective students interested in pursuing careers and master's degrees in student affairs, current graduate students enrolled in student affairs master's degree programs, and rising professionals in the student affairs profession.
Opening the conference was Springfield College President Mary-Beth Cooper, who became the 13th President of Springfield College in August of 2013, after a long and distinguished career in higher education administration and community service.
In the afternoon, keynote speaker Kevin Kruger, president of NASPA: Student Affairs Administrators in Higher Education, presented on "Seven Trends for the Future of Student Affairs."
Colleges and Universities represented included: Bay Path University; Boston College; Boston University; Bridgewater State University; Central Connecticut State University; Merrimack College; Regis College; Salem State University; Springfield College; Suffolk University; University of Bridgeport; University of Rhode Island; University of Southern Maine; University of Vermont.
During the morning sessions, a panel discussion focused on life as a student affairs graduate student occurred involving current graduate students from Springfield College and surrounding schools, who spoke about their experiences in graduate school. The discussion included helpful tips about applying for graduate school, and how the panelists secured Graduate Assistantship/Fellowships in the field. 
Also part of the morning session, there was a breakout session highlighting the Student Affairs Jobs of the Future showcasing the evolving higher education landscape. This session addressed some of the up-and-coming functional areas of Student Affairs and new areas for employment.
In addition, there was a Graduate School Fair giving the attendees the opportunity to connect with faculty and admissions representatives from multiple colleges and universities from around the region offering Master's degree programs in Student Affairs/Higher Education Administration that qualify candidates for successful careers in a multitude of higher education settings. 
Panelists also provided a session on effective job searching, addressing how to effectively market and individual's valuable experience, and highlighting cutting edge trends in the Student Affairs job search.
Coming from a variety of backgrounds and types of institutions, the Vice Presidents attending shared lessons learned during their careers as student affairs professionals. They also shared tips and advice, including what they look for in the people they hire and suggestions for how to succeed and advance in the profession. 
Speakers Included:
Jeanne Hart-Steffes, VPSA, Western New England University
Catherine Holbrook, VPSA, Massachusetts College of Liberal Arts
Patrick Love, VPSA, Springfield College
Marcella Runell Hall, Vice President for Student Life and Dean of Students, Mount Holyoke College
Timothy St. James, Interim Dean of Students and Campus Facilities, Asnunstuck Community College