Springfield College Hosts Webinar with Yusef Salaam on April 22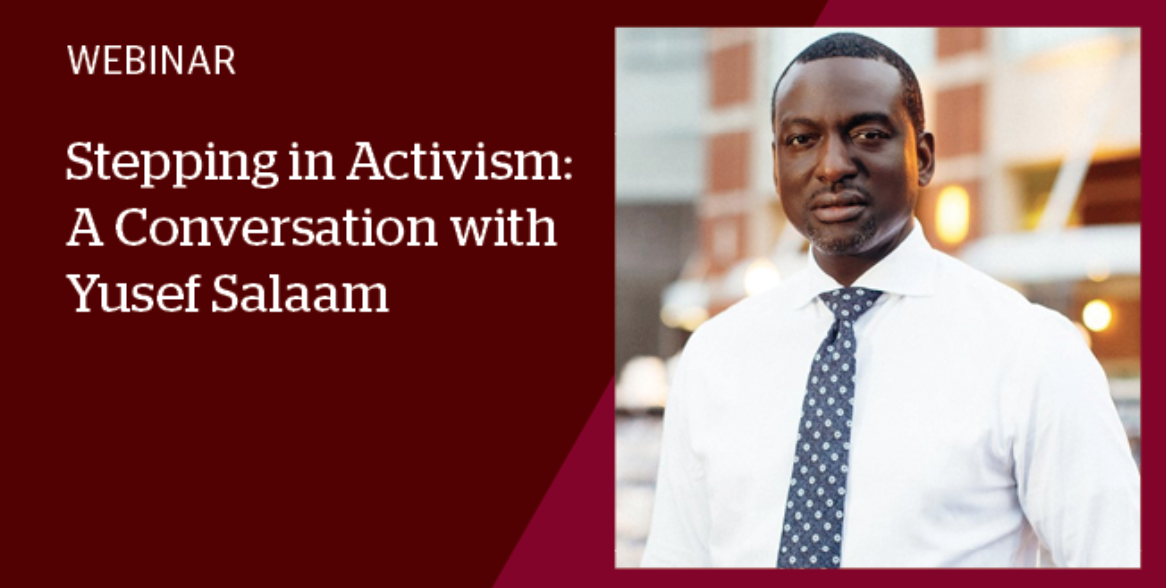 Springfield College is proud to announce that entrepreneur, author, trainer, and leader Yusef Salaam will be part of a webinar on Thursday, April 22, 2021 from 7-8 p.m. titled, "Stepping in Activism: A Conversation with Yusef Salaam." This webinar is free and open to the Springfield College and local community.
The evening is made possible by underwriting assistance through the Multicultural Fund, the Springfield College Office of the President, the Student Society for Bridging Diversity, Men of Excellence, Art for Activism, Black Student Union, Latinx Student Organization, Scientists Embracing Equality and Diversity, Women of Power, and Spiritual Life. 
JOIN THE WEBINAR.        ADD TO CALENDAR
Salaam is one of five boys wrongly convicted of the brutal rape of a woman in 1989 in a case in which they became known as "The Central Park Five." Their convictions were vacated in 2002 after spending between seven and 13 years in prison. Salaam was just age 15 at the time of his arrest.
In this conversation, Salaam will focus on civil rights or, as his website reads, "What we could do at this moment and how we could find our purpose." As protests have erupted across the country the past year in response to the unjust killings of Black people, confederate monuments have been torn down, and professional teams have changed names, many people at Springfield College have been asking, "What can I do to help?" We believe Salaam's conversation can help answer that question.
Since his release, Salaam has committed himself to advocating and educating people on the issues of false confessions, police brutality and misconduct, press ethics and bias, race and law, and the disparities in America's criminal justice system.
In 2013, documentarians Ken and Sarah Burns released the documentary The Central Park Five, which told of this travesty from the perspective of Salaam and his cohorts. In 2014, members of The Central Park Five received a multi-million-dollar settlement from the city of New York for its grievous injustice against them. Salaam was awarded an Honorary Doctorate that same year and received the presidential Lifetime Achievement Award in 2016 from President Barack Obama.
He was appointed to the board of the Innocence Project in 2018. He has released a Netflix feature limited series called When They See Us based on the true story of The Central Park Five with Ava DuVernay, Oprah Winfrey, and Robert De Niro in May 2019.
For more information, contact David McMahon at dmcmahon@springfield.edu or (413) 748-3210.
Springfield College is a smoke free/tobacco free campus.
Copyright © 2021 Springfield College. All rights reserved.