Springfield College Men's Volleyball Ranked First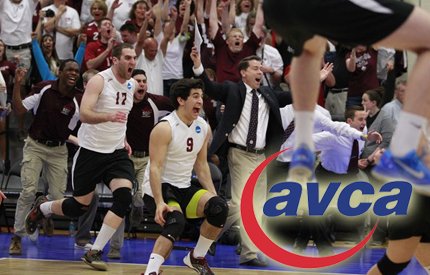 For the second-consecutive year, the Springfield College men's volleyball team will begin its title defense as the top-ranked team in the country according to the 2014 AVCA Division III Men's Preseason Top 15 Coaches Poll, which was released Tuesday afternoon. 
Springfield received 13 out of a possible 14 first-place votes as it totaled 209 points in the preseason poll. National runner-up Nazareth College ranks second with 183 total points, followed by Juniata College, who earned the other first-place tally en route to 172 points. SUNY New Paltz and Baruch rounded out the top five.
This season, Springfield's schedule is filled with teams ranked in the preseason national poll. Highlighting the schedule is when the Pride will square off with 6th-ranked UC Santa Cruz on Feb. 21 in the Volleyball Hall of Fame Morgan Classic. The Pride is also scheduled to take on 4th-ranked New Paltz, 5th-ranked Baruch, and 8th-ranked Rivier on a pair of occasions, as well as No. 9 Stevens, No. 10 NYU, No. 12 MIT, No. 14 Kean, and No. 15 Medaille.
Springfield will also battle Emmanuel, Endicott, and Vassar, all of which are among teams receiving votes in the national poll.
The Pride return four starters from a team that went 32-3 a season ago and captured its second-consecutive NCAA Division III Men's Volleyball National Championship.
Springfield will open up its season for the fifth-straight year on the West Coast. This Friday, the Pride will play Hope International before battling both Grand Canyon and Concordia-Irvine on Saturday.