Springfield College Opens Recruiting Office in Beijing, China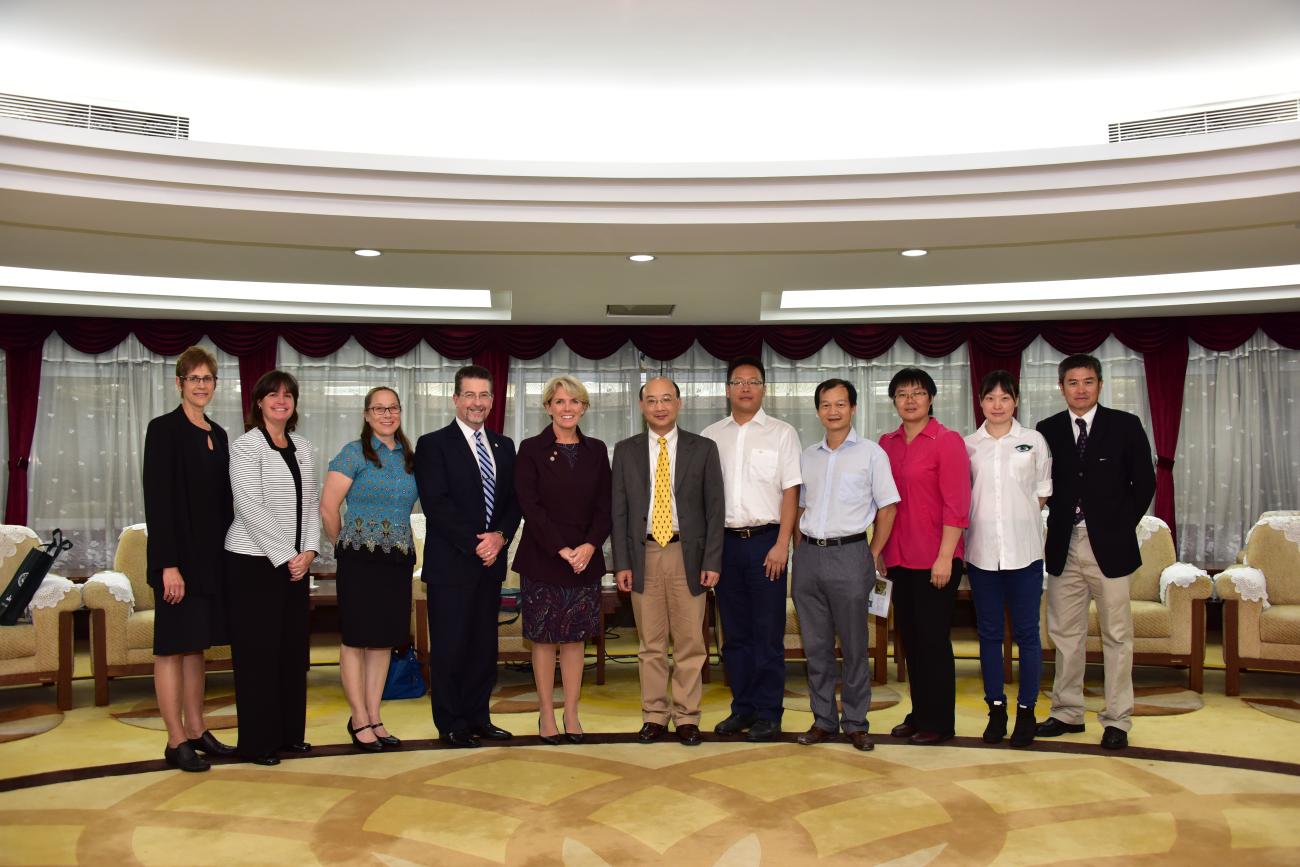 Springfield College continues to strengthen its relationships in China with the recent grand opening of the Springfield College Recruitment Office located in the heart of Beijing. The ceremony featured Vice President for Enrollment Management Stuart Jones, Dean of the School of Health, Physical Education, and Recreation Tracey Matthews, and Director of the Springfield College International Center Deb Alm.
The recruiting office in Beijing allows Springfield College to be one of the few United States colleges and universities with this type of recruiting set-up in Beijing. Prospective students in China now have a convenient way to learn about Springfield College academic programs, further strengthening the College's student recruitment efforts in China.
"Springfield College has a dynamic 35-year history of partnering with some of China's most preeminent universities," said Springfield College President Mary-Beth Cooper. "This dynamic relationship has allowed us to exchange faculty scholars and enroll many students from China over the years. Because of our strong brand and reputation in China, it's only natural after these many years to officially establish a recruiting office in Beijing where Chinese students interested in our premier programs can gather more information from an official Springfield College recruiter and make decisions about enrolling."
Springfield College alumnus Joe Chou '94 was instrumental in helping make the Beijing recruiting office a reality.
"We were able to connect with Joe last February at an event in Taiwan that featured both our current international students and alumni," said Alm, who has helped build international relations at Springfield College for more than 20 years. "Joe has a background in health and wellness, and he visited Springfield College this past summer for the first time since his graduation. When visiting Springfield, the idea of finding a location in Beijing for a recruiting office was talked about."
Chou returned to Beijing following his visit to Springfield and quickly found a location that would suit the needs of Springfield College recruiting efforts. The recruiting office neighbors health and wellness professionals in Beijing, and also includes state-of-the-art technology and classroom space to allow constant communication between the Beijing office and the Springfield College admissions office.
"The space Joe found is amazing, just a beautiful office that works very well for the College's efforts there," said Jones. "Joe has strong relationships established in Beijing, and that helped in finding this location."
Internationalism has been a guiding principle at Springfield College for more than a century, as Springfield College presidents, students, alumni, and athletic teams have traveled the globe building relationships.
In particular, Springfield College has long-standing relationships throughout China dating back several decades. For more than 35 years, Springfield College has collaborated with Beijing Sport University, previously known as Beijing Institute of Physical Education. The two institutions signed their first formal agreement in 1981, and exchange visitors from China have visited Springfield College numerous times throughout the partnership to assist in presentations in the areas of health and wellness.
Springfield College faculty members also have made multiple international trips to China. Last month, Chair of the Department of Exercise Science and Sport Studies Sue Guyer, and Matthews collaborated with faculty and staff at Beijing Sport University, Sun Yat-Sen University, and Wuhan Sport University.
During their most recent visit to China, Matthews, Guyer, Cooper, Jones, and Alm attended the 2016 International Symposium on Sports Training, and celebrated the 20th anniversary of collaborations between Springfield College and Sun Yat-Sen University.
Springfield College's brand is well regarded by the Chinese Sports Bureau as well. Director of Strength and Conditioning Brian Thompson has made multiple visits to China to help educate coaches on proper strength and conditioning programming and methods, and to assist in the growth of strength and conditioning through coaching development.
As a result of his efforts, Thompson was recently appointed as an expert technical consultant to the Chinese National Fitness Trainers Association. Thompson is the only non-Chinese citizen to ever receive this status.