Springfield College Opens Recruiting Office in Shanghai, China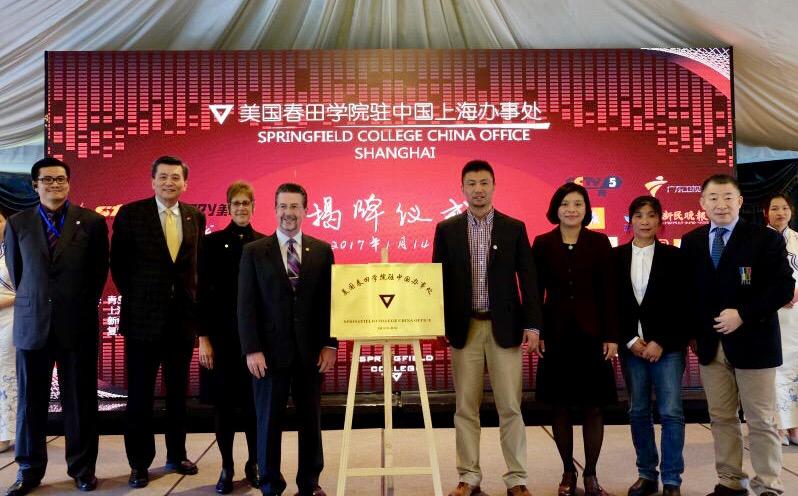 Springfield College continues to increase its recruiting efforts in China with the recent grand opening of the Springfield College Recruitment Office located in the heart of Shanghai. The ceremony featured Vice President for Enrollment Management Stuart Jones and Director of the Springfield College International Center Deb Alm.
The opening of the Shanghai office follows the recent grand opening of the recruitment office in the heart of Beijing. Both recruiting offices allow Springfield College to be one of the few United States colleges and universities with this type of recruiting set-up in China. Prospective students in China continue to have convenient ways to learn about Springfield College academic programs, further strengthening the College's reputation in China.
"Springfield College maintains strong relationships with many colleges and universities throughout China, and that is a direct result of so much hard work done by many faculty, staff, and students at the College," said Jones. "The opening of the Springfield College recruiting offices in these two great cities allows for even more connection between prospective students in China and Springfield College. We are talking about over 100 years of collaboration between Springfield College and colleges and universities throughout China."
Current Springfield College doctor of sport psychology student Zhou Peng will help lead the Shanghai office recruiting efforts. Before coming to Springfield, Peng earned his master's degree in sport training and physical education from Shanghai University of Sport.
One of the newest ideas discussed under Zhou's leadership has been the concept of leading summer camp programs on the campus allowing Chinese families an opportunity to come to Springfield College and explore undergraduate or graduate programs.
During their most recent visit to China, both Jones and Alm visited multiple colleges in which Springfield College has maintained long-standing relations with including Shanghai University of Sport; East China University; and Soochow University. Exchanging faculty scholars, study abroad opportunities for students, and the exchange of student scholars continue to be collaboration opportunities between Springfield College and these prestigious Chinese institutions.
"Colleges and universities throughout China want to be associated with Springfield College," said Jones. "Springfield College is held up on a high pedestal throughout China due to the College's rich tradition in the history of basketball, and the strong reputation the College has in the areas of physical and health education."
Internationalism has been a guiding principle at Springfield College for more than a century, as Springfield College presidents, students, alumni, and athletic teams have traveled the globe building relationships.
In particular, Springfield College has long-standing relationships throughout China dating back several decades. For more than 35 years, Springfield College has collaborated with Beijing Sport University, previously known as Beijing Institute of Physical Education. The two institutions signed their first formal agreement in 1981, and exchange visitors from China have visited Springfield College numerous times throughout the partnership to assist in presentations in the areas of health and wellness.