Springfield College Participates in Diversity, Civility, and the Liberal Arts Institute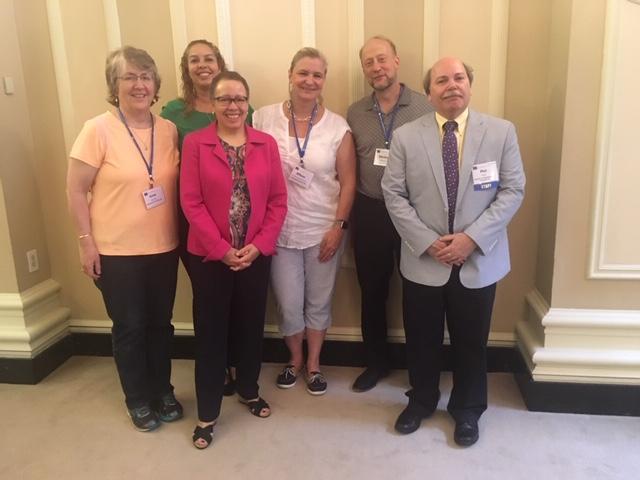 Springfield College was one of 25 Council of Independent Colleges (CIC) member institutions that participated in the second annual Diversity, Civility, and the Liberal Arts Institute, held in Atlanta, Georgia, from June 2 through June 5. Each institution sent a team of two faculty leaders and two senior administrators. Representing Springfield College were School of Arts and Sciences Dean Anne Herzog, Counseling Program Director Allison Cumming-McCann, Communications Professor Martin Dobrow, and Director of Multicultural Affairs Felicia Lundquist.
The Institute is designed to help faculty members and administrators address issues of diversity, civility, inclusion, and student unrest on campus more effectively. Beverly Daniel Tatum, president emerita of Spelman College, and a leading scholar of race and higher education directs the Institute.
During the Institute, prominent humanities and social science scholars present key research and recent developments in their fields and apply these concepts to understanding student concerns and deepening the educational experience. The goal is to encourage thoughtful campus discussions that engage students' minds as well as their emotions.
Each participating college also develops plans to incorporate the Institute content into specific courses, advising and counseling services, and co-curricular activities at their institutions.
Participants for the 2019 Institute were selected through a highly competitive application process. According to CIC president Richard Ekman, "The volume, quality, and urgency of the proposals reflect the commitment of independent colleges and universities to promoting diversity and civility, not just on their campuses but across the nation."
The Institute is supported by a generous grant from the Andrew W. Mellon Foundation. For more information, visit www.cic.edu/2019DiversityInstitute.
Participating Institutions:
Augsburg University (MN)
Berea College (KY)
Bridgewater College (VA)
Buena Vista University (IA)
California Lutheran University (CA)
College of Saint Mary (NE)
Curry College (MA)
Eckerd College (FL)
Elmhurst College (IL)
Gettysburg College (PA)
Graceland University (IA)
Illinois College (IL)
Lewis University (IL)
Luther College (IA)
Mars Hill University (NC)
Muskingum University (OH)
North Park University (IL)
Pacific Lutheran University (WA)
Springfield College (MA)
St. John Fisher College (NY)
St. Lawrence University (NY)
Trinity University (TX)
University of Evansville (IN)
Viterbo University (WI)
Wheaton College (MA)
The Institute faculty includes some of the nation's leading scholars of diversity, higher education, history, social change, and political philosophy:
Kwame Anthony Appiah

, Professor of Philosophy and Law, New York University

David Blight

, Class of 1954 Professor of American History, Yale University

Geoffrey Cohen

, James G. March Professor of Organizational Studies in Education and Business, Stanford University

Frederick M. Lawrence

, legal scholar and Secretary, Phi Beta Kappa Society  

Roosevelt Montás

, Director, Center for the Core Curriculum, Columbia University

Julie J. Park

, Associate Professor of Education, University of Maryland

Eboo Patel

, Founder and President, Interfaith Youth Core

Eileen B. Wilson-Oyelaran

, President Emerita, Kalamazoo College
Springfield College is an independent, nonprofit, coeducational institution founded in 1885. Nearly 5,000 students, including 2,500 full-time undergraduate students, study at its main campus in Springfield, Mass., and at its regional campuses across the country. Springfield College inspires students through the guiding principles of its Humanics philosophy – educating in spirit, mind, and body for leadership in service to others.
The Council of Independent Colleges (CIC) is an association of 768 nonprofit independent colleges and universities, state-based councils of independent colleges, and other higher education affiliates, that works to support college and university leadership, advance institutional excellence, and enhance public understanding of independent higher education's contributions to society. CIC is the major national organization that focuses on services to leaders of independent colleges and universities and state-based councils. CIC offers conferences, seminars, publications, and other programs and services that help institutions improve educational quality, administrative and financial performance, student outcomes, and institutional visibility. It conducts the largest annual conferences of college and university presidents and of chief academic officers in the United States. Founded in 1956, CIC is headquartered at One Dupont Circle in Washington, DC.