Springfield College Physician Assistant Student Organization Hosts Charity Volleyball Tournament To Highlight Mental Health Awareness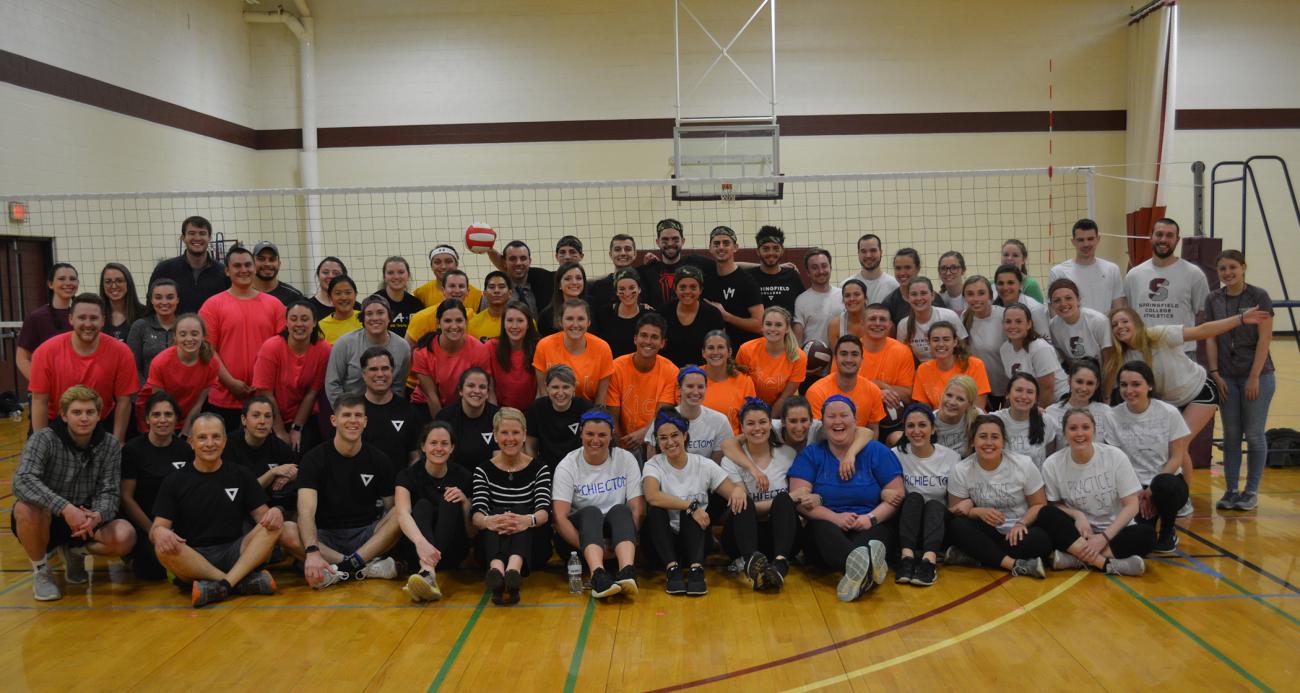 The Springfield College Physician Assistant Student Organization hosted a charity volleyball tournament on Monday, April 1, in Dana Gymnasium at Springfield College, to benefit the Mental Health Association (MHA) in Springfield and its new Bestlife Emotional Health and Wellness Center.
The event featured teams of six to eight individuals contributing a minimum donation of $30 per team to compete in the event. All proceeds benefitted MHA, a leading nonprofit provider of residential and support services for those impacted by mental illness, developmental disabilities, substance use, and homelessness.
Inspired by the Springfield College Humanics in Action program philosophy, Springfield College students Maura Fennessey and Dajia Angell contacted MHA and explained they would like to host this special fundraiser to benefit those individuals and their families affected by mental illness. The result, a special fundraiser to benefit MHA's new BestLife Emotional Health and Wellness Center, which partners with anyone impacted by the challenges of long-term or temporary mental health, substance use and/or co-occurring concerns.
"We reached out to MHA because they provide such great support to individuals in our community," said Fennessey. "People are really beginning to rethink and reframe the perception of mental health, and we wanted to find a way to support a local organization that provides so much support to individuals affected by mental health issues."
The students' commitment to the issue of mental health is not only significant, but reflective of an in the numbers of young people experiencing mental health issues.
Recently, the Washington Post reported that over the past decade or so, rates of depression, psychological distress and suicidal thoughts and actions have risen significantly among people
26 and younger, with some of the highest increases among women and those at higher income levels, according to a study of a broad swath of young Americans.
The report, published Thursday in the American Psychological Association's Journal of Abnormal Psychology, looked at survey data from more than 600,000 adolescents and adults. It found that in the past 10 to 12 years, the number of people reporting symptoms indicative of major depression increased 52 percent among 12- to 17-year-olds and 63 percent among 18- to 25-year-olds; the rate for both groups is now 13.2 percent. Serious psychological distress and suicide-related thoughts or actions also rose by 70 percent in young adults, from 7.7 percent to 13.1 percent.
The report went onto say that the percentages for older adults remained stable over the same period, indicating that whatever is driving the changes is disproportionately affecting those who are young, noting that "cultural trends in the last 10 years may have had a larger effect on mood disorders and suicide-related outcomes among younger people compared to older people."
The report, which used data from the annual National Survey on Drug Use and Health and relied on suicide statistics from the Centers for Disease Control and Prevention, found the greatest upticks in young people who were wealthier and female.
"We are so very appreciative that the students at Springfield College are hosting this special fundraiser," said MHA Vice President of Resource Development and Branding, Kimberley Lee. "From that very first phone call with the students, this event has really given me hope that we've got a generation of young people who are talking about mental health and understanding it better, and they want to have an impact. It's a health epidemic and deserving of public dialogue and discussion."
Guided by core values of respect, integrity and compassion, MHA provides residential and support services for more than 600 individuals a year which promote independence, community engagement, wellness and recovery for people challenged by homelessness, substance use, mental health, intellectual disabilities and acquired brain injury.
Springfield College is an independent, nonprofit, coeducational institution founded in 1885. Nearly 5,000 students, including 2,500 full-time undergraduate students, study at its main campus in Springfield, Mass., and at its regional campuses across the country. Springfield College inspires students through the guiding principles of its Humanics philosophy – educating in spirit, mind, and body for leadership in service to others.