Springfield College Proud to Partner with Springfield DPW on Award-Winning Construction of Six Corners Roundabout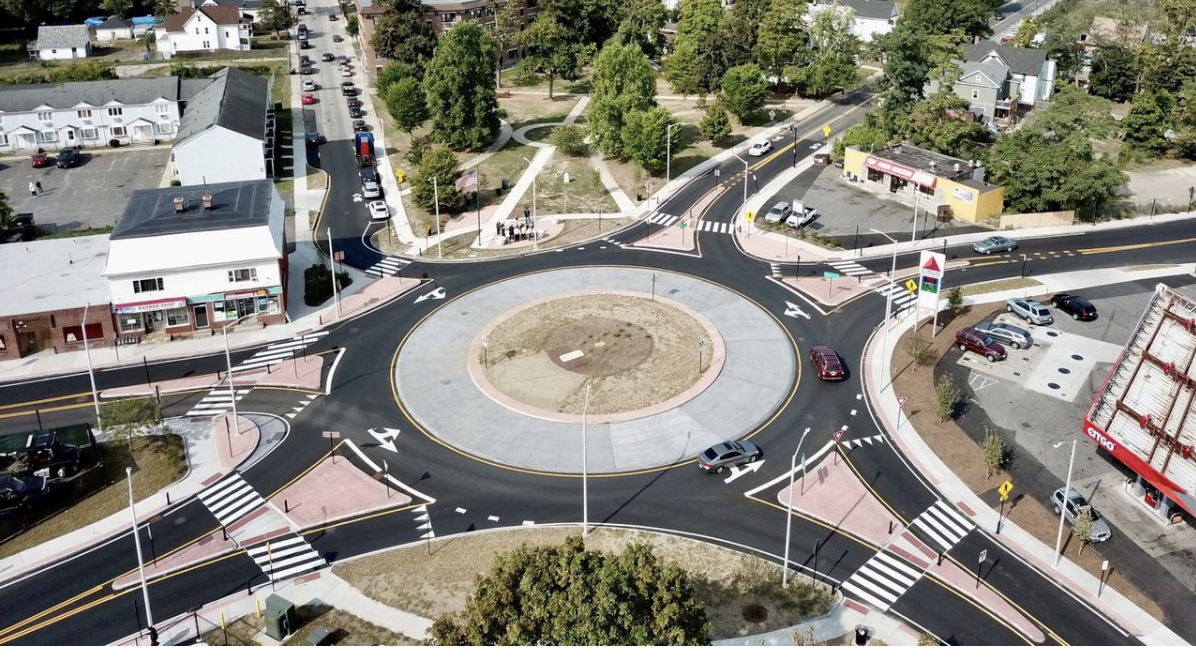 Mayor Domenic J. Sarno and Department of Public Works (DPW) Director Christopher M. Cignoli are pleased to announce that the City of Springfield DPW and project designer, Fuss & O'Neill, have been awarded the 2021 Silver Award from American Council of Engineering Companies (ACEC) of Massachusetts for Design and Construction of Six Corners Roundabout as a unique and innovative project.
Springfield College has volunteered to adopt the roundabout and will be assisting the City in the ongoing maintenance of the area. The City would like to thank Springfield College President
Mary-Beth Cooper and Bill Guerrero, Vice President for Finance and Administration, for their support of the City and the project with their assistance moving forward.
The Six Corners Roundabout project started construction in May 2019, with a total project cost of $4.2 million that included design, environmental remediation, construction oversight and construction.  The City of Springfield contributed $1,116,902 to the project; the Commonwealth of Massachusetts contributed $2,770,000; and $210,008 in CDBG – Disaster Recovery funds.
The new design for the intersection replaces the signalized intersection with a roundabout, adds traffic calming features, streetscape improvements, pedestrian improvements and signage. The work involved with the project consisted of full depth roadway construction, installation of the proposed roundabout, construction of concrete sidewalks, wheelchair ramps, driveways, drainage improvements, conduit, granite curbing, landscape trees and pavement markings.
Mayor Sarno states, "Congratulations to DPW Director Chris Cignoli and his team and to our project designer Fuss & O'Neill on this award and acknowledgement.  This project opened to rave reviews and has been well received by residents and businesses alike.  The reconfiguration of the traffic flow at Six Corners was key to the rebirth and revitalization of the neighborhood.  This project continues my administration's commitment of enhancing our neighborhoods, improving public safety and the quality of life for our residents and business community."
Director Cignoli stated "as I have said many times before about this project, it truly was a grass roots, neighborhood driven project that started with magic markers on a map originating from numerous Post-Tornado public meetings.   This "first-of-its-kind" project in the City has shown that these types of projects do work and we hope to look at similar designs throughout the City.  I echo the Mayor in congratulating the designer, Fuss & O'Neill, on their design and implementation of a difficult and complex intersection project."