Springfield College Recognizes Faculty Awarded Tenure, Long-Term Appointment, and Promotion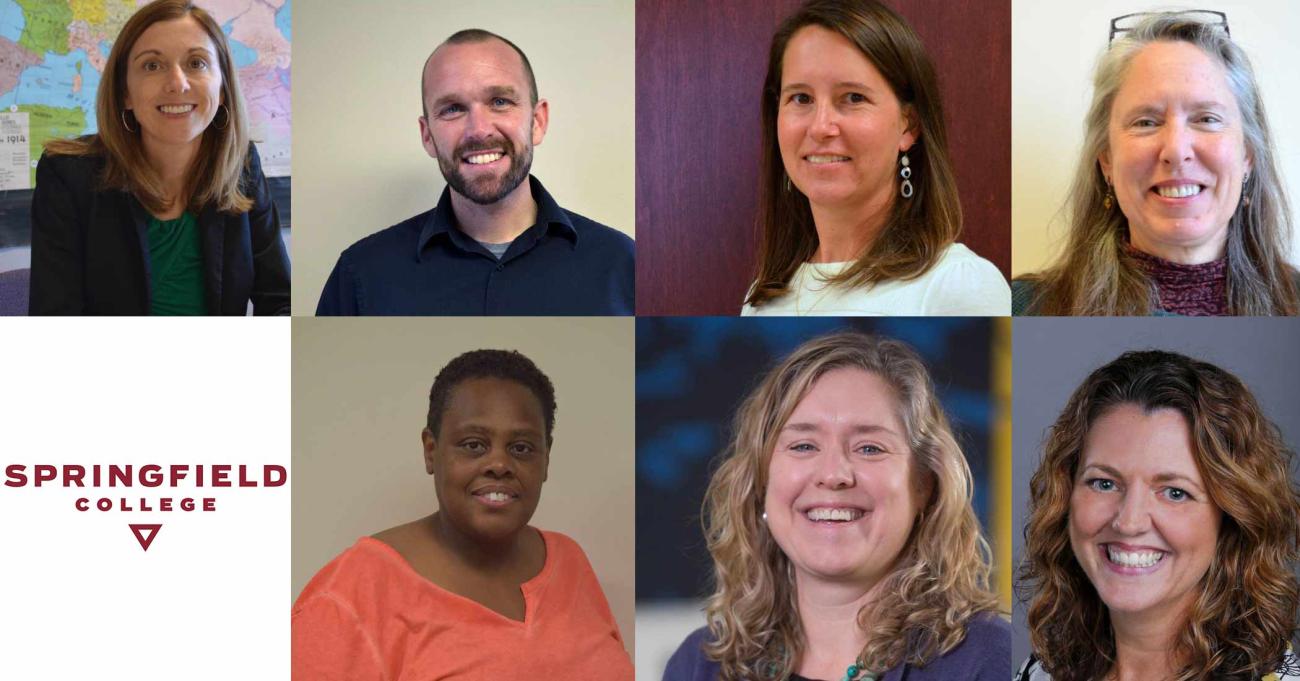 Springfield College Provost and Vice President for Academic Affairs Martha Potvin proudly recognizes the following faculty members who have been awarded tenure, long-term appointment, and promotion.
School of Arts and Sciences
Anne Herzog, PhD, Dean

Tenure and Promotion
Francesca Spina, PhD
Spina is the current chair of the department of criminal justice, and she has researched topics in criminal justice systems, race and crime, environmental justice, and gender and crime.

Promotion
Kyle Belanger, MA
Belanger leads students in communications/sports journalism providing a broad range of knowledge in sports broadcasting, podcasting, social media, sports and social justice, and multimedia/online journalism.
School of Physical Education, Performance, and Sport Leadership
M. Susan Guyer, DPE'03, Interim Dean

Promotion
Jasmin Hutchinson, PhD
Elizabeth O'Neill, G'00, DPE'03
Hutchinson is an exercise science and sport studies professor who has researched the effects of music in sport and exercise, psychophysiology, and attentional focus during sport and exercise. She also is the director for sport and exercise psychology.
O'Neill is the director of the applied exercise science program. She leads topics in the introduction to applied exercise science, kinesiology, management of health fitness programs, and advanced exercise physiology.
School of Health Sciences
Brooke Hallowell, PhD, Dean

Promotion
Elizabeth McAnulty, G'95
McAnulty's occupational therapy clinical practice has been in pediatrics (school and clinic based) and adult acute care. She teaches professional ethics and assists in clinical education for undergraduate and graduate fieldwork. She also assists in teaching pediatric, adolescent, and management classes.
School of Social Work and Behavioral Sciences
Francine J. Vecchiolla, MSW, PhD, Dean

Tenure and Promotion
Lisa Watson, PhD
Watson is an established expert in the field of child, youth, and young adult behavioral health, and she has been a participant in the Faculty Behavioral Health Curriculum Development Initiative with the National Technical Assistance Network for Children's Behavioral Health.

Long-Term Appointment and Promotion
Gayl Crump-Swaby, EdD
Crump-Swaby is the clinical mental health counseling coordinator for Springfield College Boston. She has extensive experience impacting organizational performance through dynamic programs focused on student emotional, cognitive, and physical development using a multicultural approach.
Springfield College is an independent, nonprofit, coeducational institution founded in 1885. Approximately 4,100 students, including 2,500 full-time undergraduate students, study at its main campus in Springfield, Mass., and at its regional campuses across the country. Springfield College inspires students through the guiding principles of its Humanics philosophy – educating in spirit, mind, and body for leadership in service to others.