Springfield College Recognizes Retiring Faculty Members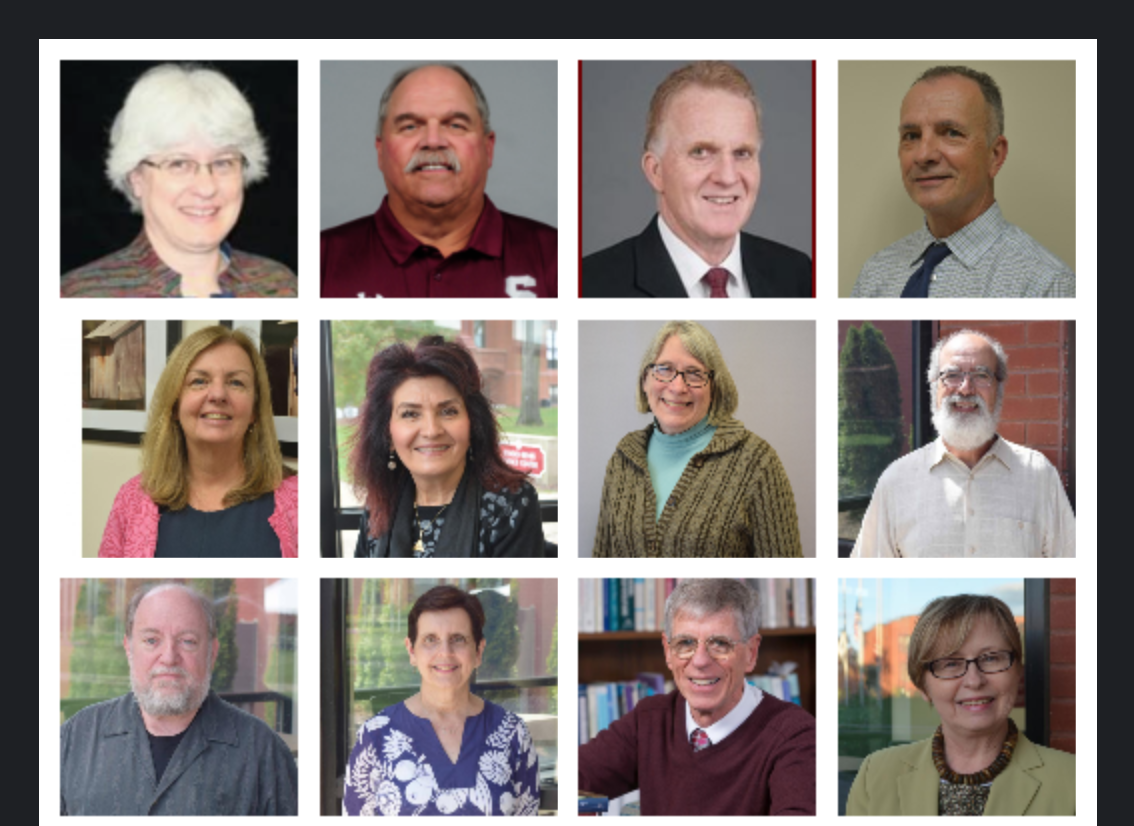 The Springfield College Office of Academic Affairs recognizes the following faculty members who are retiring at the conclusion of the 2019-20 academic and fiscal year. The campus community comes together to say "Thank You" to the following:
Professor of Biology / Secular Advisor for Spiritual Life Joseph Berger
Associate Professor / Chair of the Department of Health Sciences Deborah Cook
Associate Professor of Physical Education / Athletic Administration Graduate Program Director Joel Dearing
Associate Professor of Computer and Information Services / Bahai Advisor for Spiritual Life Nina Dini
Associate Professor of Physical Education / Assistant Football Coach John Holik
Professor of Physics and Mathematics Zenobia Lojewska
Professor of Allied Health Sciences / Chair of the Department of Physician Assistant Charles Milch
Professor of Social Work Walter Mullin
Professor of Physical Therapy Deborah Pelletier
Professor of Occupational Therapy Katherine Post
Professor of Chemistry Julie Smist
Instructor of Business Management Springfield College Tampa Jeanette Taft
Professor of Chemistry Frank Torre
Professor of Occupational Therapy Katherine Post
"I came to Springfield College as a full-time faculty member in the new Occupational Therapy master's degree program in January 1992, just as the first class of students to enter was about to leave for fieldwork. This means that I have had the privilege of working with every single student to pass through the program in the past 28 years. I have learned so much from the students, the faculty and staff, and many other colleagues in my profession. And while there have been many challenges, I feel very lucky to have worked with so many people who are truly dedicated to helping students learn and grow. Springfield College attracts students, faculty, and staff who care about people, about making a difference, and about each other. As I enter a new phase of my life in retirement, I know I will still be in touch with the community that welcomed me and that continues to help me learn and grow as well."
Associate Professor / Chair of the Department of Health Sciences Deborah Cook
"It's been a privilege to teach at Springfield College for the last 22 years and to have this opportunity to share my thoughts. Looking back, it is the relationships with colleagues and students that I treasure most. I've had the good fortune to work at Springfield College during a time of great change and development. I started in the Rehabilitation and Disability Studies department with a group of individuals who were instrumental in developing the program and were able to share the history, traditions, and mission of the college with me. As the department expanded its focus to include Health Sciences, I was able to witness its' development and growth, which resulted in hiring individuals from the fields of public health and communication sciences and disorders who are smart, dedicated, wonderful teachers and scholars, and great to work with.
One of my great sources of pride is the expansion of the communication sciences and disorders program from a concentration with five students to an undergraduate major, and plans for a master's program in speech-language pathology. We have active alumni across the country working to improve the speech, language, hearing, and swallowing of children and adults. An unexpected benefit of the Covid-19 pandemic has been the opportunity to reconnect with graduates and reestablish those relationships that go on hiatus when life is busy. Grads have shared their experiences of shifting job responsibilities to work in acute care settings to help patients with COVID-19, and rapidly learning new skills to provide continued service to children and adults via teletherapy. The shared thread through these stories is their determination, bravery in facing new challenges, confidence, and leadership in order to serve others. That is the 'special sauce' that comes with a Springfield College education and the relationships that are forged here."
Professor of Physical Therapy Deborah Pelletier
"After being a Professor of Physical Therapy at Springfield College for 26 years I can honestly say that Springfield College emits a 'something special' onto its graduates. Embedding the Humanics philosophy across all aspects of college life truly helps develop the type of individual that I have been proud to call a colleague over the years. The faculty are the cornerstone. The faculty, with their great teaching, scholarship and service are wonderful role models. I know my DPT colleagues have always gone above and beyond to assure that the students have what is necessary to achieve their goals and become leaders in their field. The DPT faculty have also modeled how to serve their profession and their community. To be able to have worked among these great faculty colleagues has been an honor and privilege. I would be remiss not to comment on the Springfield College Physical Therapy clinical education partners. For 26 years I have had the opportunity to work with the best in the physical therapy clinical education community. These clinical partners supervise and train our students, without any additional pay, in order to support Springfield College and the profession. As the director of clinical education for physical therapy for many years I know how important the clinical partners are and in our case they rise to the occasion and shine. I am very excited to continue my connections to the physical therapy program as an emeritus faculty and I look forward to many more years of becoming colleagues with fantastic alumni."
Professor of Chemistry Frank Torre
"I joined the faculty of the Springfield College chemistry department in 1973. In my 47 years at the college, I have taught nearly 5000 student General Chemistry. I have always been excited to meet a new class of first year students and introduce them to the wonders of chemistry. Not meeting a new incoming class is what I will miss most of all. I will also miss the daily meeting with my colleagues and the many friendly people that I have the pleasure of working with over the years."
Professor of Social Work Walter Mullin
"As a professor of social work at Springfield College, I focused on teaching students to help individuals live optimal lives. Together, the students and I examined the ways that both individual psychological issues and macro social injustices could interfere with a person's life goals. We worked on relationally oriented interventions so people could live their preferred lives.  Our work incorporated the awareness of 'spirit, mind and body' interacting with one another.  For nearly 20 years, I worked at Springfield College.  I am grateful for those years educating students, pursuing knowledge, serving the community, and building partnerships with my colleagues. Thank you all."
Associate Professor of Physical Education / Assistant Football Coach John Holik
"I just want to make sure I thank everyone I have been in connection with at Springfield College over the years including faculty, staff, students, coaches, everyone. Springfield College is just a special place and it's something I learned right away when I first stepped on the campus in 1980. I tell students and their families all the time, you have to step on campus and just feel how special it is, and students and families would always reply to me saying how right it is to say that. The mission of educating students in spirit, mind, and body, for leadership and service to others is why I enjoyed my more than 40 years on campus. I am looking forward to the future, but I will always be and feel connected to Springfield College."
Associate Professor of Physical Education / Athletic Administration Graduate Program Director Joel Dearing
"I view retirement not as the end of something, but as a new beginning. What a blessing to have spent 35 years at Springfield when you combine my undergraduate and employment seasons of life. I am moving ahead with on-going relationships with so many of my former student-athletes, students, and colleagues. Borrowing from my December 2019 speech in Pittsburgh, to all of those who are part of my life, who will continue to rely on me for advice, mentoring, and friendship, we have incredible synergy on how we interpret our spirit, mind, and body triangle for ourselves and let it guide us as we bring meaning to the lives of others."
Professor of Chemistry Julie Smist
"I came to Springfield as a sabbatical replacement in 1981, the last year of the trimester format. While I was there, a member of the then chemistry department moved into administration, opening up a full time tenure-track position. I was 'at the right place at the right time' and was appointed as an Instructor in Chemistry in 1982, 38 years ago. What made me stay so long? The people – students and colleagues. I can honestly say I love my job and I woke up every day looking forward to going to work. We are lucky in academics that every semester is brand new. Although factual material is the same, methods of delivering it and those who receive it are always changing – so it is always new, exciting, and challenging. This spring 2020 has probably been the most challenging and difficult of all for the college, but 'we are all in this together' and we made it through.
So why am I leaving? It is time to move on and give space for new people, news ideas, and new energies to face these new challenges. I have accomplished all I set out to do and enjoyed it, what more can one ask? It is time for a new adventure. What will that be? I have no idea what that will be in this new normal era we are facing. My husband and I were looking forward to traveling more in fall and spring, had some trips planned that are now on hold. My bucket list is to visit every state in the United States and every continent. I have five states and two continents left to go and I am hopeful it will happen. But no matter where I go or what I do, I will have fond memories of Springfield College."
Associate Professor of Computer and Information Services / Bahai Advisor for Spiritual Life Nina Dini
"The Fall of 1989 marked the beginning of a distinct chapter in my life as a Springfield College faculty member--an experience that has been incredibly interesting, fruitful, and challenging all at the same time. I was fortunate to serve in a department, chaired by Dr. Peter Polito, and surrounded by colleagues that have become my life-long friends. The warmth and inviting atmosphere of the department office created by the Administrative Assistant Donna Wisniowski, and the mutual support and the mentorship provided by the Chair made the MPCS department my second home, where I looked forward to being every day of the week. Though there were bumps along the way, the department grew stronger, including through an outreach program that received for a number of years a large number of students from Hong Kong who enriched its diversity.
I joined the college when the ITS was overseen by only one staff member and the microcomputer labs had just been set up. The Office of the Spiritual Life directed by Ken Childs was the heart and soul of the college community and the students thrived by the programming offered to address the spirit side of the Triangle. The faculty met at lunch time at the faculty dining area and exchanged ideas and established strong relationships. The Faculty Recognition Dinner was an exciting event celebrating the end of the academic year and strengthening bonds of fellowship among the faculty.
I came to the college to experience these things having traversed a fortuitous though nonlinear path! After receiving my Bachelor of Science in Computer Information Systems from the University of Nice-France, I worked for four years as a computer analyst and programmer prior to starting graduate school in Computer Science at the Illinois Institute of Technology.  After graduating, I was offered a research position at IBM in Chicago, but for family reasons decided to relocate to Springfield. Shortly after arriving, I worked for two years at the Massachusetts Mutual Life Insurance Company as a systems analyst and application programmer before re-experiencing the richness of academia and the thrill of the classroom. For the next five years (1984-1989), I taught at both Western New England College and Springfield College, before my appointment as full-time faculty member at Springfield College.
My 35 years at the college have been extremely formative and fulfilling, in large part due to helping develop my students' potential so that they are able to lead productive lives. I am sure the college will continue to grow and develop by educating students with aspirations to use their education to serve their communities. Over the years, I have also witnessed the steady beautification of the Springfield College grounds and the physical plant; the strengthening of many programs, and the addition of others; and the enriching of various aspects of student life on campus.
I am proud to have spent a large portion of my life serving Springfield College, an institution that was founded on the Humanics Philosophy. This principle is consistent with my belief of service to humanity, and one that first attracted me to the college.
I am going to miss many of my students who brought the joy of life into the classroom. I look back at my years of service at Springfield College fondly and I will cherish the sweet memories with my students and colleagues forever." 
Professor of Physics and Mathematics Zenobia Lojewska
"I spent 31 years at Springfield College. Time flies quickly when you are having fun. I spent all those years in the Mathematics, Physics and Computer Science Department. It was an unusual department in that three of us female faculty came from different corners of the world to teach at Springfield College. Peter Polito , the chair of our department at the time was not only a mentor for all of us, but was also a good friend.  He created an atmosphere in the Department that we all felt like one happy family. I always felt like it was my second home. I was so lucky to get a lot of support from Peter and my colleagues when in 1994 I went through some downs in my life. That is what a family is for. Thanks to that support, I survived the crisis and continued with my professional journey.
I love teaching therefore, most of the time it did not feel like working. My responsibilities included teaching introductory physics, physical science, and mathematics courses. For some students, physics is not an easy discipline to study. I learned quickly from my students that I could introduce more complex concepts if I related them to students' interests. Since I taught the Physics for Movement Science course geared toward the Exercise Science, Athletic Training and Physical Education majors, I decided to focus on the application of physics to Biomechanics which was a subject of study for those majors. I learned so much about sports from my students while helping them with projects that focused on application of physics to analyze human motion. I enjoyed observing how enthusiastic my students became when they talked about physics and how it related to the sports they played.
The best part of my profession was to observe student's growth. Often, I would have a first-year student in my mathematics class and the same individual would be in my physics class in their later years. Watching how students matured was a very uplifting experience. During the first two years, generally students learn to adjust to a new style of life, make new friends, and figure out what major to choose.  Once they are juniors, they usually know what they what to do and often start to get ready for graduate school.
I was born in Poland and came to the United States for a postdoctoral study in biophysics.  I understood how challenging it was for the international student to come to Springfield College, take courses which are not taught in student's native language, and to live in a new country with a different language and culture, away from close relatives. I met so many wonderful international students at our institution! I had many of them in my classes, or I was introduced to them by my colleagues, or sometimes the International Student Center advised them to get in touch with me. I was a good resource for many international students by giving them advice and support. I remember hosting some of them in my home for the Thanksgiving meal. I developed long-lasting friendships in that way.
I love Springfield College and I am grateful for the wonderful life experiences that were afforded to me while I was there. I will deeply miss my students and my colleagues. Springfield College was always be my second home. I am already having a tough time adjusting. It is so hard to depart since I was part of the Springfield College family for a long time, 31 years. I plan to visit campus and my colleagues often.
I plan to focus on writing about my experience in science education. How do I see the teaching science? I started to teach physics in 1974, so I had a long teaching and research carrier. I worked with the in-service science teachers for many years.  As a long-time member of the Executive Board of the New England Section of the American Association of Physics Teachers, I helped organize and participated in over hundred professional meetings where the high school and higher education instructors exchanged ideas on physics education. As part of the several grants, I instructed graduate science courses for the in-service teachers and participated in the summer camps for the middle and high school students. I used to score the MTEL tests in the area of high school physics and mathematics. I am familiar with both American and Polish systems of education.
I really love to travel and plan to travel! I have close family in Poland. This will allow me to spend extended amounts of time there and other European countries. I have already bought a ticket for a middle of August and hope that the coronavirus epidemic does not impact my plans."