Springfield College Set to Host 21st Annual African and African-American Education Research and Training Conference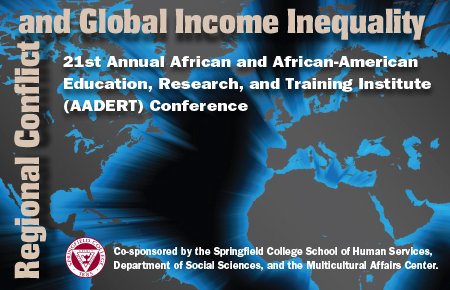 National scholar Peter Bohmer will headline the 21st annual African and African-American Education Research and Training (AADERT) conference on Thursday, Feb. 27, starting at 9:30 a.m. at Springfield College.  The event is open to the public and is part of a program at Springfield College honoring the 50th anniversary of Martin Luther King Jr.'s commencement address at the College.  
Bohmer, who has been an activist in movements for social justice and for radical social change since 1967, will present on the political economy of racial inequality and the implications for racial justice.  Bohmer teaches political economy at Evergreen State College in Olympia, Wash., and stresses the belief for an economic system based on human dignity for all, where poverty and exploitation are abolished, and where work is meaningful and fulfilling for the individual. 
Following Bohmer's presentation, Springfield College Professor of Social Science Daniel Russell will lead a panel discussion focused on "Changes in the Color of American Politics: the Deficit, the Presidency and the Dysfunctional Congress."  Joining Russell as discussants will be Dean of Empire State College Gary Lacy; Springfield College Professor of Social Science Gordon Robinson; and Bohmer.   
Opening the afternoon session, Western New England University Professor of Communication Jean-Marie Higiro will lead a group of panelists focused on "The Role of Media in Covering/Covering Up the Truth."  Joining Higiro will be Springfield College Assistant Communications Professor Jodi Santos, Springfield College School of Social Work Professor Joseph Wronka, and Amnesty for the International-Amherst Chapter Mohamed Ibrahim.
Springfield College School of Human Services professor Mulugeta Agonafer  will be joined by Westfield State University Professor David Bakuli, University of Massachusetts-Amherst Residence Director Mohamed Good, Bohmer, and Wronka to lead a discussion regarding "The Change in Global Power Configuration: The Widening Gap Between the Haves and the Have Nots."  
A round-table discussion to analyze the topic of "Rethinking Community Economic Development: Is Casino the Panacea?" will conclude the event.  Springfield College faculty members John Wilson, Tony Hill, Clifton Bush Jr., Gordon Robinson, Gary Berte will be joined by Springfield City Council member Tim Allen and Vice President for the United Way of the Pioneer Valley Raymond Berry. 
The African and African-American Education, Research and Training conference was founded in 1993 by Springfield College Professor of Human Services Mulugeta Agonafer to conduct research and to educate and coordinate Africans and African-Americans on issues that affect their communities.  This year's conference will pay tribute to the former President of South Africa Nelson Mandela and former President of Springfield College Randolph W. Bromery.