Springfield College Sports Communication Department Recognized by American Volleyball Coaches Association
The Springfield College Sports Communication Department was recently recognized by the American Volleyball Coaches Association (AVCA) for its successful efforts in the advancement and promotion of the sport of volleyball. The College earned NCAA Division III Sports Information Director Women's Volleyball Regional Honors for the New England area and also NCAA Division III Sports Information Director Men's Volleyball Conference Honors during the announcement of the annual AVCA Grant Burger Media Award.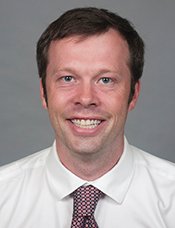 Director of Sports Communication Brian Magoffin
Led by Director of Sports Communication Brian Magoffin and Assistant Director of Sports Communication Jonathan Santer, Springfield College was the only institution in the country across NCAA Division I, II, and III as well as the NAIA, to be recognized by the AVCA in both men's and women's volleyball. Their efforts included traditional releases and statistical coverage, in addition to enhanced web and video efforts to promote the success of the men's and women's programs, including highlight packages, postgame interviews, and features throughout the season.
Assistant Director of Sports Communication Jonathan Santer
"Brian and Jonathan have a knack for capturing the essence of what it means to be a student-athlete," said Springfield College Director of Athletics Cathie Schweitzer, who will be retiring at the end of June after 15 years in her current role. "Our sports information team creatively thinks of ways to keep Springfield College athletics at the forefront and the coverage they provide promoting players, coaches, and the volleyball programs is unparalleled."
During the 2014-15 season, the men's volleyball team advanced to the national championship match for the seventh time in the past eight years, concluding the campaign with a 25-7 record. Springfield has captured nine Division III national championships as a men's volleyball program, including winning the previous three NCAA Division III Championships after claiming the crowns in 2012, 2013, and 2014.
"All of our athletic teams at Springfield College are so fortunate to have the level of support and communicative expertise that Brian Magoffin and the sports communications office offer us," said men's head volleyball coach Charlie Sullivan. "Not only in marketing our teams, but the information we get from Brian's office is second to none. Brian and his office make our job much easier and we appreciate their level of support."
The women's volleyball squad finished with a 20-11 record this past season and made its fifth consecutive trip to the NCAA Division III Championship, the longest such streak in the storied programs history.
"Brian Magoffin, Jon Santer, and the entire sports information office are the gold standard of volleyball coverage in New England," said women's head volleyball coach Moira Long, who was a mic'd up for a match this past year as a special behind-the-scenes segment for Springfield College Athletics weekly video show, "Inside the Pride." "They work tirelessly to support and represent Springfield College volleyball in the best ways possible; in game stats, post-game statistical breakdown, web streaming, post game interviews, and feature pieces on the program. We are so fortunate to have such dedicated professionals at Springfield College who not only support Springfield College volleyball but volleyball as a whole." 
The AVCA Grant Burger Media Award is an honor intended to recognize members of the media who have been involved in the advancement of the sport of volleyball, whether it be through consistent coverage in all mediums (sports information, print, broadcasting, web content, college student reporter, and social media), production of volleyball-specific publications, or extensive radio and/or television exposure.  It is named in honor of Grant Burger, former director of sports information and associate director of the AVCA from 1988-1992, whose hard work, innovative mind, knowledge and enthusiasm took the areas of media relations and publications at the AVCA to a higher level and increased awareness of the sport of volleyball nationwide.
Founded in 1885, Springfield College is known worldwide for the guiding principles of its Humanics philosophy—educating students in spirit, mind and body for leadership in service to others. With its foundation of academic excellence and rich athletic heritage, Springfield College prepares students with real-world leadership skills for careers that transform lives and communities. The college offers a range of undergraduate and graduate degree programs in the fields of health sciences, human and social services, sport management and movement studies, education, business, and the arts and sciences. It also offers doctoral programs in physical education, physical therapy, and counseling psychology. The college is ranked in the 2015 edition of "Best Colleges" in the top tier of "Best Regional Universities – North Region" by U.S.News and World Report, and is designated as a premier Leadership Development Center by the YMCA of the USA. More than 5,000 traditional, nontraditional and international students study at its main campus in Springfield, Mass., and at its School of Human Services campuses across the country.