Springfield College Student Advocates for Wellness Recognized as Outstanding Peer Education Group at NASPA General Assembly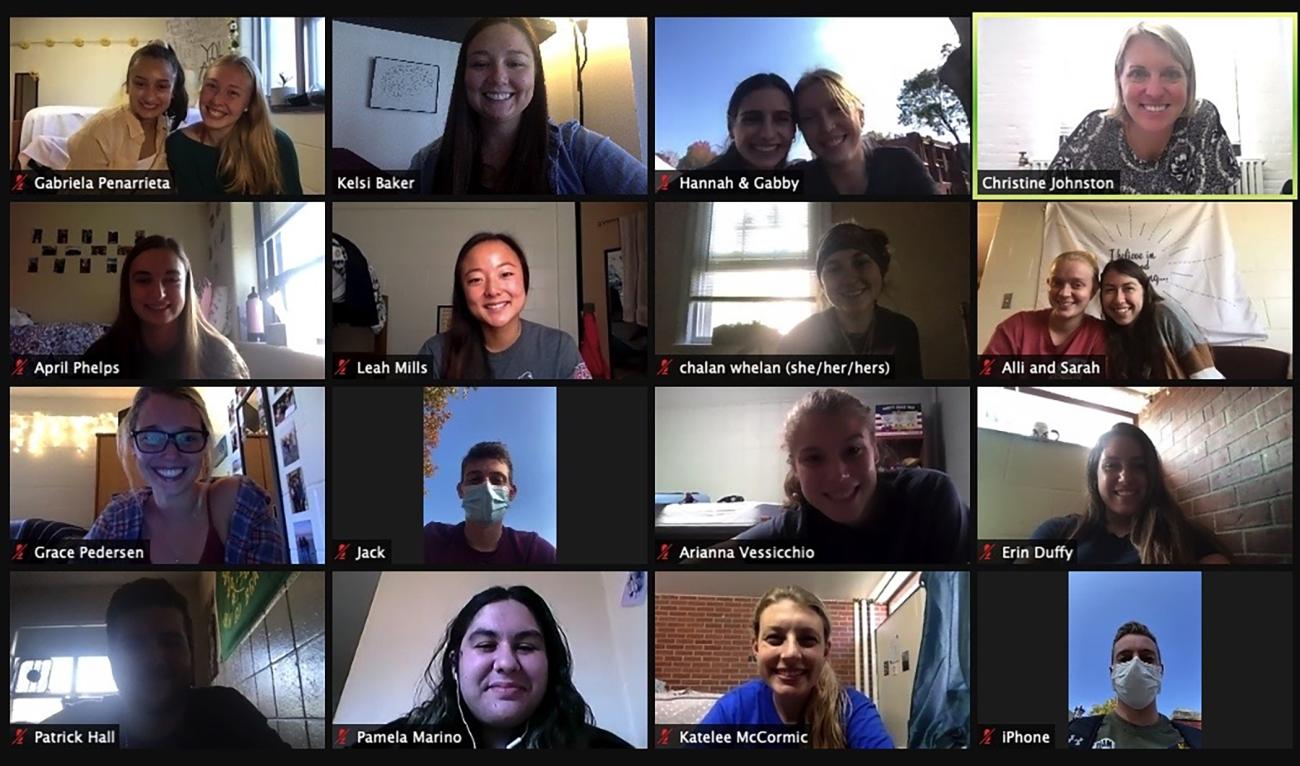 The Springfield College Student Advocates for Wellness team recently earned an Outstanding Peer Education Group Award during the National Association of Student Personnel Administrators (NASPA) General Assembly virtual conference. This recognition places the Springfield College Student Advocates for Wellness in the top three peer education groups in the country for 2020. In addition, senior Sarah Hogan also was nominated as an Outstanding Peer Educator.
"It's what we do at Springfield College, we support each other and we make sure we work hard to promote good health and safety," said Springfield College Assistant Director for Alcohol and Other Drug Education and Health Promotion Christine Johnston, who helps lead the student advocates for wellness team. "This team worked hard throughout the spring, and remains hard at work this semester making sure our students have access to creative programs that promote wellness even through our period of virtual learning. We couldn't have done any of this without graduate assistant Kelsi Baker this year. She's been working with the student advocates on a daily basis to keep up the great work."
The annual awards at the NASPA General Assembly recognize student-led groups for their exceptional work in peer education wellness on college campuses. The Springfield College student-led group provides creative health and safety education initiatives for students throughout the campus community during the entire year.
This year's Springfield College Student Advocates for Wellness Team includes: Allison Leary, Sarah Hogan, Grace Pedersen, Garrett Ossolinski, Leah Mills, Jack Costa, Hannah Day, Gabby DeRose, April Phelps, Chalan Whelan, Pam Marino, Erin Duffy, Gabriela Penarrieta, Arianna Vessichio, Katelee McCormic, Patrick Hall, and Kaitlyn Rego.
The NASPA General Assembly affords peer educators and advisors a tremendous selection of learning opportunities including more than 80 educational sessions and keynote speakers. General Assembly also provides pre-conference learning opportunities to enhance the conference experience, including our Certified Peer Educator (CPE) Train the Trainer.
There are many offerings for professionals and students throughout the conference, including school exhibits and networking opportunities. Throughout the conference, presentations highlight efforts regarding high-risk drinking prevention, sexual responsibility, mental health, violence prevention, tobacco prevention, and more. Over 100 institutions of higher education attend General Assembly.
The Student Advocates for Wellness is supported by Springfield College Campus Recreation.