Springfield College Students and Faculty Earn Accolades at New England American College of Sports Medicine Conference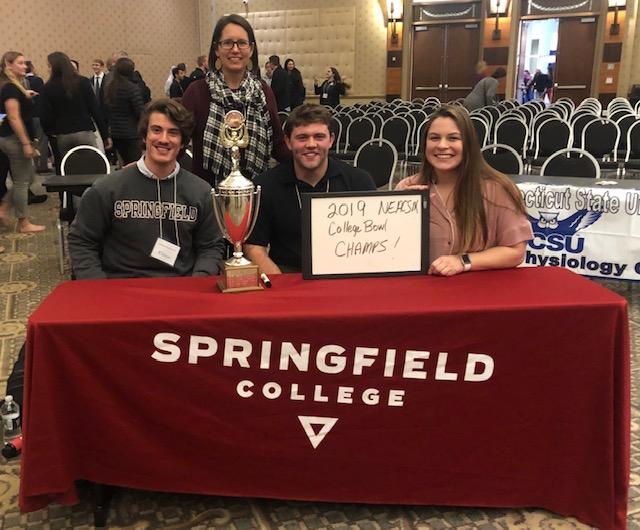 The Springfield College Exercise Science Program was recently well represented at the New England American College of Sports Medicine (NEACSM) Conference with multiple Springfield College students and faculty being recognized with scholarships and awards.
Springfield College Applied Exercise Science undergraduate student Monique Forte earned the Robert S. Axtell Undergraduate Scholarship, a $500 scholarship that recognizes an outstanding undergraduate student representing the areas of Exercise Science, Sports Medicine, or a related field.
To be eligible for the award, the student must be a NEACSM member; must be enrolled in an accredited college/university within the New England region; must be an undergraduate student majoring in the areas of clinical or basic exercise science or sports medicine; and must demonstrate academic excellence of 3.3/4.0 scale in undergraduate studies.
Determination of the Undergraduate Scholarship Award is based on the following:
Academic excellence

Professional/work experience and its relationship to professional development for a career in exercise science, sports medicine, or a related field

Professional activities including professional memberships, workshop/conference attendance, and professional service
In addition, Springfield College Exercise Physiology master's student Dina Pitsas won the New Investigator Award, a $2,500 scholarship awarded to a junior scientist in the fields of sports medicine and/or exercise physiology, who receives support for potential scientific excellence. The New Investigators Award is a way that NEACSM stays committed to investing in the future of sports medicine and exercise science by offering a defined research underwriting opportunity.
To be eligible for the award, the applicant must take part in research that is related to sports medicine or exercise physiology; the research is innovative and either has a high impact for the area of research, or has a potential future high impact (e.g., development of new methodologies that will generate new knowledge); the background and relevance of the proposed work is clearly described; the methodology is sound and the data can be quantitative or qualitative; the study will have enough power and uses appropriate statistical tests to underpin any claims on significance.
Springfield College Exercise Physiology doctoral student Michelle Stehman also won the President's Cup during the NEACSM conference, and will next be competing at the National American College of Sports Medicine conference in May of 2020 in San Francisco.
As a team, the Springfield College Applied Exercise Science students also earned first place in the Applied Exercise Science major's College Bowl, which consists of colleges competing in jeopardy style competition against more than 20 other institutions throughout New England. They will be competing at the National American College of Sports Medicine College Bowl competition in May of 2020 in San Francisco.
Capping of this memorable weekend was the announcement of Springfield College Associate Professor of Exercise Science and Sport Studies and the Program Director for the undergraduate Applied Exercise Science program Elizabeth O'Neill being named the president-elect for the New England American College of Sports Medicine (NEACSM).
As president-elect, O'Neill will continue to work diligently with the executive committee of NEACSM to continue to strengthen the New England chapter, and uphold the chapter's strong reputation of providing high quality conferences that engage its membership at all levels.
A member at large of NEACSM, O'Neill has served the chapter in many capacities, including serving as the Massachusetts State Representative, working on the scholarship committee, and serving as the marketing co-chair.
O'Neill received her doctorate in Exercise Physiology and master's in Sport Psychology at Springfield College. She has presented regionally, nationally, and internationally on issues associated with the physiology of aging and bone health, which are her concentrated areas of research.
Springfield College is an independent, nonprofit, coeducational institution founded in 1885. Approximately 4,100 students, including 2,500 full-time undergraduate students, study at its main campus in Springfield, Mass., and at its regional campuses across the country. Springfield College inspires students through the guiding principles of its Humanics philosophy – educating in spirit, mind, and body for leadership in service to others.