Springfield College Students Awarded Grinspoon Entrepreneurship Initiative Honors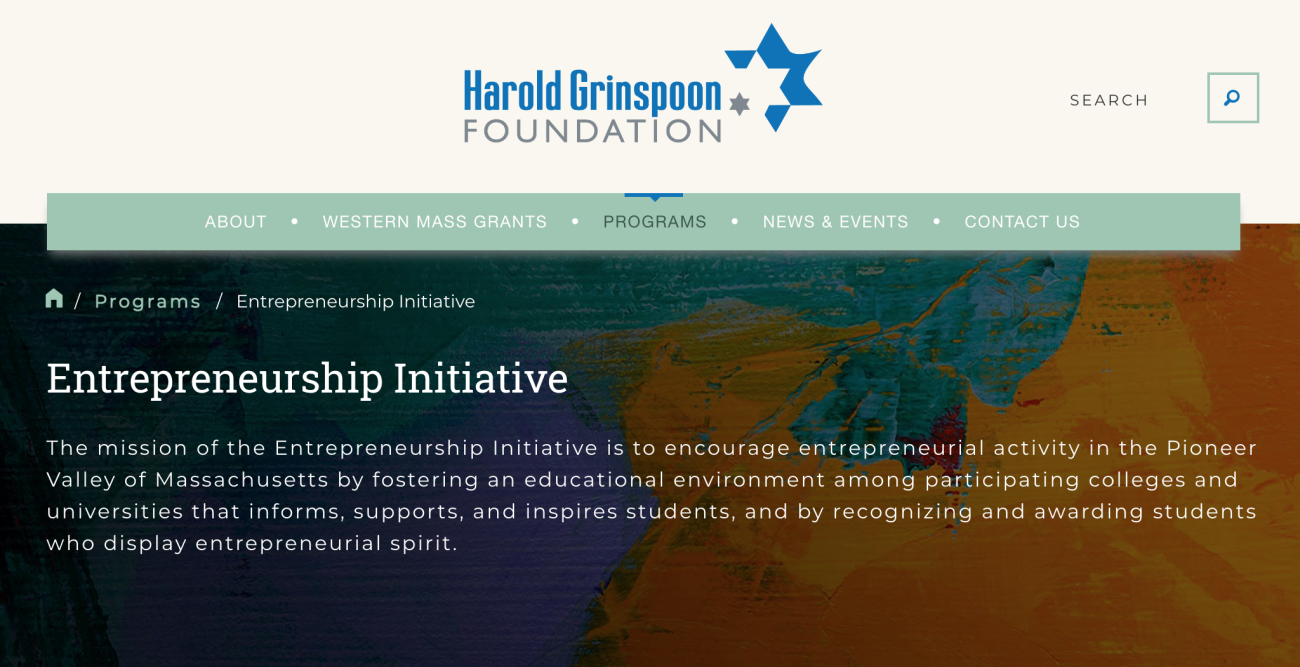 Springfield College students were recognized by the Harold Grinspoon Charitable Foundation Entrepreneurship Initiative showcase for the students' creative entrepreneurship efforts. This annual award announcement features students from colleges in the Pioneer Valley who have either started their own businesses, or are on the verge of setting up their own business.
Led by Springfield College Business Management Instructor and Program Coordinator Pam Baran, and Assistant Professor of Sport Management and Recreation Heather Gilmour, students were encouraged to submit their work to a panel of judges during the spring semester.
"The mission of the Grinspoon Entrepreneurship Initiative is to encourage entrepreneurial activity and to recognize and award college students who display entrepreneurial spirit," said Baran, who serves as co-advisor with Gilmour as part of the entrepreneurship initiative on the Springfield College campus. "These five students experienced a spark of an idea and demonstrated initiative and determination to carry it through."
This year's Springfield College award recipients are: 
Hale Thomas - (Business Management) - Spirit Award for Cape Fresh Fishing Company.
Casey Sheehan - (Sport Management and Recreation) - Spirit Award for Focus Wellness.
Chloe Dewhurst - (Psychology) - Spirit Award for BBE Company.
Paris Lizana - (Sport Management and Recreation) - Concept Award for Activity TV.
Kyle Forgeron - (Master's of Education in Psychology) - Concept Award for Oasys.
"Casey, Chloe, and Hale are all operating very different businesses and have followed their passions while building on their education," added Baran. "Kyle and Paris are advancing their business concepts to reach the point when they launch their businesses. All of these students exhibit entrepreneurial spirit through their inventiveness and fortitude to pursue their businesses while they are full-time college students. We are proud of their accomplishments and offer our support as they pursue their entrepreneurial dreams."
The Spirit Awards are presented annually to students who have a business up and running, and they have received revenue from the business. The Concept Awards are awarded to students who have the concept of a business idea, and they have shown a commitment to continue working on the growth of the business. For each of these awards, the students receive funds from the Grinspoon Charitable Foundation to recognize and award their entrepreneurial spirit.
Springfield College is an independent, nonprofit, coeducational institution founded in 1885. Approximately 4,100 students, including 2,500 full-time undergraduate students, study at its main campus in Springfield, Mass., and at its regional campuses across the country. Springfield College inspires students through the guiding principles of its Humanics philosophy – educating in spirit, mind, and body for leadership in service to others.