Springfield College Students Take Part in Crisis Communications Training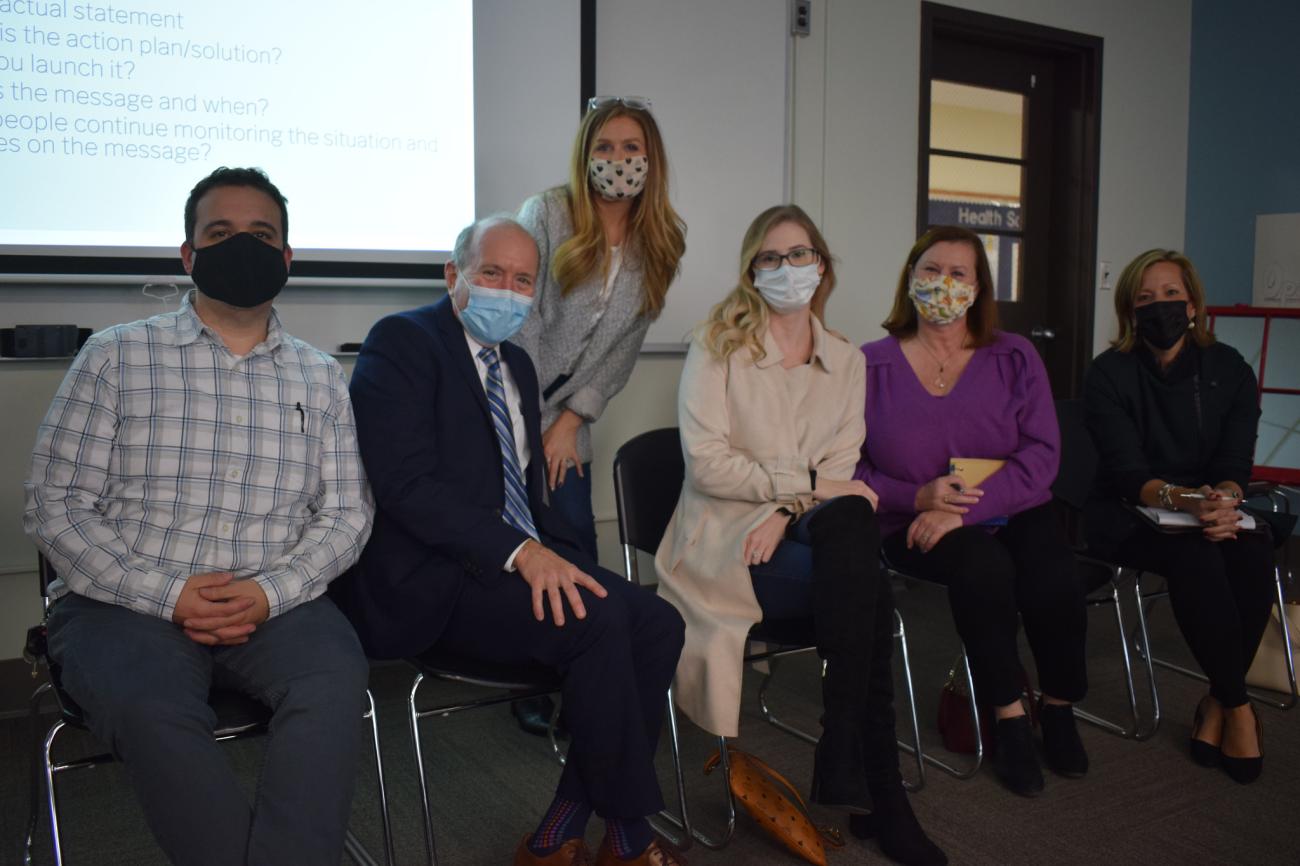 By: Irene Rotondo '22
Students in Meghan Rothschild's BUSM 377-11 Social Media Marketing class experienced an intense simulation on how to handle a crisis as it relates to public relations within a business's social media on Nov. 3.
Rothschild brought in experts in the communications field to make the "Crisis Communication Drill" that much more effective; Director of Communications Steve Roulier, President and CEO of Square One Dawn DiStefano and her Chief of Communications Kris Allard, and Channel 22 WWLP News members Kelly Reardon, Adam Belson, and Brian Lapis were all present to facilitate the drill.
"The students have no idea what's happening," said Rothschild.
"They walk into the class, the class starts, I play this emergency buzzer sound, and then I put a scenario up on the screen."
The scenario was a bomb threat at a public event hosted by the students' hypothetical business. Students were tasked first with assembling their 10-person crisis teams and coming up with a preliminary statement, taking into consideration their audience and what resources they will need to disseminate the information given.
Communications experts Roulier, DiStefano, and Allard were all seated at the front of the room as a panel, ready to provide feedback to students at the end of the drill.
Justin Brosnan, a senior double majoring in Finance and Marketing, said he and his peers were excited, but had no clue what was going on.
"We get into class and we're all put into chairs and groups, nothing like the normal layout… I was like, 'Oh, God, what're we getting into with this?'" said Brosnan.
Then, the media came knocking. WWLP's Brian Lapis FaceTimed Rothschild, who handed the phone to senior Gabrielle Ward and her group. Lapis immediately began rapid-firing questions at Ward, demanding to know what was being done to ensure people were safe from the "threat" and what her team was doing to find the culprit and their credibility.
"Our group didn't really have a spokesperson, so I was like, 'Okay, I'll take the phone,'... I basically told him that we were going to have police around the event, and also directing traffic to help people get across," said Ward.
"I answered them with my group as best as we all could; it was really cool to be talking to a real reporter," she added.
Following was WWLP's Kelly Reardon, who posed as an investigative crime reporter and questioned students on whether or not they were making the correct choices for the financial sustainability of their organization. Students felt like they were in a real-life situation, complete with nerves and high stress levels. Still, the students responded quickly and professionally.
"It was very crazy; I was sweating, stressing out. It was very real, and it was so cool that we could have [Professor Rothschild] bring in all those amazing resources for us," said Brosnan.
Finally, WWLP's Adam Belson acted as the primary media sponsor of the students' public business event. He asked students to secure the safety of his own team for future events, and wanted to know what was being done with local authorities to catch the culprit of the bomb threat.
Rothschild said she feels her students performed well, especially because she provided no help or answers for them.
"I want them to understand the severity of crisis communication, and what it can do to a business and how quickly if things go wrong, it can ruin a business' reputation," said Rothschild.
"The goal is to be able to react in a high-stress situation quickly and professionally," she added.
Ward said she thought the drill was really helpful to her understanding of social media during a crisis, and that she thinks this will carry over to not just her career but her own personal life.
"Honestly, I think this will help even personally… if something's going bad really quick, you need to figure it out, and take a step back and look at what's in front of you. This drill was intense and I definitely took a lot away from it," stated Ward.