Springfield College Students Use Podcast to Build Community in Hometown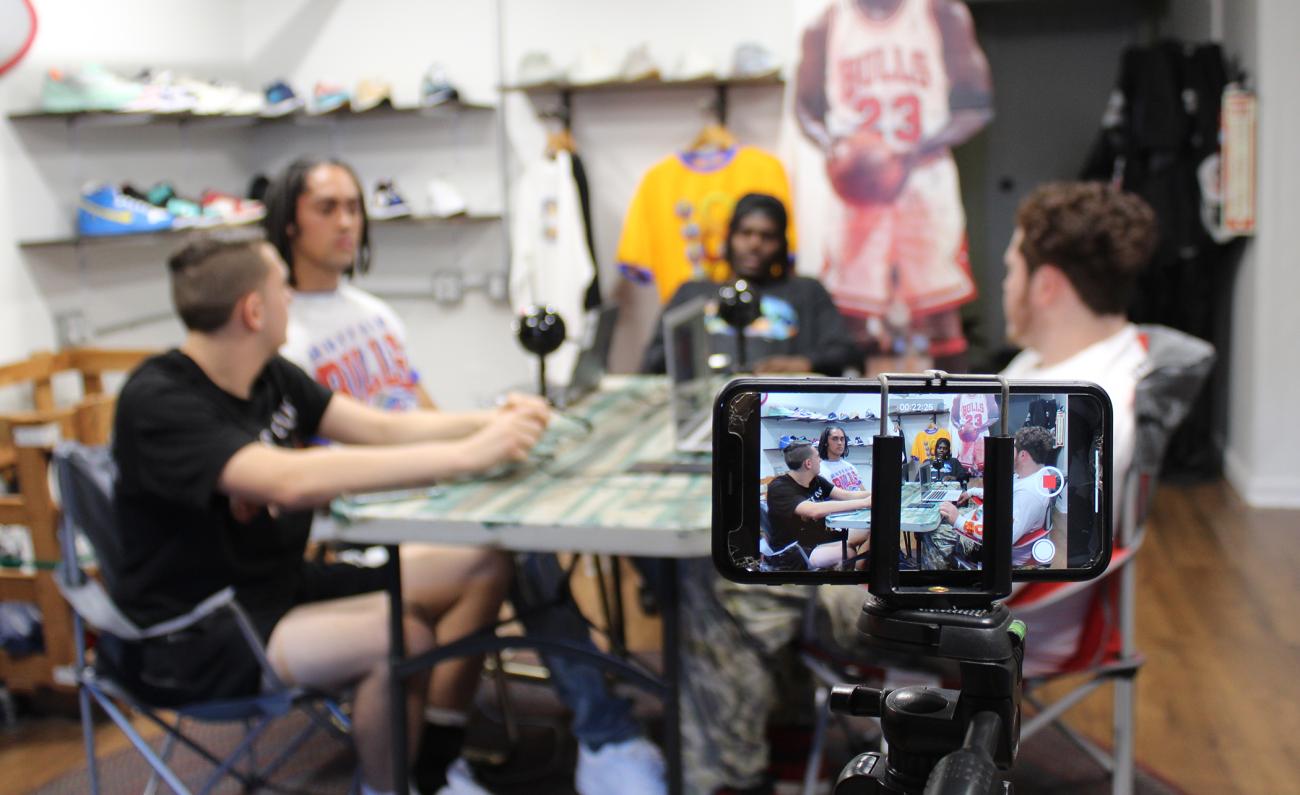 Springfield College seniors Tyson Jones and Joey Karandy are proud members of our campus community, but they have also remained committed to their hometown of Albany, N.Y. by giving back to their hometown through a podcast called, "Without Warning." The podcast's mission is to not only showcase up and coming hip-hop artists, but it also has a focus on unifying a community and bringing people closer together.
"It started out as a simple idea with our friend Noah in Albany, and we thought it would be a good idea to start this podcast to highlight a genre of music we have been following for a longtime," said Karandy.
Both Karandy and Jones were able to record weekly podcasts this past summer before returning to Springfield College this fall, and those efforts have allowed the podcast to maintain a strong following during the fall as well.
"Most of our guests are individuals we have grown up with in our home community and I have listened to since I was in ninth grade," added Karandy. "We are trying to uplift the voices in the unheard creatives. There is so much focus just on the New York City hip-hop scene, you don't hear enough about the talent in Albany and upstate. It's about community for us and uplift the talent."
Both Karandy and Jones have lived our Humanics philosophy even before enrolling at Springfield College, and that leadership and service to others has only been demonstrated through their year-long commitment of growing their podcast platform.
"It's about helping people because many of the artists we interview don't have the resources to get noticed," said Jones. "Albany has a lot of talent to offer. Most of the people we are interviewing and connecting with, this is their first interview, and we act as a starting block for many artists so they have a way to showcase their talents."
It's their commitment to building strong community that hasn't gone unnoticed by larger media and podcast outlets.
"We are starting to see different outlets view the content we are providing, and using our music opinions to provide an opportunity for these artists to reach a larger audience," added Jones. "National music outlets are sharing our content, and picking up our content, so that is awesome because it gives the artists an even larger reach, which is what we want for them."
Jones went on to explain that the impact this has on youth throughout the Albany region shouldn't be undervalued as well.
"This is a way to help youth development throughout the Albany region," said Jones. "Many of the individuals we are featuring on the podcast don't have the resources to move into New York City to gain more exposure, they don't have the resources to hire a manager. Many of the interviews are with some very young individuals, 15 or 16 years old, and they can handle themselves in an interview and they are very articulate. They just need that platform to express themselves, and that's what we are here for with the podcast."
Both Jones and Karandy also view their podcast as a way to identify and build unity, and make sure the individuals they are highlighting have their voices heard throughout the country.
"This has helped unify and bring people and community together," added Karandy. "The voices that you hear on this podcast are important. They need to be heard, and for us, help thy neighbor is our biggest point we want people to take away from this project."
Jones and Karandy didn't wait for their post-college careers to begin to start expanding their podcast platform, an aspect that certainly resonates with the people they are interviewing.
"These performers we interview are just like us, they are humans, they are passionate about their music, and they work hard. Anybody can do this if they set their mind to it. It's about having the passion, and we share our passion on the podcast," said Jones.
Jones and Karandy have never forgotten where they grew up, they have passion for their work, and remind everyone listening that providing leadership and service to others is the best way to live.
"Overall, this really is about helping others, and the more the podcast grows, the more it helps the artists and our community," concluded Jones and Karandy.