Springfield College Wrestling Team Partners with Team IMPACT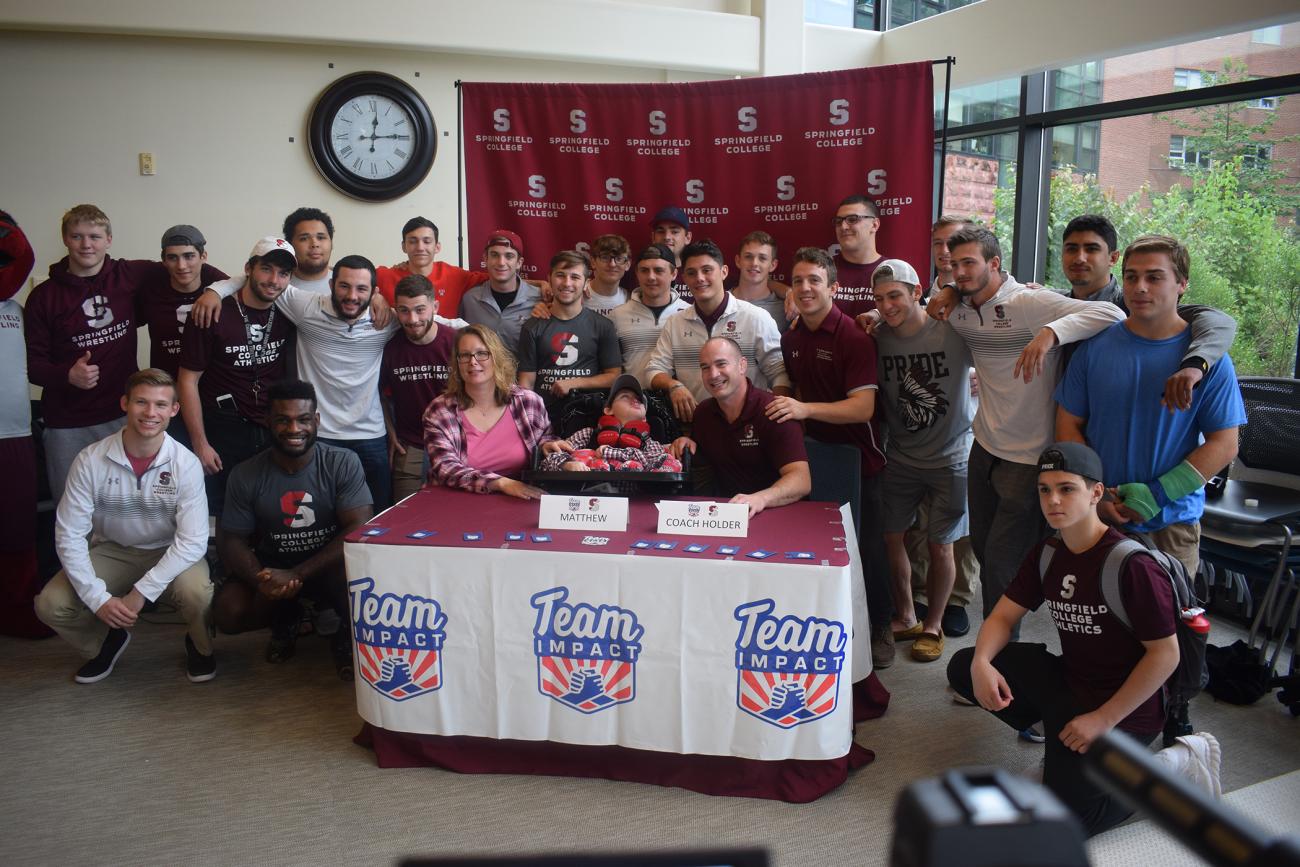 Springfield College once again partnered with Team IMPACT as Matthew Pepe of Palmer, Mass. joined the Springfield College Wrestling Team on Tuesday, Oct. 2 as part of the Team IMPACT Draft-Day Ceremony with Springfield College Athletics. 
Pepe signed his official Letter of Intent, led by Springfield College Wrestling Head Coach Jason Holder. The 12-year-old Pepe is battling Cerebral Palsy.
Overall, this was Springfield College's 15th Team IMPACT draft, including 11 currently active matches with Springfield College Athletics, the most of any Division III program in the country.
Since its inception, Team IMPACT has created relationships that have enhanced the lives of hundreds of courageous children and touched the lives of thousands of student athletes across the country. The team behind Team IMPACT is honored and inspired to continue and expand the long standing tradition of athletes paying tribute to something that is far greater than themselves; the ability to come together, serve the community and support each and every member of the team through adversity both on and off the field.
Team IMPACT children are diagnosed with a wide variety of life-threatening and chronic illnesses, yet a common denominator is the impact their diagnosis has had on their quality of life.
Team IMPACT is a national nonprofit headquartered in Boston, MA that connects children facing serious or chronic illnesses with college athletic teams, forming life-long bonds and life-changing outcomes. Since 2011, Team IMPACT has matched nearly 1,600 children with more than 500 colleges and universities in 48 states, reaching over 50,000 participating student-athletes. The child joins the athleticteam and the student-athletes join the child's support team. Throughout the journey, the child gains strength, camaraderie and support while the student-athletes experience lessons of courage, resiliency and perspective they can't learn in a classroom.