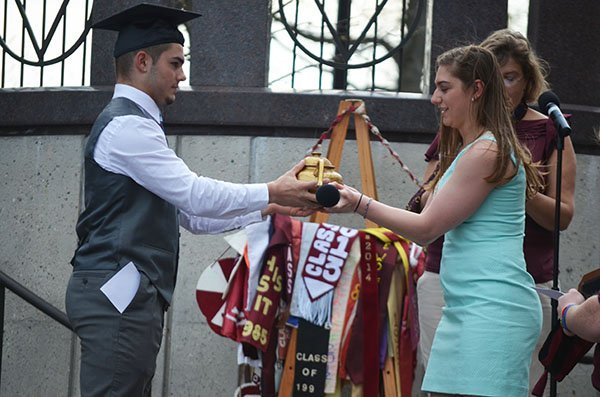 Springfield College hosted the 89th Annual Stepping Up Day Ceremony on Monday, May 4, 2015 on the Flynn Campus Union Patio.  With Stepping Up Day, the freshmen take a step up, sophomores become juniors, juniors become seniors, and seniors become alumni.
The spring of 1926 saw the first Stepping Up Day, which replaced the old "Decapitation Day" exercises, when the freshmen were allowed to remove their green beanies.
The ceremony started with remarks from Student Government Association Vice President for Student Affairs Paige Moran '16, Springfield College President Mary-Beth Cooper, and Student Government Association President Sarah Higgins '15.
President Cooper also led the swearing in of Student Government President-Elect Ryan Carrie '17, and student trustee Jonathan Reidy '16.
As part of the Stepping Up Ceremony, class presidents, Moriah Billups '15, Rocco DiStefano '16, and Michael Lawson '17, and Brittany Sullivan '18 pass along the Lamp of Humanics.