Unveiling of the Exhibition of Basketball History and Culture Displayed in Shanghai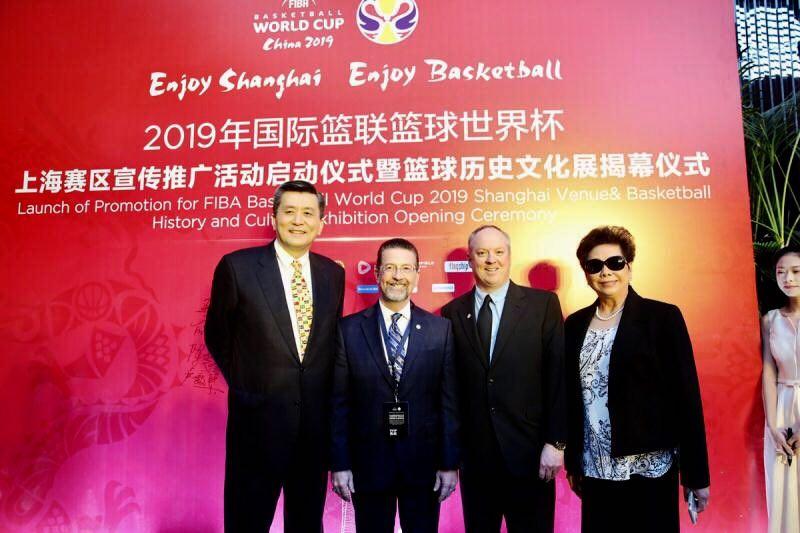 On the afternoon of April 17, Springfield College Vice President for Enrollment Management Stuart Jones and Springfield College Assistant Director for the Doggett International Center Brian McGuinness took part in the launching ceremony of the 2019 FIBA ​​Basketball World Cup Shanghai competition and the unveiling of the Exhibition of Basketball History and Culture displayed on the first floor of the Shanghai Center Building.
Before the start of the launching ceremony, there was a gift giving ceremony involving Springfield College, with the history of basketball origins becoming the focus of this event. After 127 years of basketball history, precious basketball collections traveled from Springfield College to Shanghai.
Jones, and Wang Hao, president of the Shanghai Basketball Association, participated in a handover ceremony of the gifts from Springfield College to the Shanghai Basketball Association.
There was also an agreement reached by the Shanghai Basketball Association and Springfield College to have visitors from the Shanghai Basketball Association visit the Springfield College campus. The gifts from Springfield College improved the cultural quality and level of the Shanghai Division in the promotion of the Basketball World Cup. The items also greatly enriched the connotation of Shanghai's basketball culture.
The 2019 FIBA ​​Basketball World Cup Shanghai Division promotional activities and the Basketball World Cup History and Culture Exhibition were officially launched and captured by the media throughout China. The basketball collection includes early basketball items, including documents and a total of 21 collections focused on Dr. James Naismith.