William Simpson Fine Arts Series Fall 2020 Full Schedule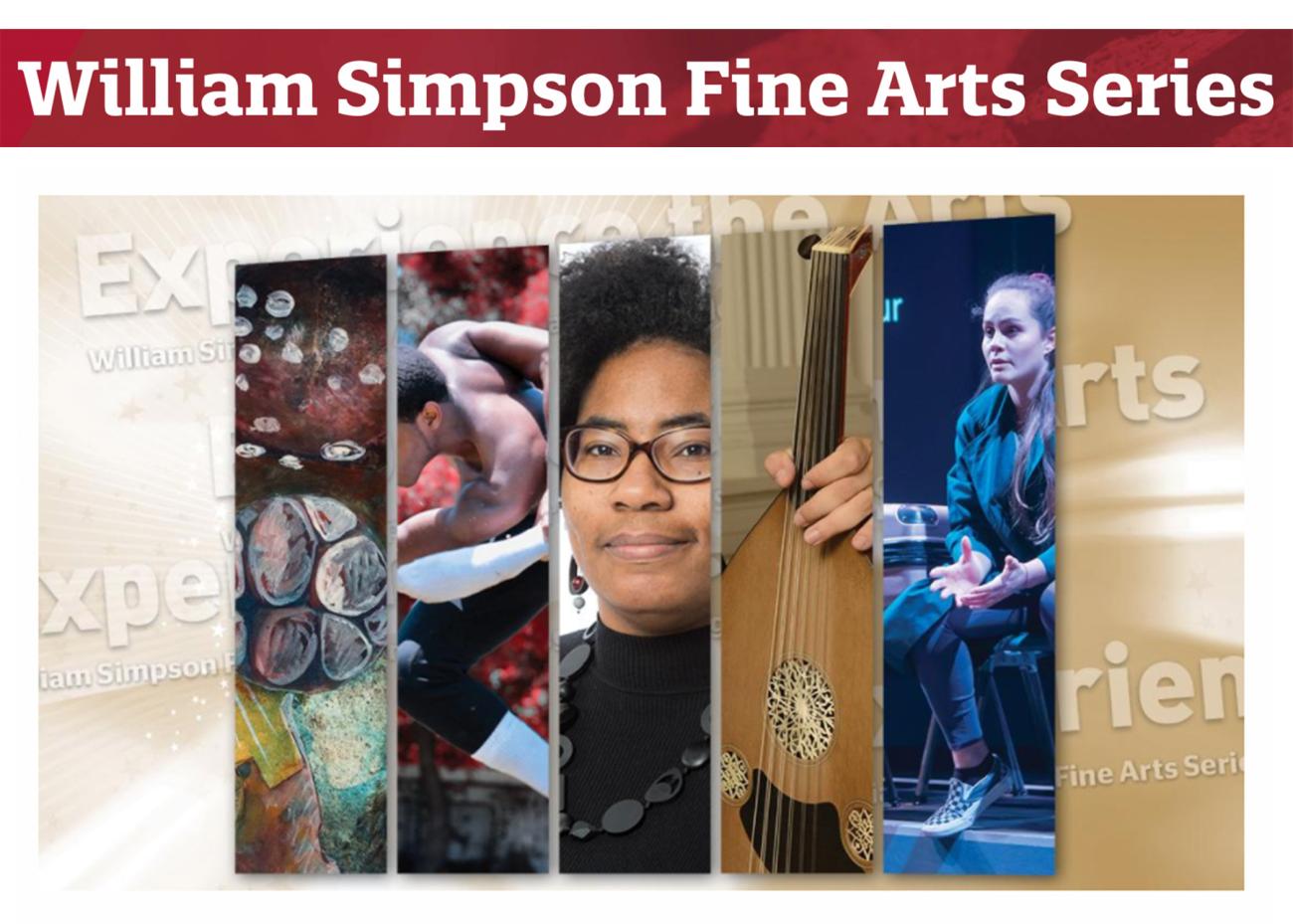 This fall, we are showcasing a variety of visual and performing art events that will be largely virtual and publicly available online. Events include virtual gallery exhibits, physical art shows, dancers against racism workshop series, drive-in dance concert, author readings, music workshops and guest artists, concerts by the Springfield College Band and Chamber Ensemble, as well as live-streaming theater.
All virtual programs are open to the public unless otherwise noted.
Events are free of charge unless otherwise noted.
Art Exhibition
September 21 - November 13
What We Made: Art in a Time of Covid
Virtual and Live Exhibit
William Blizard Gallery
This exhibit showcases some of the creative work that has come out of this difficult time, with a focus on the resilience and creativity of the Springfield College community, and the importance of our voices in challenging times. Creative work from faculty, staff, and students will include painting, collage, digital art, craft, photography, ceramics, music, and poetry.
The William Blizard Gallery will be open Mondays and Thursdays from 9:30 a.m. to 4:30 p.m. Visitors are limited to five people at a time. The gallery is currently open to Springfield College students, faculty, and staff only.
Dancers Against Racism Series: Move for the Movement
October-December
This fall, students in the Springfield College Dance program will perform in both virtual and live events led by guest artists using dance as a platform and lens to discuss racism. All classes and discussions will be accessible via Zoom.
Zoom ID for all guest classes: 939 8624 2373
Schedule
West African Dance and Discussion with Tara Murphy (all levels)
October 5, 1:35-2:35 p.m.
West African Dance with Jason Aryeh (all levels)
October 7, 1:45-2:45 p.m.
Indigigenous People's Day Celebration with Jessica Moore of the Waccamaw Siouan tribe (all levels)
October 12, 2-3:30 p.m.
West African Dance with Tara Murphy (students only)
Oct. 22,  9:30-10:30 a.m.
Jazz Fusion with Brittany Monachino
Oct. 26, 1:35-2:35 p.m. (all levels)
Oct. 27, 2:45-4 p.m. (intermediate level)
Dancehall with Alysia Douglas
October 28, 1:35-2:35 p.m. (all levels)
October 29, 2:45-4 p.m. (intermediate)
West African Dance with Jason Aryeh (intermediate)
November 10, 4:30-6 p.m.
Tutting with Matthew Gibbs (all levels)
November 13, 1:30-2:45 p.m.
Horton-Ailey with Lakey Evans-Peña
December 2, 11 a.m. to 12:30 p.m.
December 3, 4:30-6 p.m.
Latinx dance with David Olarte
November or December TBD
Fiction Reading by Allison Amend
Tuesday, Oct. 13, 7:30 pm
William Simpson Fine Arts Series Zoom ID: 559 865 5454
Allison Amend will read from her fourth novel, Credence, which explores the impact of a hate crime on two very different faith communities and follows the victims and perpetrator as they wrestle with their religion, their community, and their place in contemporary America.
Amend is the author of the IPPY award-winning short story collection Things That Pass for Love and the novels A Nearly Perfect Copy and Stations West, the latter of which was a finalist for the 2011 Sami Rohr Prize for Jewish Literature and the Oklahoma Book Award. Her third novel, Enchanted Islands, was on the longlist for the International Dublin Award. She teaches creative writing at Lehman College in the Bronx, N.Y.
Musical Guest Artist Performance and Discussion
Featuring Mehmet Ali Sanlıkol
October 19, 7 p.m. – Virtual Concert
October 20, 1:15 p.m. – Virtual Talkback/Discussion
William Simpson Fine Arts Series Zoom ID: 559 865 5454
A musical polymath, Mehmet Ali Sanlıkol has composed for, performed, and toured with international stars and ensembles from across a wide musical spectrum. Sanlıkol's unique blend of jazz composition and Turkish music has been praised by the Boston Globe as "a true fusion of jazz and folkloric Turkish language and colors." Sanlıkol pairs Turkish instruments, such as zurna (double reed wind), ney (end-blown flute), kös (large kettledrums), and nekkare (small kettledrums) with the jazz orchestra/combo to perform his Turkish music-influenced compositions. In these compositions, Turkish makam (mode) and usul (rhythmic cycles) are intertwined with modern jazz as well as specifically film noir influenced music. Sanlıkol is the president of DÜNYA, a musicians' collective dedicated to contemporary presentations of Turkish traditions, alone and in interaction with other world traditions, through musical performance, publication, and educational activities.
Poetry/Fiction Reading by DeMisty D. Bellinger
October 27, 7:30 p.m.
In cooperation with the Office of Multicultural Affairs
A S.E.A.T. at the Table week of programming on social justice issues
William Simpson Fine Arts Series Zoom ID: 559 865 5454
DeMisty D. Bellinger has a Master of Fine Arts from Southampton College and a Doctor of Philosophy from the University of Nebraska. She has published works in many journals and anthologies, including Contrary Magazine, Okay Donkey, The Rumpus, Nasty Women Poets: An Unapologetic Anthology of Subversive Verse, and The Best Small Fictions: 2019. Bellinger also has a poetry chapbook, Rubbing Elbows, (Finishing Line Press) and in 2021, her full-length collection, Peculiar Heritage, will be published by Mason Jar Press. A Milwaukee native, Bellinger lives in central Massachusetts and teaches at Fitchburg State University. Visit her website at demistybellinger.com.
Theater Performance
November 12, 13, and 14
Springfield College Theater Play Production- Title Coming Soon!
Presented by Springfield College Theater
Director: Martin Shell
Thursday, Friday, and Saturday at 7 p.m.; and Saturday at 2 p.m.
Zoom Webinar Presentation
William Simpson Fine Arts Series Zoom Webinar ID: 559 865 5454
Join us from home for a live theatrical presentation on Zoom! Student actors on the Springfield College campus join their classmates studying across the globe in a story chosen specially to feature the intimacies of our cameras and the hunger to connect with each other. Our title will be announced soon, and the link to join any of the four performances will be posted here as well.
Virtual Student Art Exhibition
December 1-11
William Blizard Gallery
The virtual student exhibition will showcase the work of graduating master's students, graduate students in art therapy, graduating Visual and Performing Arts undergraduate students, as well as students' work in studio arts classes. Pieces will include painting, drawing, photography, sculpture, printmaking, graphic design, computer graphics, video installation, mixed media, and ceramics.
Music Event
DJ Raydar Ellis Virtual Concert and Masterclass
Virtual Concert
Thursday, December 3, 4 p.m.
Virtual Talkback Discussion
Friday, December 4, Noon
William Simpson Fine Arts Series Zoom ID: 559 865 5454
Brian "Raydar" Ellis is an accomplished educator, DJ, producer, and MC. Since 2008, he has worked as an assistant professor at Berklee College of Music and a DJ and producer for Revive Music Group, an innovative repertory group that combines jazz and hip-hop influences. Equal parts hip-hop connoisseur and jazz aficionado, Ellis masterfully combines the two genres and creates music that people can add to the soundtrack of their lives. Ellis has worked extensively with nonprofit groups like the Boys & Girls Club and legendary music organizations like the National Academy of Recording Arts and Sciences.
Concert
Tuesday, December 8
Virtual Band Concert and Music Student Showcase
William Simpson Fine Arts Series Zoom ID: 559 865 5454
In a new format, a recorded concert featuring music and videos by members of the Springfield College Band will be showcased on Tuesday, Dec. 8 as part of the annual winter concert. Christopher Gagne, assistant professor of music, along with student members of the band, will introduce some of the performances live via Zoom and allow the virtual audience to discuss the music and ask questions.
The band will perform a mix of jazz and contemporary music, which will include songs embracing themes of social justice and inequality.
The full recorded concert will be available on the Springfield College website after this event.