About This Program

Admissions Contact

Program Contact

Curriculum and Delivery

64-credit program
Courses offered on campus in Springfield, Mass.

Start Dates and Duration

Start in September (Fall semester)
Courses are offered full- or part-time
Complete within 5 years

Paying for Your Education

Career Opportunities

Upcoming Events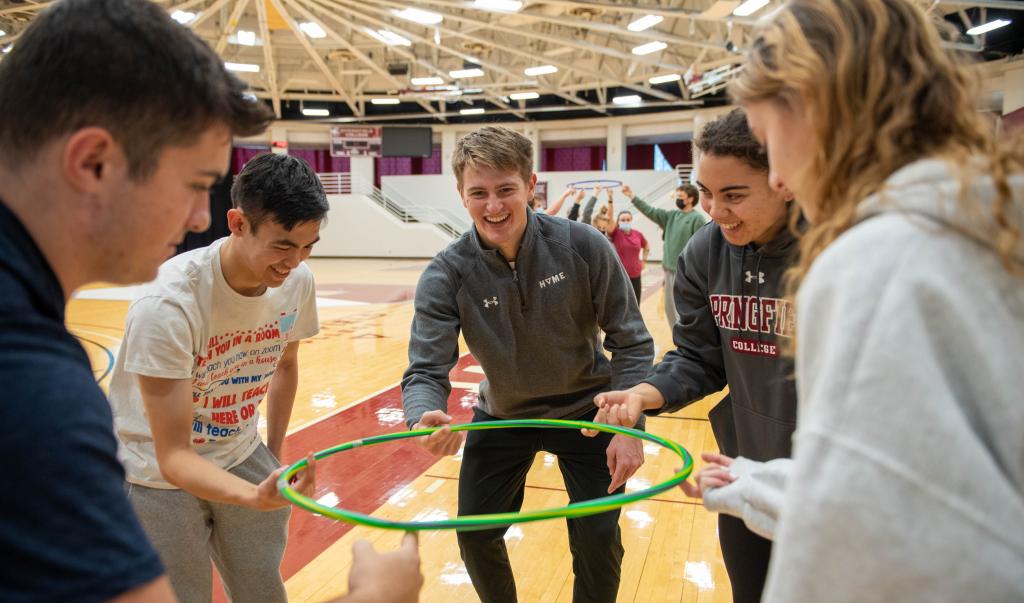 The PhD in Physical Education at Springfield College is one of approximately 25 programs in the United States and the only one housed at a small to medium-sized college. This niche allows graduates of the program to be uniquely prepared to fill gaps in the job market. Specifically, graduates are well-positioned to attain and flourish in faculty and athletic leadership positions in higher education. The curriculum, experiences, and nature of the bachelor's and master's programs at Springfield College combine to support the success of doctoral students.
The PhD in Physical Education curriculum includes a choice of tracks in Physical Education Teacher Education, Athletic Administration, or the flexible General Studies. From there, students engage in a rigorous research sequence culminating in the dissertation in a student-identified area of interest.  Another element of choice is the cognate, in which students explore a selected focus area within physical education such as adapted physical education, ethical and legal dimensions, or psychosocial aspects.  A final curricular highlight is the Preparing Future Faculty series where students examine the roles and responsibilities of faculty.  The timing of courses allows for full-time or part-time study, and options for courses in the fall, spring, and summer.
Experiences within the program include field time, academic and social gatherings, research collaborations, and interactions with peers who have taught, coached, or led in a variety of settings. Students are also encouraged to apply for teaching fellowships to further build competence and confidence in faculty responsibilities.
Key to the structure of the doctoral program is the relationship to the bachelor's and master's programs in Physical Education and Athletic Administration. These programs are well-renowned and offer doctoral students opportunities to mentor, teach, and supervise student teachers while receiving guidance and feedback from a faculty member.
Recent graduates of the PhD program have landed positions as faculty and administrators in higher education across the United States and around the world.  Many are seen presenting at national and international conferences and publishing their work in academic journals.
How to Apply:
Admission Requirements
Complete the FREE online application: Once your application form is processed you will receive an email with your application portal login credentials and instructions for submitting supplemental materials as listed below.

Essay: Once your application form is processed you will receive an email with your application portal login credentials. Once you login to your application portal you'll be able to upload your essay.

In two to three double-spaced pages, please describe significant life experiences that have contributed to your interest in your field, your understanding of this field, your occupational objectives, and why you have chosen Springfield College.

Resume: Please include any college activities, out-of-school leadership experiences, work history, and community involvement to support your interest in or qualifications for graduate study.
Three letters of recommendation: Three letters of recommendation from a faculty member or direct supervisor: Recommenders will receive an email when you submit your application and will be able to upload your letter to your application.
Interview: This program requires an interview.
Master's Degree: Completion of a master's degree is required. If your master's degree is in progress and will be completed by the end of your first year of PhD coursework, conditional acceptance may be possible.
Transcripts: An official transcript from each college/university you have attended is required. In order to be considered official, transcripts must be received directly from the original source, by email to graduate@springfield.edu or mailed to the college address:
Springfield College
Office of Graduate Admissions
263 Alden Street
Springfield, MA 01109
International Applicants
All international applicants from non-English speaking countries are required, in addition to the items listed above, to submit:
Proof of English language proficiency by way of the TOEFL or IELTS. Other tests may be accepted on a case-by-case basis. Please refer to our language requirements for more information on acceptable tests, minimum scores, exemptions, and conditional acceptance. If your undergraduate degree was earned in the United States and you successfully completed college-level English, we will consider English language proficiency met.
Please note: Transcripts must be in English. If the transcript is not in English you will be required to submit a professional credential evaluation completed by any member of the National Association of Credential Evaluation Services (NACES). For this we recommend SpanTran, with its customized portal for Springfield College applicants. World Education Services or Josef Silny & Associates, Inc. are also recommended for your credential evaluations.
The staff in the Office of International Admissions can assist you with questions you may have about enrolling at Springfield College as an international student by emailing intladmissions@springfieldcollege.edu.
Application Deadlines
Domestic Students:
Application and Supporting Materials Deadline: February 16
R

olling after on space available basis
International Students:
Fall Start
Application and Supporting Materials Deadline: May 1