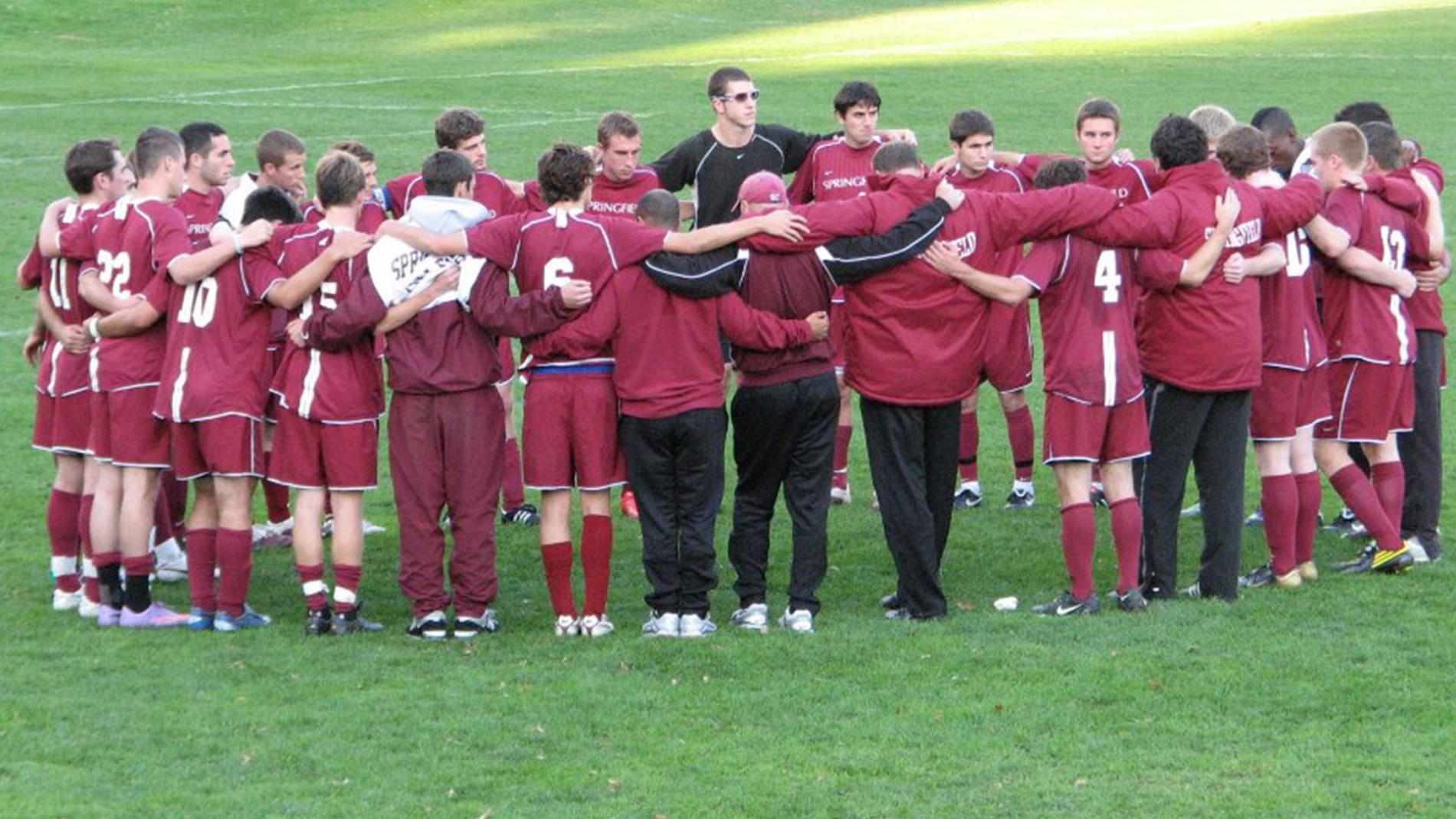 From NEWMAC championships to his career in sports and event management, Eric Stalsburg ('12) credits Springfield College and its supportive faculty and coaches for instilling in him the qualities he needed in order to get where he is today: General Manager of a state-of-the-art indoor soccer facility in the heart of NYC.
A junior in high school, not too sure about what the future holds…
I knew I wanted to continue my soccer career, and find a school that would challenge me along the way. I wanted a classroom where the teacher would learn my name, but a school big enough where you didn't know everyone.  After a sit down with Coach Peter Haley, an introductory "shadow" class into Sport Management, and an overnight stay with friendly and vibrant soccer athletes, it was an easy decision for me to attend Springfield College.
I played 4 years of varsity soccer under Coach Haley. He instilled the spirit, mind, body philosophy and more importantly lived a "triangle lifestyle" on and off campus. He cared about my grades, my social life balance, and my overall well-being. That's something you can only find in Division III athletics, where the majority of the coaching staff are volunteers and the athletes are there for the pure love of the game.
One thing I'm forever grateful for with Springfield College is the supportive staff. When it came to athletics, we had top of the line facilities, superb athletic trainers, and helpful athletic staff.  When it came to academics, the professors were friendly and challenging. They pushed me like Coach Haley did, to not just be an athlete, but to thrive in Sport Management. I was involved with events from charity soccer tournaments to the Spalding Hoophall Classic. Springfield College challenged me in many different facets of college, and that helped shape me personally and professionally.
After a NEWMAC championship and once my soccer career ended, I decided I would continue to be involved. I took an internship with the New England Revolution and was heavily involved with the soccer operations ranging from game day events to travel coordination.
I went on to Northeastern Graduate School and worked as an Event Management consultant for major soccer events such as Copa America. I was the Event Manager for Boston region (Gillette Stadium) and was brought in for the championship game at New Jersey (Metlife Stadium).  I've run game day operations and coordinated travel logistics for the New England Revolution, the U.S Women, Mexico, Portugal, Chile, Venezuela, Brazil, Bolivia, Peru, and Argentina.
Most recently, I took a position 6 months ago as the General Manager of Sofive Soccer Centers, a state of the art indoor soccer facility in New York City. This soccer complex serves NYC and offers premium amenities: bar, lounge, locker rooms, birthday parties, and corporate event space. Here I am in charge of the day-to-day management of Sofive Soccer Centers, overseeing 20+ staff members.
I would not have been prepared for these roles in event management and operations without guidance and development at Springfield College. My professors, as well as my collegiate soccer experience, helped develop my leadership skills, time management, and overall work ethic. All of which you need to grow in the sports industry.
I've gotten to fly with professional soccer teams around America, help Lionel Messi off the field after a Copa America championship game, and most recently opened a 65,000 sq ft soccer complex in the heart of New York City!
My message to prospective and current students: find your passion, follow it, and be ready to put in the work and GRIND. It will pay off.