Alumni Updates from Around the World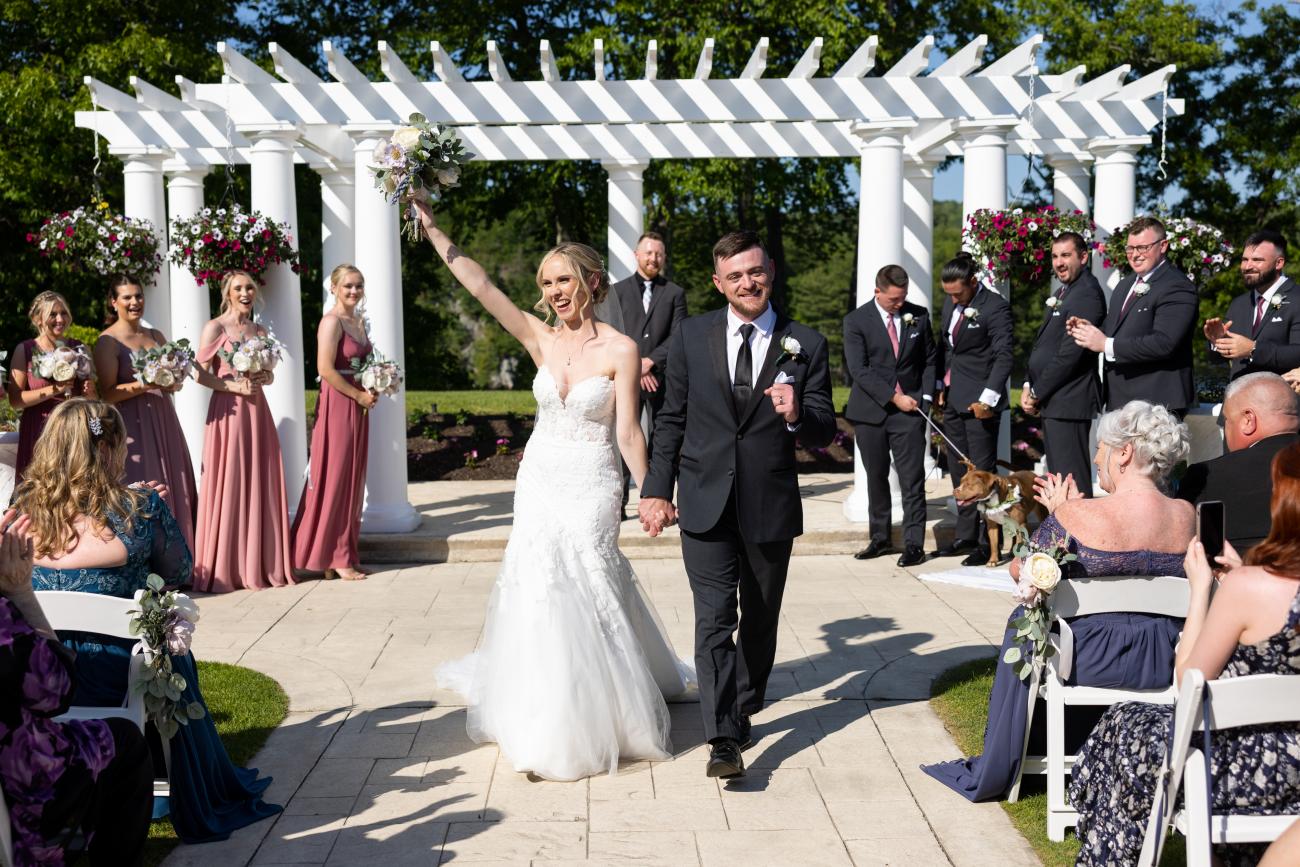 In this section, you will find alumni accomplishments and updates submitted July 25, 2023 through August 24, 2023. Thanks for sharing your news! Please direct any future submissions to alumni@springfieldcollege.edu.
By: Maria D'Agostino Crawford '91 and Damon Markiewicz 
Jennifer Gaudet '17 married Mark Krumholtz '16 on May 28, 2023. In the wedding party was bridesmaid Alyssa (Monahan) Dodd '16 and officiant Tyler Stratton '16. 
Jennifer and Mark both majored in athletic training and as they both stated, "We owe it to Springfield College for bringing us together!"
Janelle Toner Drach G'08 has been hired as director of campus development at Penn State Wilkes-Barre, Chancellor and Chief Academic Officer Lynda Goldstein announced.
"I am thankful to be selected for this role and am eager to join a dynamic team of leaders at Penn State Wilkes-Barre," Drach said. "This truly is an exciting opportunity to build upon my skills and passion for fundraising and community development. I am looking forward to engaging our key community stakeholders and alumni to continue the mission of the University in an impactful way at the local level."
Still living our Humanics philosophy, Maggie Cox Land '58 is taking spirit, mind, and body to a new level with this view at Teton Mountain Range in Wyoming. 
Springfield College runs deep at the Travelers Golf Championship in Connecticut. 
From left to right: Matt Lilley '21 G'23, Ticket Intern; Tara Gerber '04, Senior Director of Strategy & Partnerships; Emma Wesoloski '22, Client Services Coordinator; Kevin Harrington '05, Senior Director of Operations; Katie Kingsley '24, Volunteer & Charities Intern; and Peter Baranski '15 Operations Manager. 
Alumna Emma Wesoloski '22 majored in sport management and currently works as the Client Services Coordinator for the Travelers Championship. During the event this past June, Emma worked with the sponsorship team that included everything from branding, to corporate hospitality, and player experiences.
One of her career highlights to date is the Travelers Championship being named a 2023 Designated Event by the PGA Tour and having the opportunity to create and unprecedented experience for fans and sponsors. 
"I simply would not be where I am today if it weren't for the Springfield College alumni network," said Wesoloski. "I am so grateful to all of the alums who personally shared their experiences to help me narrow down the path I wanted to pursue."
During her student days, Emma kept busy as a member of the field hockey team, as an NSO leader, and getting real world experience with the Spalding Hoophall Classic, American Hockey League and Valley Blue Sox.
We were sent this lovely photo from Mikaili Charlemagne '23, who competed at the World Aquatics Championships in Fukuoka, Japan. She competed in the swimming 50 meter freestyle and 50 meter butterfly events for her home country of St. Lucia.
Charlemagne is no stranger to representing her country on the international stage, having also represented St. Lucia during the 2021 Summer Olympics in Tokyo.
Springfield College alumni enjoyed celebrating 75 years of YMCA Camp Watchaug in Charleston, Rhode Island on July 14 and 15. Camp Watchaug is an integral part of the Ocean Community YMCA community and has been educating campers in spirit, mind and body since its inception. All of these alumni served as camp counselors, directors or committee volunteers. Several served as YMCA professionals after graduating from Springfield College.
Left to right: Michael Boulden '96 G'98, Tim Babcock '93, G'94, Maureen Fitzgerald '85, Jennifer Coduri Ross '96, Beth Gibney-Boulden '96 G'98, Leanne Liguori '04, Abby Roy Gibney '71, Bill Gibney '72, and Scott McLeod '83.
The Springfield College Office of Alumni Relations staff was recently at the Basketball Hall of Fame busy planning for the upcoming year and had the opportunity to visit with fellow alumni currently working at the Hall.
Top row from left to right: Greg Procino '05 G'07, VP, External Events & Partnerships; Aymen Tayoubi-Idrissi '23, Coordinator of Events & Partnerships; Jasmine Chatman G'17, Assistant Director, Alumni Relations; Faith LeMay Administrative Associate & Office Manager, Alumni Relations.
Bottom row from left to right: Brendan Tassy '20 G'23, Manager of Event Operations, Deleney Magoffin '05 G'11, Director, Alumni Relations; Jeremy Therrien '21, Supervisor, Marketing Partnerships; and Maria D'Agostino Crawford '91, Associate Director, Alumni Relations. Missing from the photo: Jen Tempone McManus G'12, Hall of Fame Liaison. 
Amanda Alpert '05, center and long snapper, celebrated her 9th season playing with the Boston Renegades. 
Maggie Barden '22, kicker and wide receiver, just finished her first season playing with the Boston Renegades. Together they helped their team clinch the Womens Football Alliance Pro National Championships!
Julie Perrelli G'04 PhD '09 recently attended The Hord Foundation, Inc. Scholarship Awards ceremony, and, to her surprise, Dai-Quan Thomas '23 was addressing the audience as the student speaker. The Springfield College network continues to create wonderful unexpected connections like this one.
A big congratulations to Kayla McCarthy '17, G'19 and Mike Marcojohn '17, who were married on July 1 in Boothbay Harbor, Maine, with many members of their Springfield College family by their side.
Ed Reed '65, G'66 is a member of a Masters Swimming Team out of San Rafael, California that recently broke five relay team world records.
Susan Leys G'89 published her first book, 7 Tips to Navigate Your High-Stress Healthcare Career: Strategic Skills You Can Use Right Now to Cope with Stress and Burnout. The book is about the importance of taking care of yourself, especially if you are working in acute healthcare departments. The book was inspired by Susan hearing about healthcare experiences from faculty emeritus, Delight Champagne.
Heidi Robertson Budryk '89 recently announced her retirement from teaching after 34 years. She taught her entire career at Newbury Elementary School, which is part of the Triton School District. She was just married on July 15, 2023 to Rob Budryk. They are looking forward to being snowbirds starting this winter in Sarasota. 
Archived Class Notes:
Listed below are archived class notes from previous Triangle Monthly editions.
June 21, 2023 to July 24, 2023
April 20, 2023 to May 19, 2023
March 20, 2023 to April 19, 2023
February 20, 2023 to March 19, 2023
Submitted Obituaries: 
Listed below are submitted obituaries from July 15, 2023 to August 21, 2023.
Anita Hicks Krehel G'54 - Read Obituary...
Laurence A. Smith '56 - Read Obituary...
Paul K. Jordan '56, G'60 - Read Obituary...
Ronald R. Gruberg G'59 - Read Obituary...
William E. Drake '60, G'63 - Read Obituary...
Dennis Walsh '67
Bruce T. Rupert '72 - Read Obituary...
Kenneth Wade '72 - Read Obituary... 
Barbara Giard Moffat G'78 - Read Obituary...
Elizabeth Schumaker G'77,DPE'81 - Read Obituary...
Laura Smith Klase '83 - Read Obituary...
Archived Obituaries:
Listed below are submitted obituaries from June 15, 2023 to July 15, 2023.
Walter S. Umberfield '52: Read Full Obituary...
Alice Melaven G'55: Read Full Obituary...
D. J. Bodin '55: Read Full Obituary...
Paul E. McDonald '62, G'65: Read Full Obituary...
John T. Reardon, Jr. '63: Read Full Obituary... 
George P. Turcotte '63: Read Full Obituary...
Robert Jonathan Stansfield G'66: Read Full Obituary...
David C. Anifant G'67: Read Full Obituary...
Jon Howard Rose '69: Read Full Obituary...
David B. Allen '69, G'70: Read Full Obiturary...
Linda K. Beres G'77: Read Full Obituary...
Lisa Kibbe Chambers '78, G'81: Read Full Obituary...
Carol M. Mathison G'84: Read Full Obituary...
David B. Ferguson '85: Read Full Obituary...