Strength and Conditioning
Master of Education or Master of Science
The MEd/MS in Strength and Conditioning at Springfield College prepares you to work with athletes as a strength and conditioning coach in secondary schools, collegiate and professional programs, and private settings. You will develop the skills and knowledge required to design physiologically sound programs that enhance athletic performance, as well as the coaching skills needed to implement the programs. To ensure you're ready to hit the ground running when you graduate, you'll complete multiple fieldwork experiences and study from a coursework that is relevant, practical, and based on research.
The strength and conditioning program is the first graduate program to receive accreditation by the Council on Accreditation of Strength and Conditioning Programs (CASCE). CASCE accreditation signifies a commitment to the highest standards of excellence, credibility, professionalism, and safety for strength and conditioning students, educational institutions, Certified Strength and Conditioning Specialist (CSCS) professionals, and their athletes.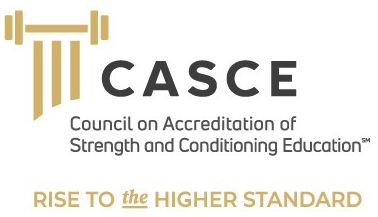 Admissions Requirements
Curriculum

A. Core requirement (6 credits)

---

B. Research requirements (4-6 credits)

---

C. Program requirements (18 credits)

---

D. Field Experience (3 credits)

---

E. Selectives (3-5 credits)

---

Students who choose the Independent Study Option under Research requirements will need 5 credits.

Coureses are chosen in consultation with the student's advisor from the following areas:

1. Applied Science

---

2. Coaching

---

3. Sport Administration

---

F. Additional Information

---

Candidates in the Strength and Conditioning track are eligible for an M.S. with the completion of a thesis.  Students completing a non-thesis option are eligible for an M.Ed and must complete a School of Health, Physical Education and Recreation poster presentation of their Independent Study (AEXS 692).

Each student must complete a minimum of 36 semester hours.
Deadline
Cost