2022 Day Camp Dates and Rates
Session 1: June 27 to July 8 (No camp July 4), $425
Session 2: July 11-22, $450
Session 3: July 25 to Aug. 5, $450
Session 4: Aug. 8-19, $450
During the day, all campers have the opportunity to experience a variety of activities through a block rotation. Over the course of two days, campers will participate in the Challenge Course, Archery, Project WILD, Boating, Aquatics (swim lessons and free swim), Outdoor Games, and an open block that may include, but is not limited to, the following: arts and crafts, music, woodworking, theater. This camp is for children ages 5-13 years old.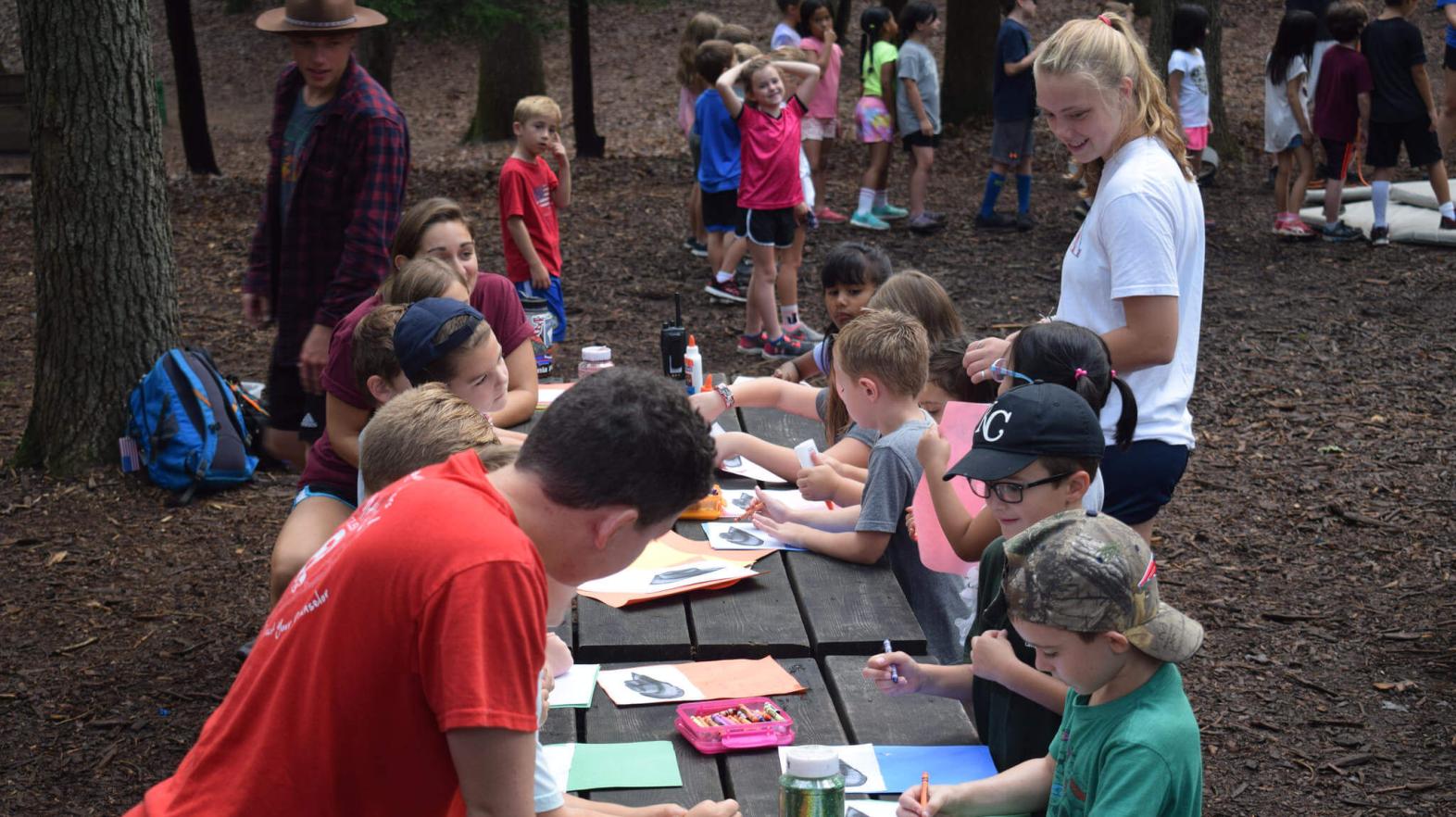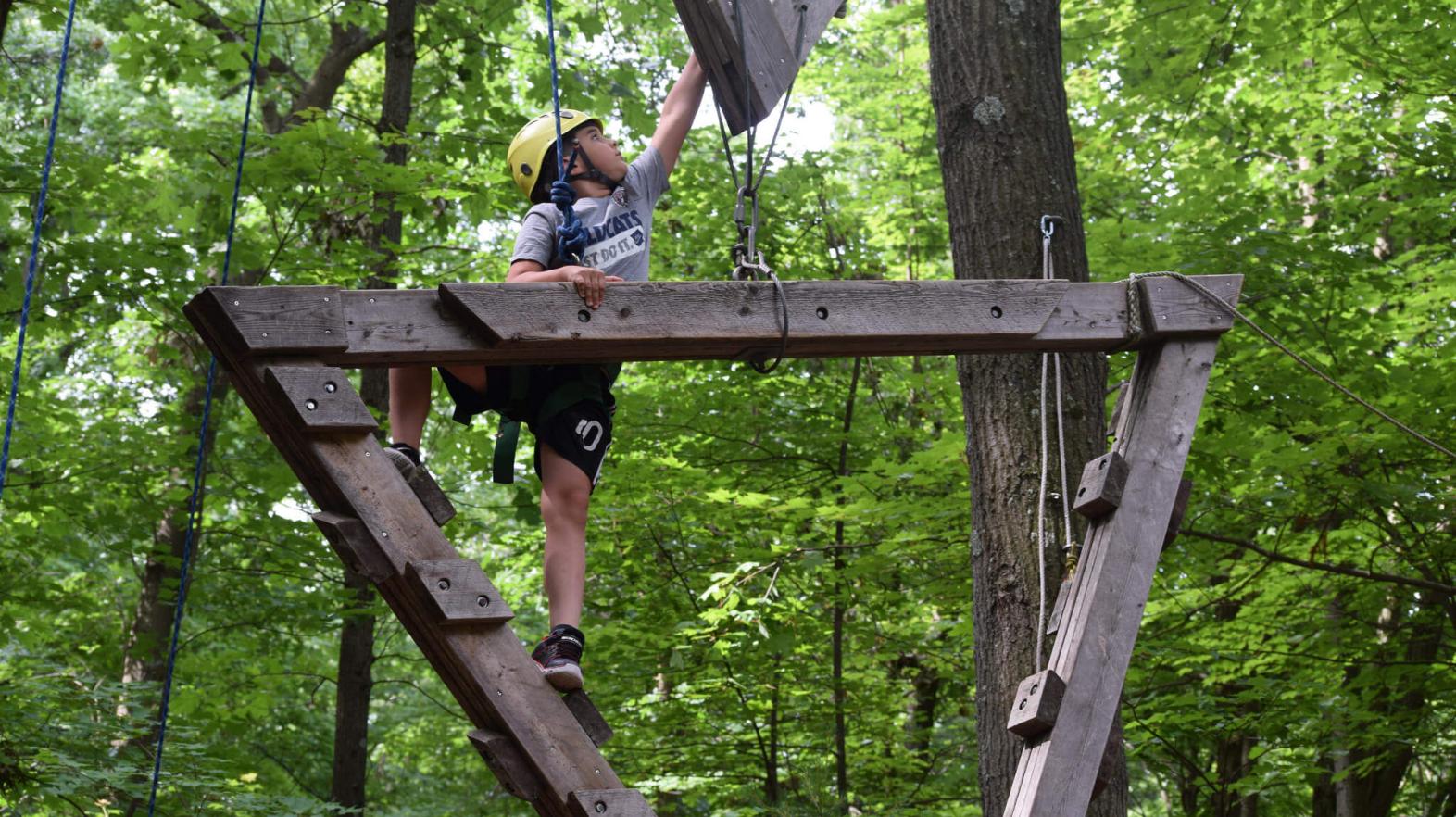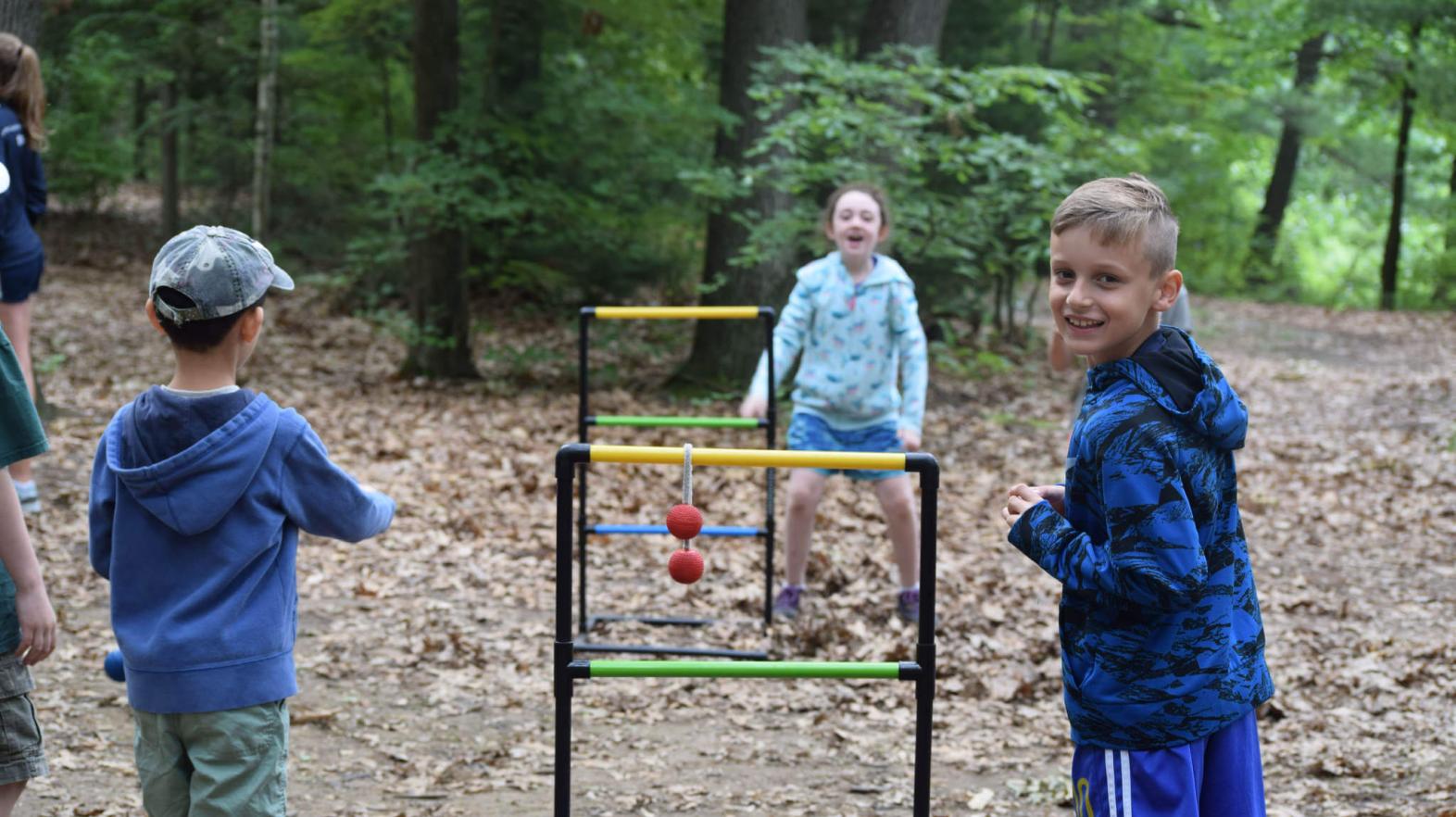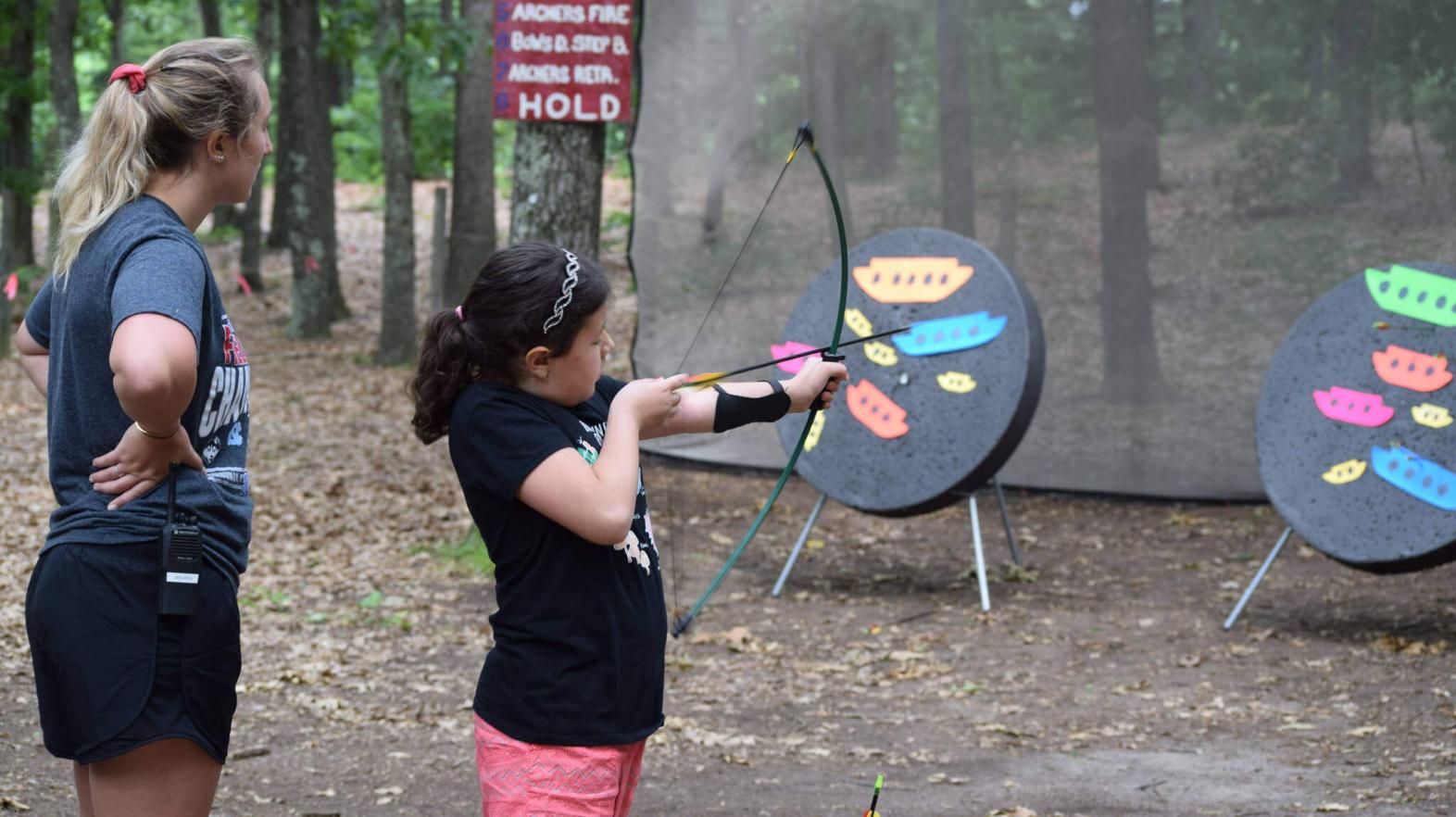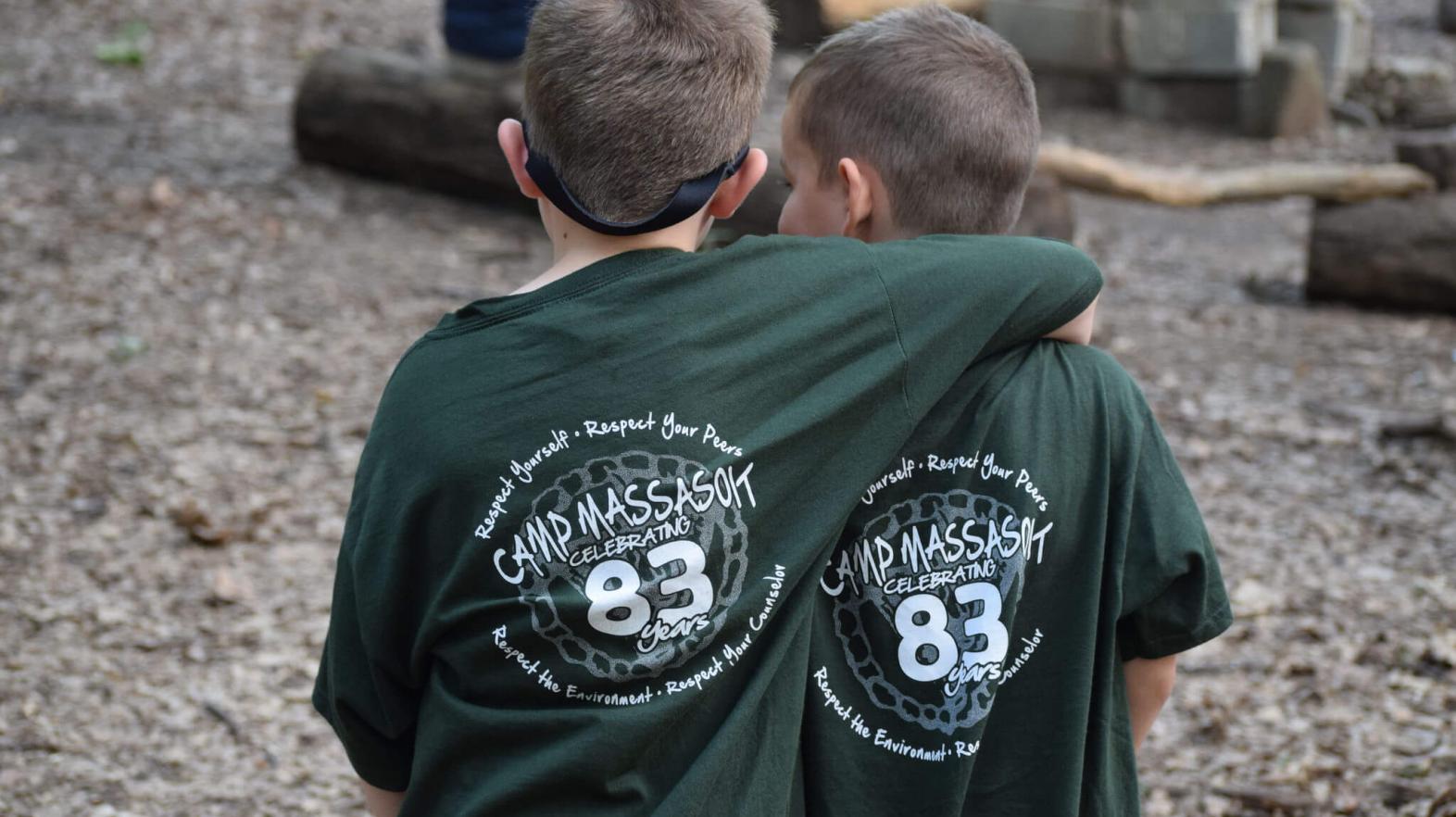 The Challenge Course (Ropes)
Small teams of campers work together toward a common objective and learn problem-solving skills while developing their leadership abilities. Individually, campers will have the opportunity to challenge themselves and expand their comfort zones through the high ropes course.
Archery
Using traditional recurve bows, campers have the ability to develop their archery skills. Most campers find archery to be more difficult than expected. However, after some one-on-one instruction, campers quickly find themselves becoming extremely proficient within a short amount of time. Quiet concentration and calculated adjustments are interrupted by the thrill of hearing the arrow slap the target.
Outdoor Games
Being physically active is a core component in this activity block. Through a variety of slow- and fast-paced outdoor games, campers will learn the importance of working together and collaborating. No doubt, the cooling station will be a favorite part of this program area.
Project WILD
Project WILD is an interdisciplinary conservation and environmental education program emphasizing wildlife. The goal of Project WILD is to assist campers of any age in developing awareness, knowledge, skills, and commitment to result in informed decisions, responsible behavior, and constructive actions concerning wildlife and the environment.
Small Craft (boating)
The camp has a fleet of canoes and kayaks ready for any adventure that Lake Massasoit may hold. All boating staff members have completed industry-recognized standard training to ensure camper safety and maximize individual learning.
Aquatics (swimming)
A full aquatics program is conducted at the Art Linkletter Natatorium on Springfield College's main campus. All water safety instructors are certified and encourage campers to progress in swimmer certification levels. A contracted professional driver within a standard bus provides transportation to the pool for day campers. 
Open Block
During certain blocks in the day, the counselors are responsible for planning and presenting activities for the group. These activities could include interesting arts and crafts projects woodworking, theater, or music. Counselors work with the campers to determine their interest in possible activities and assist with the process of group consensus and decision-making.
Day Camp Schedule*
Early Care (optional)
8:00 - 8:30 a.m.
Drop off
8:30 a.m.
Opening ceremonies
8:45 - 9:00 a.m.
Activity Block 1
9 - 10:30 a.m.
Activity Block 2
10:30 a.m. - Noon
Lunch
Noon - 1:00 p.m.
Activity Block 3
1 - 2:30 p.m.
Activity Block 4
2:30 - 4:00 p.m.
Closing Ceremonies 
4:00 p.m.
Pick-up begins at
4:15 p.m.
Late Care (optional)
4:30-5:00 p.m.