Athletic Training Professional Preparation
About This Program

Admissions Contact

Program Contact

Curriculum and Delivery

68-credit program
Courses offered on campus in Springfield, Mass. (with some online/hybrid courses)
Preventative medicine and manual therapies are the foundation on which our program is built
Concepts associated with minimizing risk of injury/re-injury and illness, improving functional outcomes and enhancing/supporting safe participation and return to activity, in sport and work are embedded throughout the curriculum

Start Dates and Duration

Start in May (Summer semester)
Courses are offered full-time
Complete in 6 semesters (Summer, Fall, Spring for 2 years)

Paying for Your Education

Career Opportunities

Searching for undergraduate programs?

Instagram

Upcoming Athletic Training Events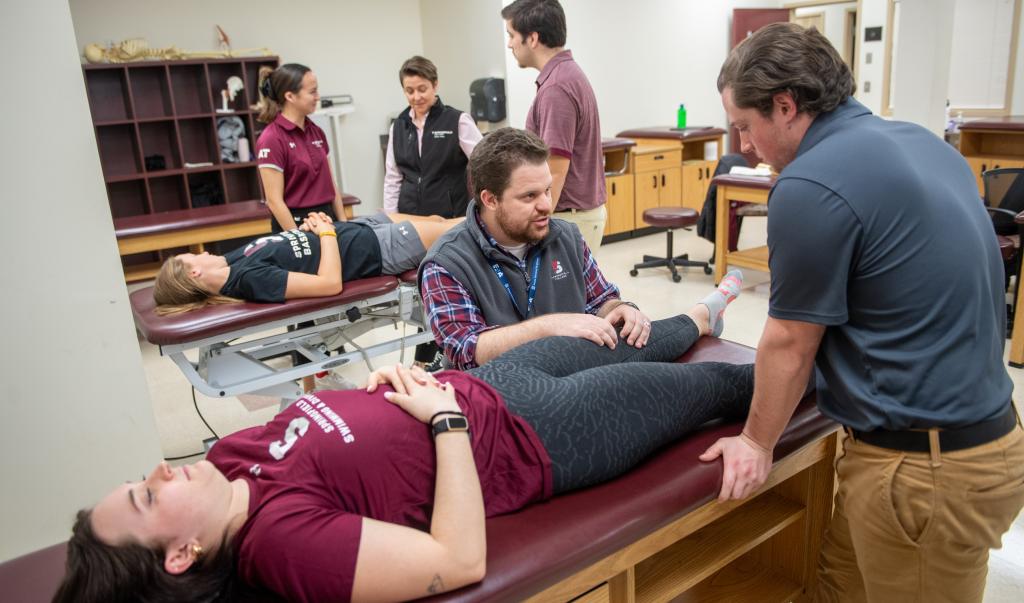 Springfield College emerged as a leader in athletic training education in 1925 when we first began offering prevention and care of athletic injury courses.
The MS in Athletic Training at Springfield College is designed for students who wish to gain the skills, knowledge, and experiences needed to provide quality health care to those engaged in physically active lifestyles. Graduates of the program are eligible to sit for the Board of Certification for the Athletic Trainer (BOC®) examination. After successful completion of this exam, graduates will be a Certified Athletic Trainer (ATC). Most states also require licensure in order to practice.
Throughout this challenging, yet rewarding 24 month program, students are engaged in a mix of classroom, laboratory, online/hybrid, group project, and clinically based educational experiences. Students become practiced in athletic training theory, evaluation and treatment techniques, clinical reasoning, research, patient care, communication, administration and teamwork.
Fully encompassing the College's Humanics philosophy, the MS in Athletic Training emphasizes that health and learning are best gained through an approach that unifies Spirit, Mind, and Body. The typical Springfield College-educated athletic trainer is prepared to utilize a holistic approach in providing healthcare, leadership and service.
Tuition and Fees
Graduate Program Cost
| | |
| --- | --- |
| Graduate Program Courses | $1,138 per credit |
| Approximate total cost (61-77 credits) | $69,418 - $87,626 |
| Graduate Student Fee* | $396 |
| Enrollment Deposit | $300 |
All approximate costs above are based on 2022-23 academic year costs.
*The graduate student fee (full time) includes the following costs for the 2022-23 academic year.
Student Government Fee: $21
Community Engagement Fee: $36
Recreation Fee: $324
Class Dues: $15
The graduate student fee (part-time) is $87.50 per semester.
Fee of $30 for ATRN 690: Capstone Experience in Athletic Training
Athletic Training students are responsible for costs related to their clinical education. These include (subject to change):
Typhon membership: $100 one-time fee
*Certify (criminal background check): variable by state
Student NATA membership: variable by state
*Athletic Training Attire: variable by location
Transportation/parking/tolls: variable by location
Living expenses (housing/food): variable by location
*Health requirements (vaccines/tests): variable by location
Personal medical kit and supplies: $50 - 150, Student choice
*Cost will vary as clinical sites have variety of requirements