Athletic Training
Major in Exercise Science/Pre-professional Athletic Training
Bachelor of Science and Master of Science Combined Degree Program

About This Program

Program Contact

Curriculum and Delivery

Courses offered on campus in Springfield, Mass.
Hands-on learning in our fully equipped Athletic Training Facility

Engage in a mix of classroom, laboratory, online/hybrid, and clinically based educational experiences

Become practiced in athletic training theory, evaluation and treatment techniques, clinical reasoning, research, patient care, communication, administration and teamwork

You'll be advised by an athletic training faculty member from the beginning of your Springfield College experience

Accredited by the 

Commission on Accreditation of Athletic Training Education

 (CAATE) 

Graduates are eligible to sit for the Board of Certification (BOC) examination and pursue a career as an Athletic Trainer (ATC)  

Download the shadow hours log (PDF)

Career Opportunities

Paying for Your Education

Instagram

Looking for graduate programs?

Upcoming Events

Check back later for more events!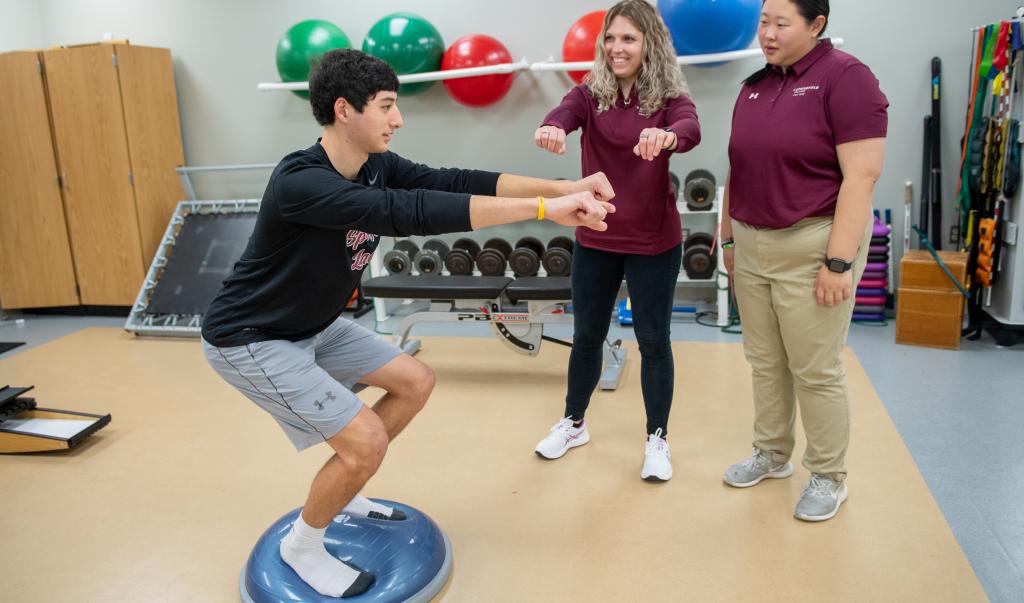 Springfield College offers an accelerated five-year Bachelor of Science in Exercise Science and a Master of Science in Athletic Training Degree program. This program is designed for students who wish to gain the skills, knowledge and experiences needed to provide quality health care to those engaged in physically active lifestyles. Emphasis is placed on minimizing risk of injury/re-injury and illness, improving functional outcomes and enhancing/supporting safe participation and return to activity, sport and work. Fully encompassing the College's Humanics philosophy, the program emphasizes that health and learning are best gained through an approach that unifies spirit, mind, and body. The typical Springfield College-educated athletic trainer is prepared to utilize a holistic approach in providing healthcare, leadership and service within the community. 
Upon successful completion of this accelerated five year program, students earn a BS in Exercise Science and a MS in Athletic Training. The program is divided into two phases: 
Pre-professional phase: Complete the new core curriculum, core Exercise Science coursework and related requirements

Year 1-3: Engage in courses required to complete the undergraduate degree in Exercise Science: Pre-Professional Athletic Training coursework. 

Professional phase: Includes four semesters and two summers of graduate-level professional athletic training education and clinical experience

Year 4: Beginning in the summer term of year 4, you'll engage in graduate level coursework. By the end of the year, you'll graduate with a BS in Exercise Science having already completed year one of your required professional level athletic training coursework. 
Year 5: Continue in graduate athletic training courses in the summer term and complete the program in May of your fifth year.