Being a First-generation Student at Springfield College
Members of the Division of Student Affairs are dedicated to ensuring that you have the necessary resources for success. At Springfield College, you will find the support you need to succeed in the classroom, engage in service and leadership opportunities, and join clubs and groups that interest you as you grow on your self-authored journey, whatever that may entail. We are committed to making you feel at home. Please get in touch with us at studentaffairs@springfield.edu or (413) 748-3922 for any questions you may have.
We are committed to making first-generation students feel at home at Springfield College.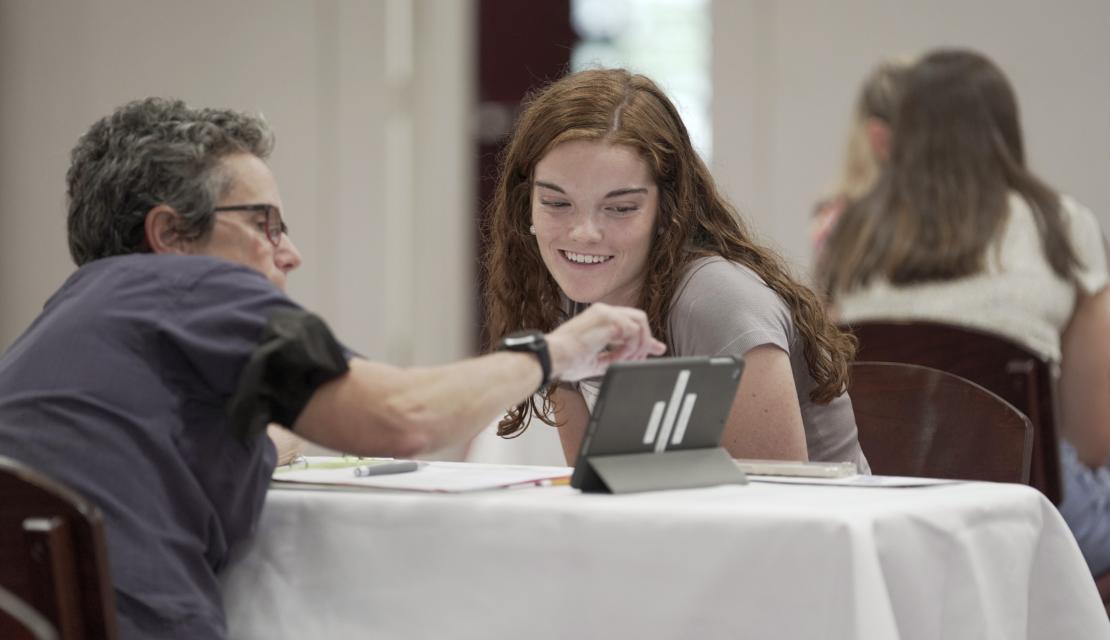 Tips and Resources Created for Your Success
First-generation Mentoring Program
The First-generation Mentoring Program is sponsored by the Division of Student Affairs.  Incoming first-year, first-generation students are matched with a faculty , staff,  or upper class first-gen student from Springfield College for valuable support and guidance through the academic year. Ongoing conversations and meetings between students and their mentors are essential to the mentoring program's success. Students applying for this mentoring opportunity commit to weekly check-ins and communication with their mentor for the entire academic year.
Through a series of one-on-one meetings and messages, your mentor will help you learn how to:
Navigate Springfield College

Access help from all offices on campus

Identify your strengths, values, and goals

Connect with other students and become involved on campus

Access tutorial service and academic support

Apply for work-study and summer job opportunities

Engage with the Springfield College Humanics philosophy

 
The Pressures of Excelling Academically
Your academic success is not only important to you but also to your family and community. We are committed to connecting you to valuable resources to ensure you excel academically. Some of these resources include: 
Paying for College/Understanding Financial Aid
We know college is expensive and navigating this alone can be overwhelming. Grants, scholarships, loans, and on-campus job opportunities can make college more affordable than students think. Some resources on campus that can help you navigate your finances include:
Navigating Self-Doubt
The college experience can be intimidating, even scary, initially for all first-year students. Questions such as, "Am I a fit for college?" and "Who am I doing this for?" can percolate and distract you from pursuing your goals. It is okay to ask for help. Some resources on campus that can help you include:
The College Experience is Challenging
Determining where to get  information/support can feel overwhelming. However, resources such as the Registrar, Disability and Accessibility Services, and Student Affairs are all welcoming offices and can be the key to solving many student concerns and questions.
First-generation Students Make a Difference
There is something special about being the first in your family to attend and graduate college. First-generation students are forging the path for their families, siblings, community, and, most importantly, themselves. It is up to you to make the most of your experience. Some resources on campus that can help you do that include:
Resources to Help You from New Student Orientation to Graduation
| Support Services | Academic and Career Resources | Getting Involved |
| --- | --- | --- |
| These resources will support you in spirit, mind, and body. | Academic success, exploring majors and career paths, and preparing for life after graduation are critical to your success. | Students who get involved in cocurricular life have the best college experience. There's something for everyone. |
| | | |
FAQ for First-generation Students
FAQ for Parents/Guardians of First-generation Students