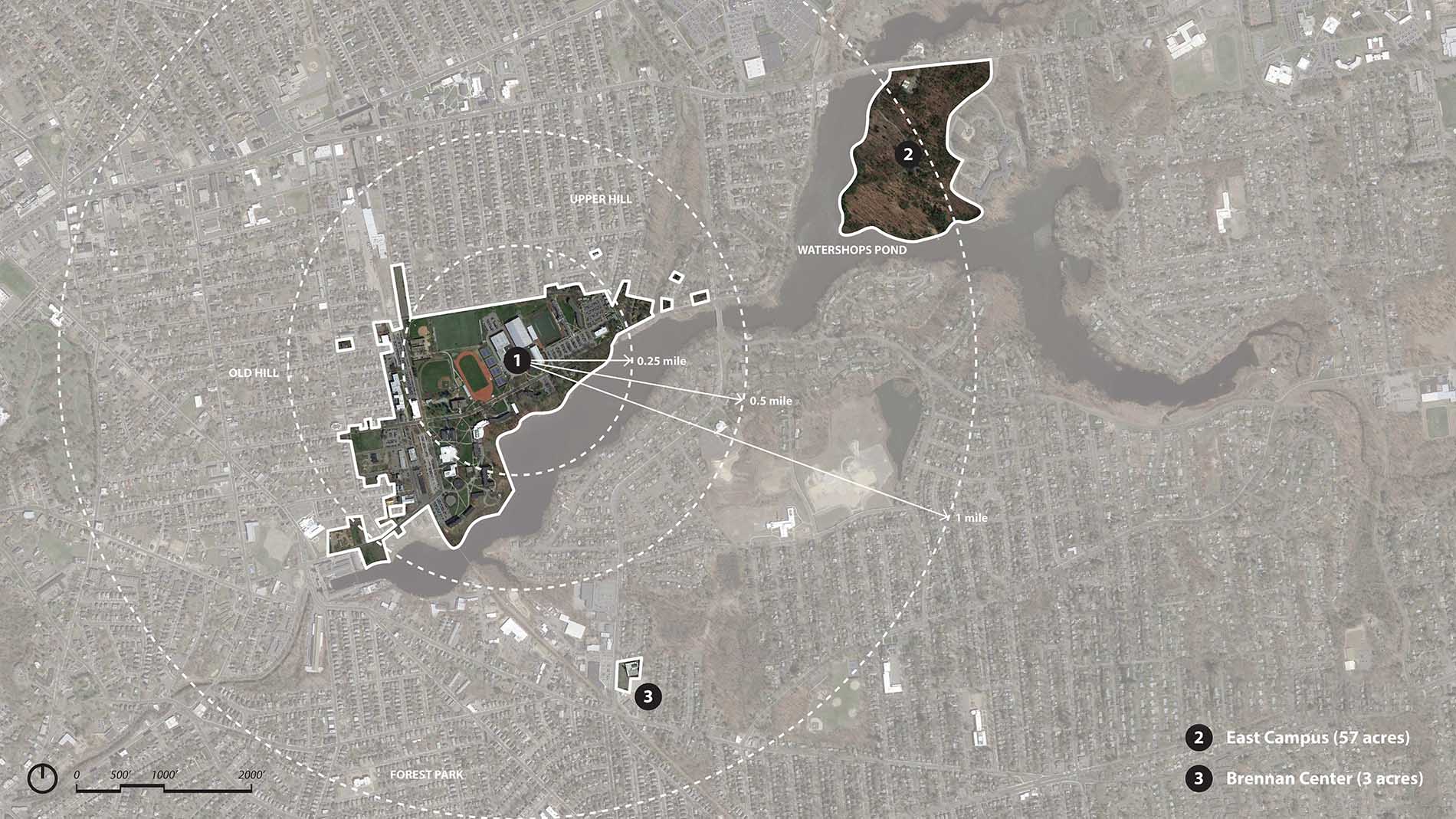 Planning Tomorrow's Campus
---
Springfield College prepares for the student of the future by using its strategic vision to create a campus master plan that begins to support 21st century teaching and learning today.
SPRINGFIELD COLLEGE ENROLLED ITS LARGEST FIRST-YEAR CLASS EVER FOR THE FALL OF 2017. It's no surprise, since the data show that students today want what Springfield College has to offer: a well-respected, mission-driven educa- tion at a campus that offers state-of-the- art facilities, yet feels like home to them. While our students consider social impact and their ability to make a difference in the lives of others, members of the College's faculty and staff are working on how to best enable this.
"Preparing for the students and careers of the future," says President Mary-Beth Cooper, "must include a campus environment that encourages creativity and diversity of thought while supporting learning and teaching."
In its aim to attract and retain the highest caliber students and faculty members, Springfield College administration, faculty, and staff continue their work on the strategic vision begun in the strategic planning process, as attention now turns to the facilities that will enable strategic goals to become reality. What are the required facilities for our majors? What are the best classroom sizes? Do we have enough of them? Is there adequate housing? 
A Design for the Students of Tomorrow 
Working with Centerbrook Architects and Planners, Centerbrook, Conn., to understand student and faculty needs and priorities, Cooper and her planning team now turn their sights to analyzing the campus from a variety of viewpoints—building relationships, facilities conditions, land use and ownership, zoning, green space and topography, traffic, pedestrian routes, and parking—in order to determine the best blueprint for growth.
The site, classrooms, and residence halls were analyzed; interviews, surveys, tours, and workshops were conducted; and comparisons with competitive institutions were drawn, as campus needs were identified and prioritized and options were explored. 
A Proposed Plan to Guide Resources
With Centerbrook's architects and College administration, the planning team arrived at a list of preferred projects that was approved by the Board of Trustees at its meeting in February.
A final plan is still in the works, but currently being considered is an academic quad that combines new and existing buildings—possibly a new science building—in a space parallel and similar to the Naismith Green that will bring academics closer together for interdisciplinary learning; 
Also, renovations and updates to classrooms with more space for new programs, new pedagogy, and future growth; updated residence halls; larger pedestrian-friendly spaces including a walkway—a promenade of trees—along Alden Street that keeps people away from the street; park-like parking; and, a wellness loop with a walking/running path around the campus perimeter that also features outdoor seating venues to draw the community to the acreage along the Lake Massasoit shorefront.
Also being considered is how the campus community's social experience could be improved, possibly through the creation of a "village" that includes retail space, the public safety department, the health and counseling center, and graduate housing.
"Springfield College deserves a bold vision for its future," says Cooper. "This framework, created with Centerbrook through input from all campus constituencies, will allow us to make knowledgeable decisions as we develop our campus."
"The reality is that we must remain ahead of our competition in attracting the best candidates to Springfield College. To that end, I am hopeful that our alumni and friends will continue with the generous support that allows us to provide a rigorous education in the Humanics tradition and ensures that a Springfield College education is available well into the future," she concludes.