Commitment to Diversity and Inclusion Actions and Events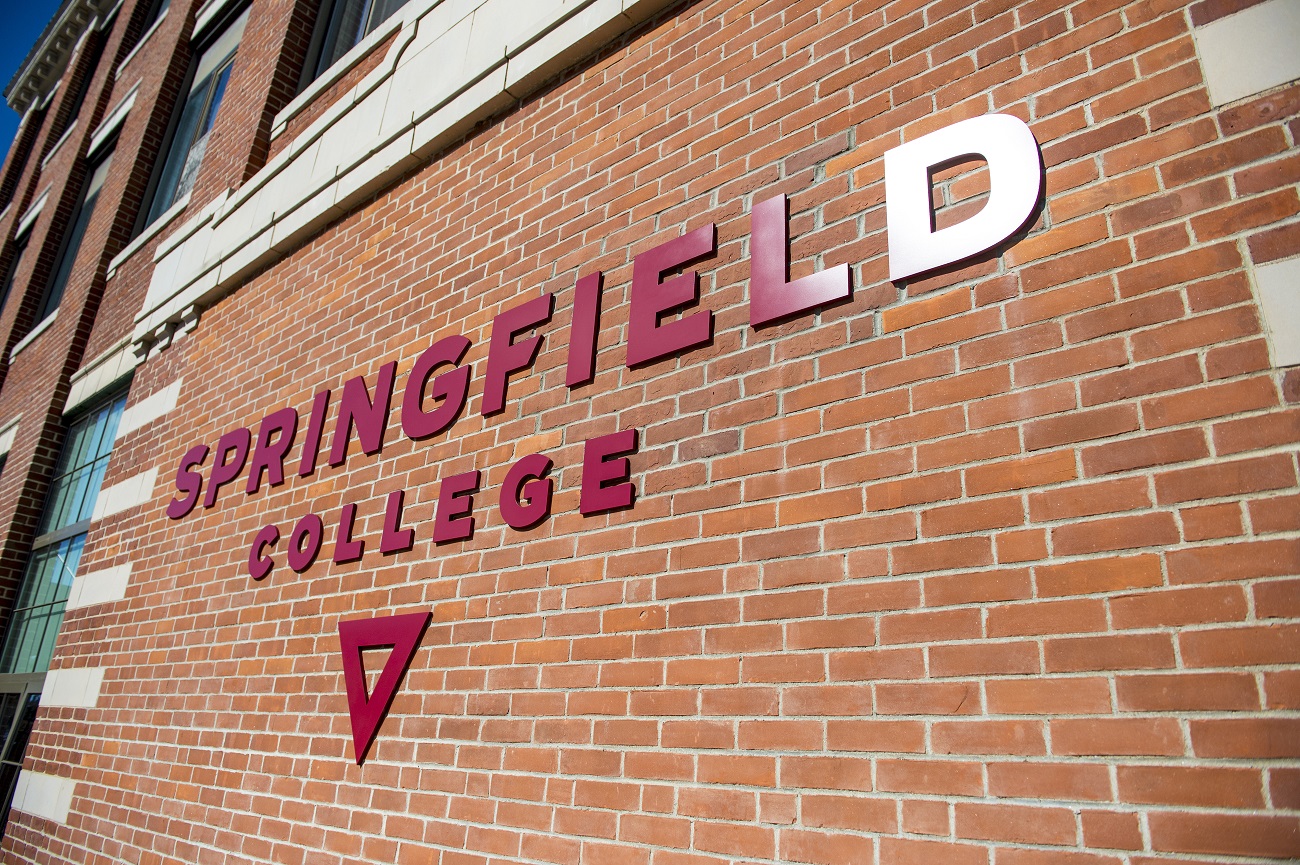 ---
Springfield College remains steadfast in its commitment to equality and fair treatment for all. As a campus we are committed to fostering a diverse, inclusive, and respectful campus community, not only in vision but in practice. Our commitment to diversity and inclusion is rooted in the belief that multiple points of view, life experiences, ethnicities, cultures, and belief systems are essential to academic excellence.
We pledge to keep our theme - Silence is Not an Option - at the forefront of our programming this year, as we address the many ways that we as a campus community can live our mission of leadership in service to others.
Some of our programs from the 2020-2021 school year include: 
Conversations on Race – In the absence of an opportunity to be in person, we hosted gatherings via Zoom. The goal was for our community to come together in the wake of the deep-rooted pain and tension of another Black life lost at the hands of those who pledged to protect and serve. We heard the truths of our own students of color and their experiences at Springfield College, and we agreed to keep the dialogue moving forward. Our weekly conversations included our students, staff, members of the President's Leadership Team, and Cedric Jennings, who helped us to better understand many of the pressing issues of race affecting our campus and our country. 
SC Listens – Through a newly created email address, we heard from those who either did not have the opportunity to speak during one of our conversations or who wanted to further reflect upon experiences at the College. 
Privilege Walk – Led by David Rudder, PhD, assistant professor in the School of Social Work and Behavioral Sciences, new and returning faculty explored privilege through a previously recorded privilege walk at Stagg Field, using cultural humility to inform pedagogy and social justice, the best practices in culturally relevant pedagogy, and critically putting theory into practice.
Establishment of the CPPCR/17 Priority Initiatives – The Campus Program Planning Committee on Race (CPPCR) was established to identify, engage, and launch campus-wide programming initiatives with a focus on race. Read the Springfield College Diversity, Equity, Inclusion, and Belonging Commitment.
Black Lives Matter Flag  – We raised the Black Lives Matter (BLM) flag during the month of September. The raising of the BLM flag was symbolic of what we believe in: We denounce any form of racism and discrimination of our BIPOC (Black, Indigenous, and People of Color) population. It demonstrated the College commitment to their well-being and indicated support of and solidarity with our BIPOC students, staff, and community. It was a symbol of the College pledge to fight racism and racist acts, and communicated our pledge toward being an antiracist school. We welcome courageous conversations about race that continue to take place in our community. 
March for Action on Alden Street – Staff of the Division of Inclusion and Community Engagement collaborated with members of the Men of Excellence, the Black Student Union, and other clubs for the Oct. 15 student-led initiative, March for Action on Alden Street. 
Alumni of Color Committee  – In spring 2020, the Alumni of Color Committee of the Alumni Council was established to identify ways to use their collective knowledge of Springfield College, and their commitment to addressing systemic bias and racism, to improve the campus experience for current BIPOC students. They implemented two initiatives in the fall 2020:
1. The creation of the Communications Diversity and Inclusion Advisory Board, which reviews the use of BIPOC student images in campus marketing materials.
2. The relocation of the the Office of Diversity, Equity, and Inclusion to the fourth floor of Judd Gymnasia, a move that provides the staff with much-needed space, in a dedicated suite for congregation, and programming in a safe and welcoming environment. 
Recognizing Indigenous Pasts, Presents, and Futures: A Conversation on Land Acknowledgements – Panelists Margaret Bruchac, PhD, and Rhonda Anderson, western Massachusetts commissioner on Indian affairs, shed light on the purpose of land acknowledgements, why they have become both popular and necessary, and how they could be applied to policies and practices at Springfield College. The group also discussed related contemporary issues that affect Native American nations in Massachusetts and across the Northeast region. View the event.
"Educate. End Hate." Campaign  – Earlier this fall, a small group of students, faculty, and staff came together to discuss ways that we as a community could be more welcoming and inclusive. We focused much of our time on how we might address ending biased language across campus – specifically the use of the N-word. Because hatred has no place here, we chose to launch a social media campaign titled "Educate. End Hate." While we understand the internal debates within the Black community regarding the use of the N-word, we fervently ask that those not in the Black community refrain from using it, as it can, and has been, used as a slur causing some in our community to feel unwelcome. As a campus community, we have the fortitude and courage to end hate. View the campaign.
Establishment of Multicultural Fund – Members of the Office of the Vice President for Inclusion and Community Engagement; the Office of Diversity, Equity, and Inclusion; and the Black Student Union have collaborated to launch a Multicultural Fund, which can be used for campus diversity, equity, and inclusion initiatives across campus. The overarching goal of the fund is to support and encourage campus-based collaborations that promote social justice, antiracism, inclusion, and acceptance within the campus community. Faculty, staff, students, and student clubs and organizations may apply for a grant through the fund in order to support these goals. To date, $13,125 has been granted to faculty and student clubs and organizations.
Moment of Silence – In early April, during the first five minutes of the common hour, in conjunction with Men of Excellence and the Office of Spiritual Life, we held space for a virtual collective moment of reflection and silence. We paused our busy lives to remember the life of Breonna Taylor at the recent one-year anniversary of her death, the lives lost during the Atlanta and Colorado shootings, the upswing in violence against Asian American and Pacific Islander communities, the Capitol Police officers who lost their lives, for healing as the country grapples with the Derek Chauvin murder trial, and to commemorate Holocaust Remembrance Day.
#StopAsianHate: Community Town Hall – Members of the Division of Inclusion and Community Engagement and the Y Club collaborated for the virtual #StopAsianHate Community Town Hall on April 28. Keynote speakers, panelists, members of the Springfield College community, and other guests addressed and confronted the hate crimes our Asian American and Pacific Islander communities have been facing, especially since the start of the COVID-19 pandemic.
---
Division of Inclusion and Community Engagement
Department Highlights
Office of AmeriCorps
The staff of AmeriCorps continues to make strides to support students in 20 of the Springfield Public Schools (grades K-12) and two out-of-school youth development programs. The pandemics of COVID-19 and racism exacerbated the needs of the students and their families, which inspired our staff and AmeriCorps members to exceed the call of duty. During the pandemic, we deployed 48 members to serve more than 38,000 hours since May 2020. We remained focused on student support while transitioning to a remote-model and expanding daily tasks. In addition to traditional orientation and training, AmeriCorps members were equipped with additional professional development on trending topics such as "Social Emotional Learning through an Antiracist Lens" and "Establishing Mentoring Relationships through Remote-Models." Through this support from staff, AmeriCorps members were empowered to provide social-emotional support to students through Zoom, Teams, and other platforms but also prioritized volunteering at emergency meal sites, making and distributing cloth face masks during the face mask shortage, student-led community service projects, and other vital opportunities as they arose.
The Office of Diversity, Equity, and Inclusion
SEAT at the Table – SEAT (Social justice, Equity, Accountability, Transformation) at the Table Week was a conference of educational experiences across media, pedagogies, and practices, dedicated to deconstructing oppressive systems and transforming our community toward equity for all. SEAT at the Table Week was organized by a unified body of community members from multiple schools of thought and cultural backgrounds, who worked collaboratively to share governance and responsibility of educating our community on topics related to social justice, identity, power, privilege, positionality, and radical community care. During the week, which encompassed more than 35 sessions, attendees learned across disciplines and from multiple perspectives.
Joy DeGruy Seminar – Springfield College, in collaboration with Amherst College, hosted a virtual seminar by scholar and author Joy DeGruy on her book, Post Traumatic Slave Syndrome. DeGruy shared how the book addresses the residual impacts of generations of slavery and opened discussion of how the Black community can use the strengths they have gained in the past to heal the present.
The Pain and Power of the N-Word – Members of the Office of Diversity, Equity, and Inclusion; Men of Excellence; and Department of Athletics collaborated to host Smith College Associate Professor of History Elizabeth Stordeur Pryor, PhD. On the panel with Pryor were Director of the Office of Diversity, Equity, and Inclusion, Felicia R. Lundquist; Coordinator of Student-Athlete Leadership Development and Sports Communications Assistant Adaeze Alaeze-Dinma; Student Trustee Kris Rhim, Class of 2021; Student Trustee-Elect Sabrina Williams, Class of 2022; Brianna D'Haiti, Class of 2022; Dereck Webb, Class of 2021; Luther Wade, Class of 2022; and Colby Wilson, Class of 2023. Participants were challenged to examine their personal and professional histories with the N-word, the historical and cultural connection to the word, and the feelings and consequences associated with casual or uninformed usage of such a painful and powerful word.
Office of YMCA Relations
Global Leadership Certification – In spring of 2021, members of the Office of YMCA Relations and Y Club partnered with the DIGMD Team at Y-USA to launch the first-ever Global Leader Certification Student Cohort. The YMCA global leader certification is a training pathway that allows leaders to gain the necessary skills and competencies needed to help Ys address and effectively respond to changing community demographics. Eight Springfield College students completed four training sessions around the themes of Dimensions of Diversity, Cultural Lenses, Advancing Equity, and Global Organizations. Their final capstone project will launch in the fall of 2021, where they will generate a project related to diversity, inclusion, and global engagement within the Springfield College community.