Physical Therapy (DPT)
DOCTOR OF PHYSICAL THERAPY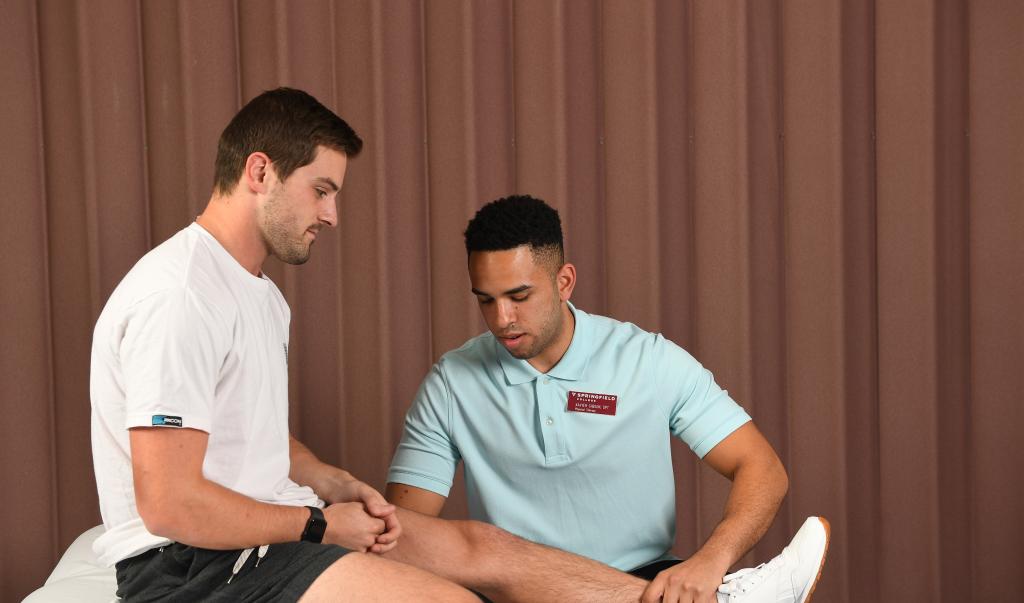 The Doctor of Physical Therapy (DPT) at Springfield college prepares highly qualified therapists for exemplary professional practice in physical therapy. As a student, you'll become a physical therapist who is able to recognize and meet existing and emerging health care needs. 
The program seeks to give you values and skills for lifelong learning, ethical behavior in practice, and a commitment to the enrichment and promotion of the physical therapy profession. Courses in anatomy, clinical sciences, organization and delivery of health care, research methodology, and statistics enable you to develop advanced problem-solving skills, a broad knowledge in the science and practice of physical therapy, and a clinically-based understanding of administration, research, and evidence-based practice. Part- and full-time clinical experiences in approved clinical education facilities round out the program. 
Our program offers unique experiences as you learn, such as opportunities to:
Participate in the on-campus Community Mobility Clinic starting in year one of DPT program
Engage in physical therapy service delivery with our campus partner LIVE EVERY DAY
Become a student health coach for a participant in our Walk With Ease program
Participate in student physical therapy organization activities, which include DPT students mentoring undergraduate students
Best of all? Our program outcomes back us up, so you can feel confident knowing your career is just around the corner.
*The Springfield College physical therapy program is primarily an early-assurance/dual-degree BS to DPT program.  As a result, the number of graduate entry candidates we can enroll is limited. 
How to Apply:
Admissions Requirements
Applications for the Doctor of Physical Therapy program must be submitted through PTCAS. 

In order to be considered, applications must be complete in PTCAS. Materials required are: Personal Statement, Resume, Official Transcripts, and Letters of Recommendation.

Letters of recommendation from a faculty member or direct supervisor. 
GRE: This program does not require the GRE. 
International Applicants
All international applicants from non-English speaking countries are required, in addition to the items listed above, to submit:
Proof of English language proficiency by way of the TOEFL or IELTS. Other tests may be accepted on a case-by-case basis. Please refer to our language requirements for more information on acceptable tests, minimum scores, exemptions, and conditional acceptance. If your undergraduate degree was earned in the United States and you successfully completed college-level English, we will consider English language proficiency met.
Please note: Transcripts must be in English. If the transcript is not in English you will be required to submit a professional credential evaluation completed by any member of the National Association of Credential Evaluation Services (NACES). For this we recommend SpanTran, with its customized portal for Springfield College applicants. World Education Services or Josef Silny & Associates, Inc. are also recommended for your credential evaluations.
The staff in the Office of International Admissions can assist you with questions you may have about enrolling at Springfield College as an international student by emailing intladmissions@springfieldcollege.edu.
Application Deadlines
Doctor of Physical Therapy candidates must submit applications via PTCAS here.
APPLICATION DEADLINES
Domestic Students
Application Deadline: December 1
Supporting Materials Deadline:December 1
International Students
Application and Supporting Materials Deadline: December 1
The public or any other stakeholder of the DPT program at Springfield College has the right to make a complaint and receive a response from the institution. In Commission on Accreditation in Physical Therapy Education (CAPTE) standards, this is referred to as a "complaint which falls outside the realm of due process." If you feel that you need to let us know about an experience or encounter with any student, faculty, or staff member who is part of the DPT program, please use this form to provide all the relevant information. Springfield College will act on all program-related complaints in an expedient manner.